Bob Peterman and the "Spruce Goose" Museum are making great progress with their Seabee!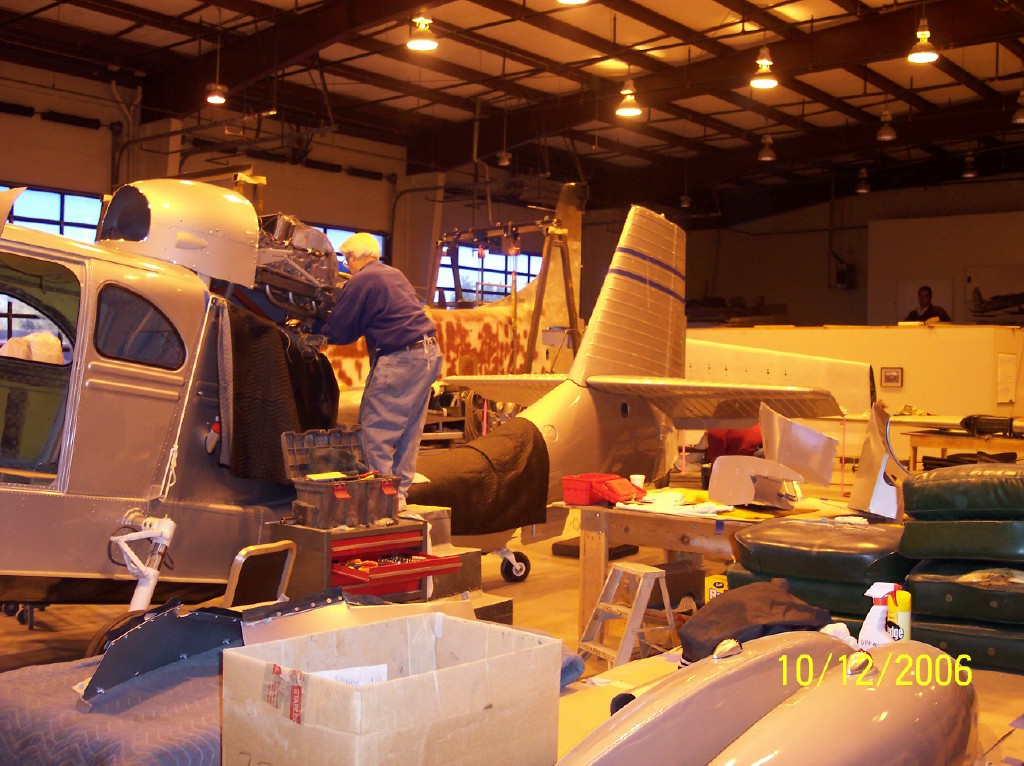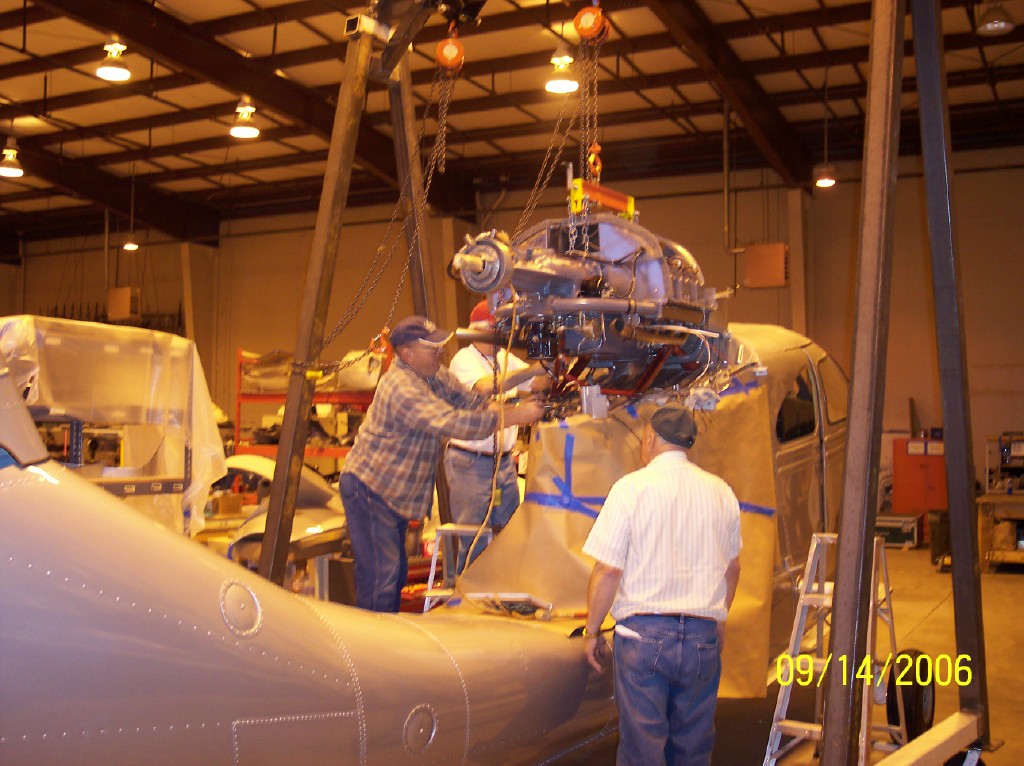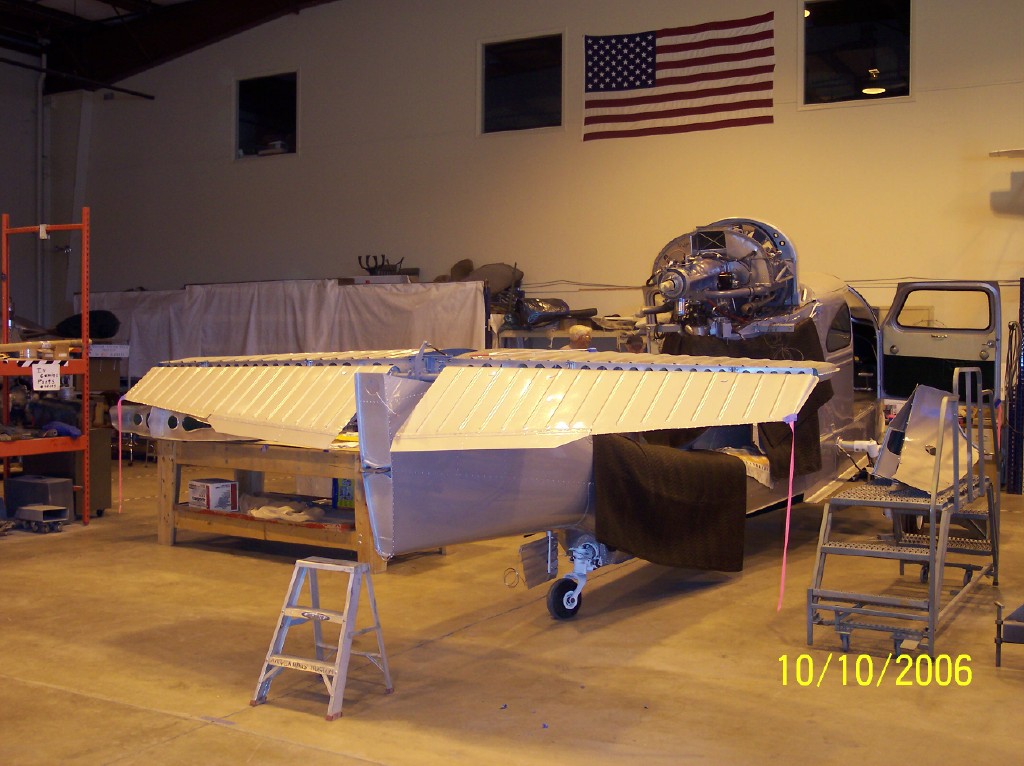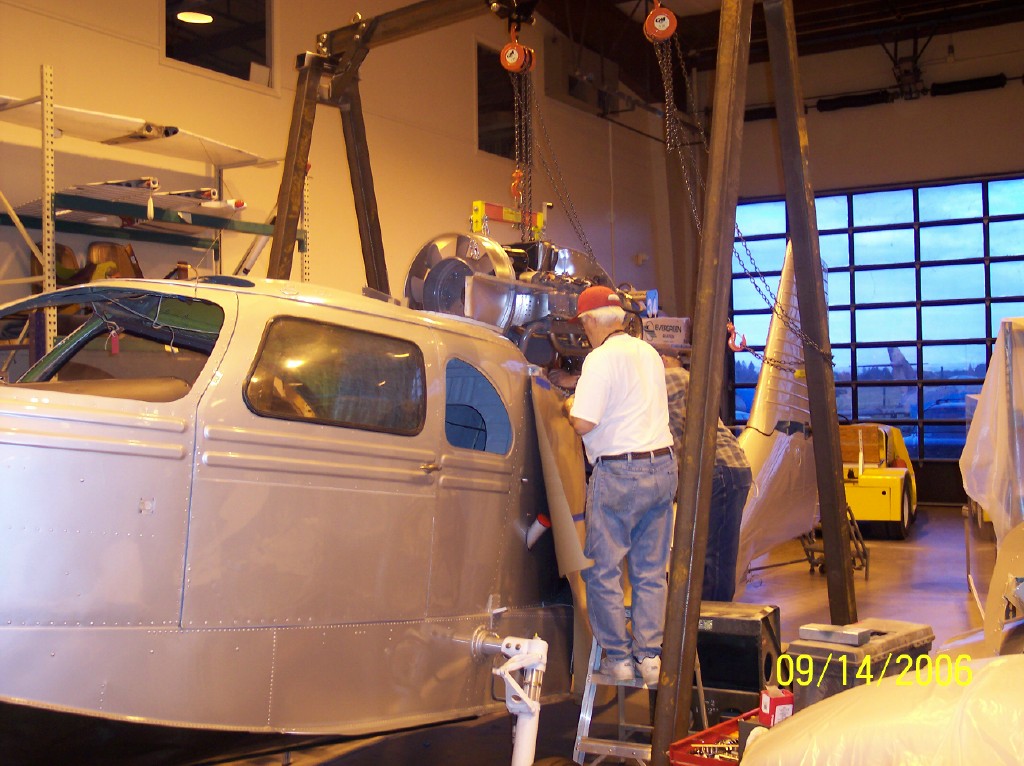 Thanks to Jeremy Brown, Bob Peterman has found his original gas cap! Thanks Jeremy. Good progress is being made on the "Spruce Bee". When it is completed the Seabee above will be located next to the Spruce Goose. Yup, the real thing! What an honor and these guys are doing a fantastic job. Great work! You can see the museum website at
http://www.sprucegoose.org/
. Thanks Bob and keep us updated.
Steve for the IRSOC
December 2006:

Update! The "Spruce Bee" is done! At least Bob Peterman says he doesn't need any more parts. That's a

good

thing.
---
Don Anderson makes page 32 of Flying Magazine!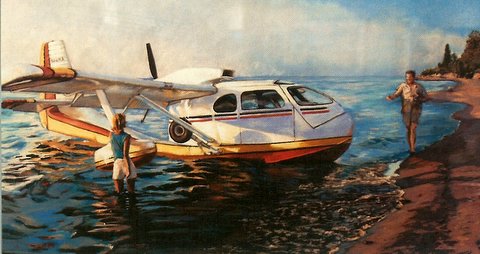 May 2006- ...if you haven't already seen it, a painting of our SeaBee, N681CB made page 32 of the June 2006 ussue of Flying magazine.
The painting (shown above) was done by a close friend of John's (Kosir), Felix Mocilnikar (don't try to pronounce it), who is a very accomplished artist, living in the Dallas area. He is also a Technician (still a mechanic to me) for American Airlines. The location was the shore of beatiful Lake Erie, here in Willoughby, OH. That's John and his squeeze, at the time, in the pic.
The other pics were taken last Fall, a few miles East of here. The looney in the Decathlon took the CB pics (Capt. Chris Megan, American Airlines).
Thought you might want to post this on the web site.
Hope life has been treating you both well. Things are good at this end.
Our best to you.
==============================

Bill Shaver and Uncle Wally are going to be
"at it again" on May 17th, 2008!

(As he would say, "Y'all come!")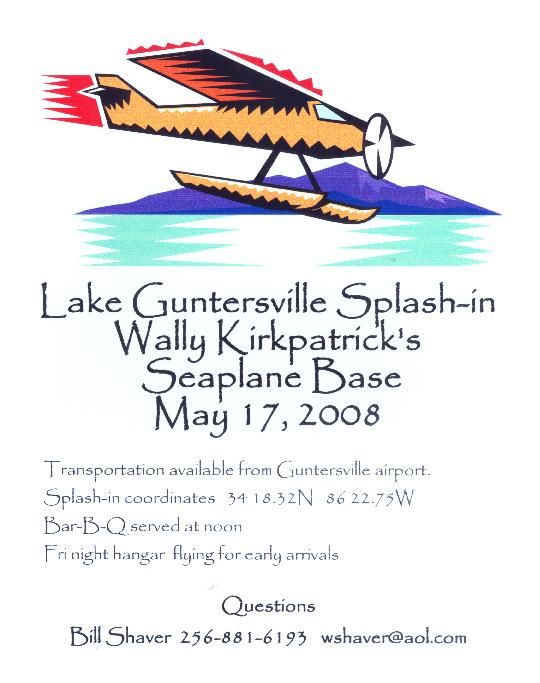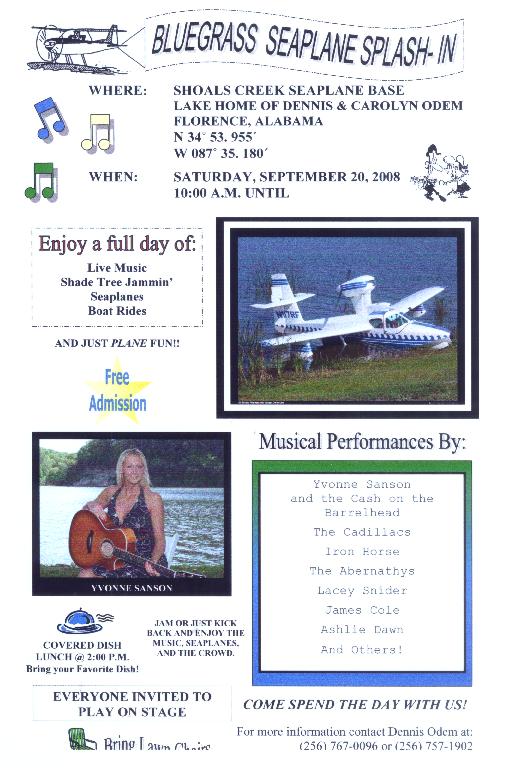 Bluegrass Music included!
---
Republic SeaBee Makes Hard Landing In Southern California (SoCal)

Loses Propeller Mid-Flight Over San Diego County
The propeller from a vintage Republic RC-3 SeaBee amphibian fell off about half an hour after it took off from a public airfield 10 miles east of San Diego, California Friday, according to FAA spokesman Ian Gregor. The plane was en route to Lake Mead, NV, and made a hard landing in a rural area. Neither of the two men on board was injured, he added, although the passenger was taken to a hospital for a precautionary evaluation.


Gregor reported that just after 11:30 am, the pilot cut power at an unknown altitude and glided to the ground in a field near Julian, 60 miles northeast of San Diego. "It's pretty unusual for that to happen," he said to the Associated Press. The airplane suffered substantial damage in the forced landing. An FAA investigator was on site to determine why the propeller fell off. The San Diego County Sheriff's Department had not received any calls regarding injuries or damage from the falling propeller, said emergency services dispatch supervisor Shannon Powers.
One of the few amphibious light aircraft to be produced in any sort of numbers, the Republic Seabee was built by the same company responsible for the legendary P-47 Thunderbolt fighter. The Seabee (file photo of type, above right) was conceived during the latter stages of the war when Republic began looking beyond its massive wartime contracts to a foundation for sustained peacetime production. The original concept was one quite popular during the 1940s -- to provide a four-seat, light aircraft costing little more to purchase and operate than a family car. More than 1,000 Seabees were built in just one year of production.
Seabee production began in mid 1946, but lasted only until October 1947, when Republic opted to concentrate on its more lucrative military business, in spite of healthy Seabee sales.

(Reprinted from Aero-News.net 2-8-2007)
---
Bill Shaver's Crowd Splashing-In again!
May 19, 2007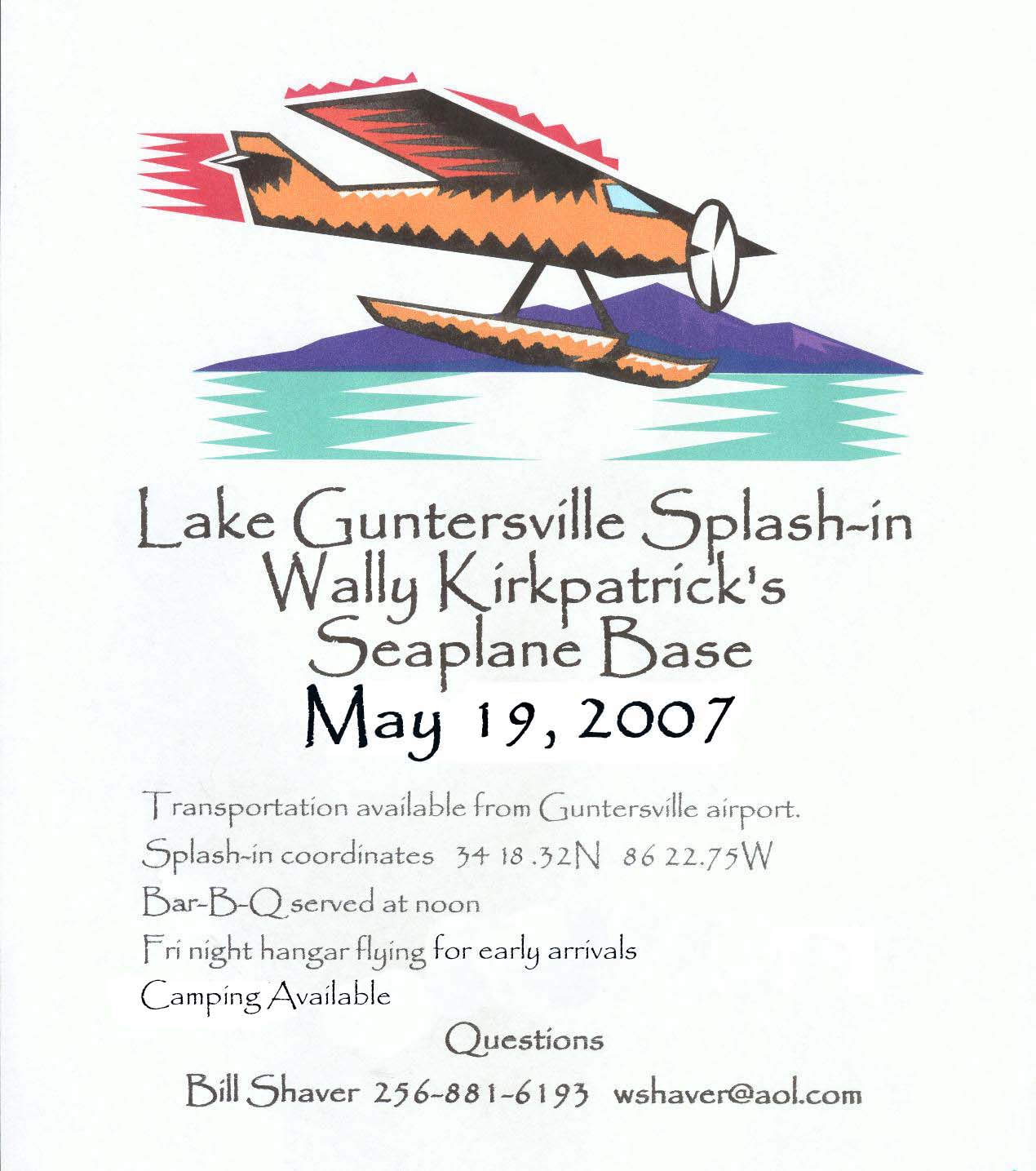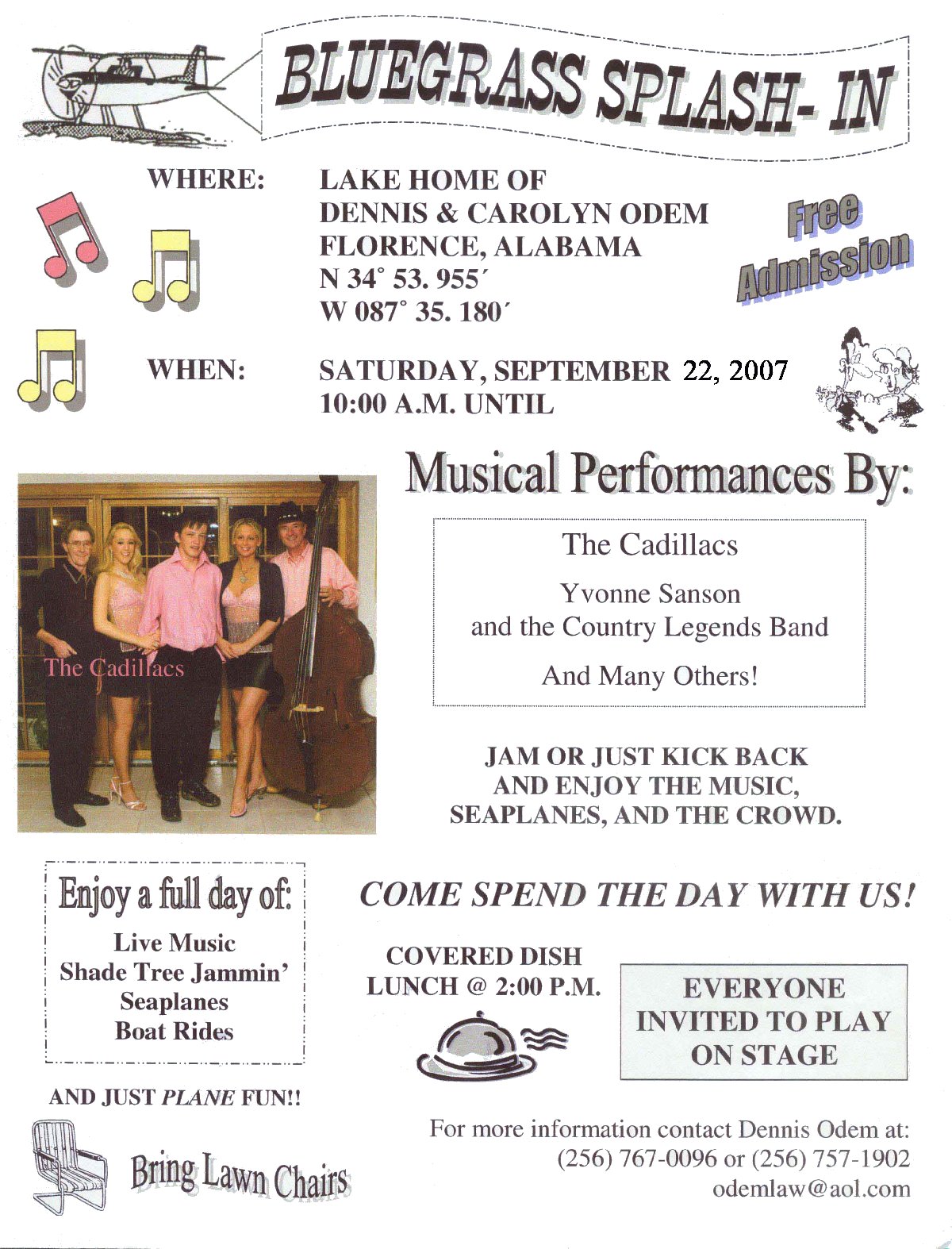 (Click on FLyers above for full size image)
---
Steve Lantz' Seabee makes the cover of CONTACT!

February 2006 -
Steve Lantz and his famous "Tahoe Special" have made the cover of CONTACT! Magazine. One of the contributor's to the magazine, Mr. Anthony J. Liberator, has been following the "Special" through the IRSOC website and the editor decided to put it on the cover. Way to go (again) Steve! If anyone is interested in
CONTACT! magazine
-
Experimental Aircraft and Powerplant Newsforum for Designers and Builders
, you can
check them out here
.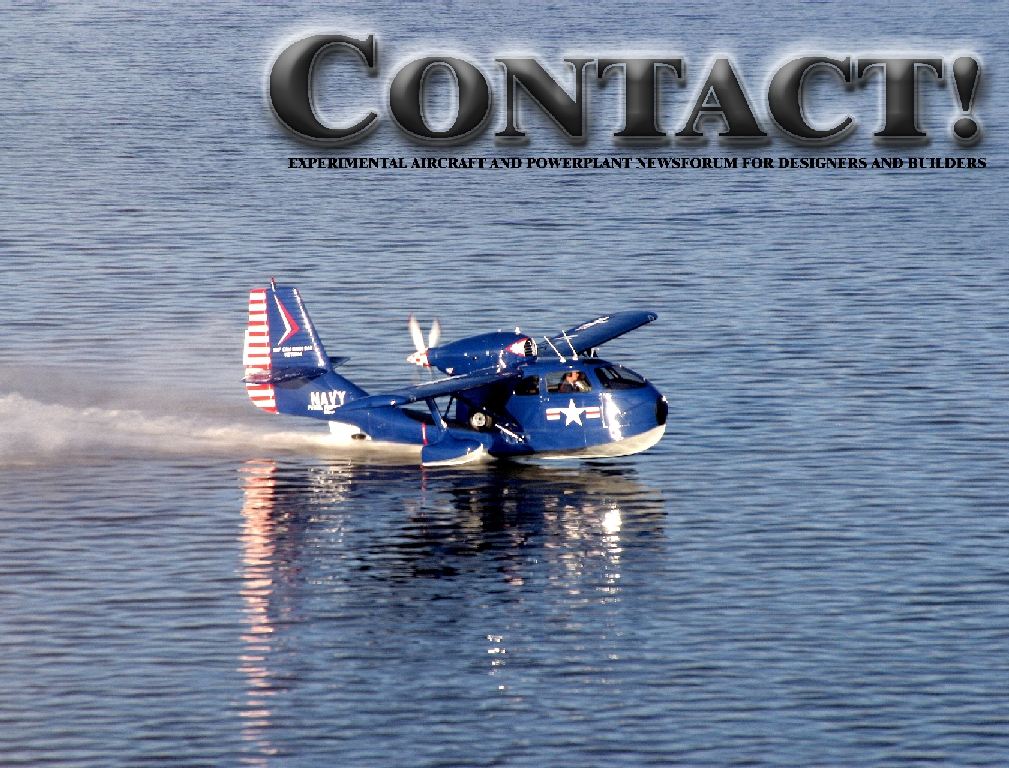 (Photo by Ian - I think)
---
Ben Coleman Update!

February 16, 2004-The "Jungle Bee" has moved indoors to begin the extensive restoration project, rivet by rivet....
If you will notice in the
photo
, N87515 has sidled up to another project in the hangar....a P40 Warhawk....(she thinks it will make her fly faster.....)
The
other photo
is of the parts donors.....both the aircraft and the operator !
Will keep you advised with a wish list of bits and pieces.
Regards,
Ben R. Coleman
President
Coleman Aeromarine, Inc. and
Melody L. Coleman
Supreme Ruler
Coleman Aeromarine, Inc.
(Ed. note: See the previous article about the "Jungle Bee" here.)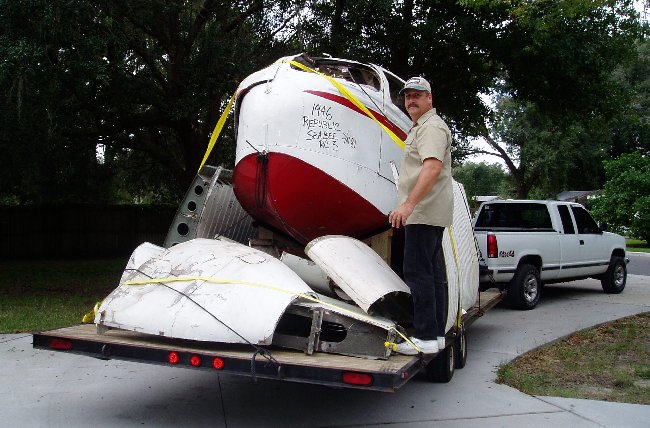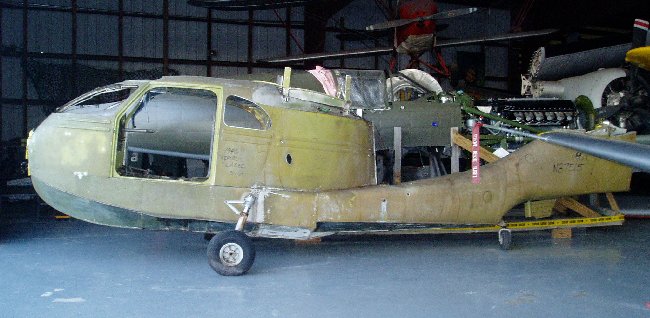 (Click on image for full size view)
---
Aircar Found!
February 20, 2004
- Received the following e-mail from Gary Lamb from Sterling , Alaska. It would be interesting to see how many of these Spencer Aircars there are in existance. E-mail Gary if you would like to talk 'Aircar'!

"
Are you keeping track of Spencer Air Car owners as well as those who own a Seabee?
If so, I own an Air Car S-12-E originally built in the late 70's and registered as N10TS. It has flown to every state in the U.S., except Hawaii. It is undergoing a total rebuild and is being outfitted with a Chevy V-8 ZZ4 engine and 3-blade, constant speed Ivoprop. Its new numbers will be N388AK and, with luck, should be ready to fly this summer, 2004. Attached is a picture of the fuselage as of fall, 2003 as well as a slightly older picture of the engine."
Gary Lamb

GLAMB@borough.kenai.ak.us
Sterling, AK 99672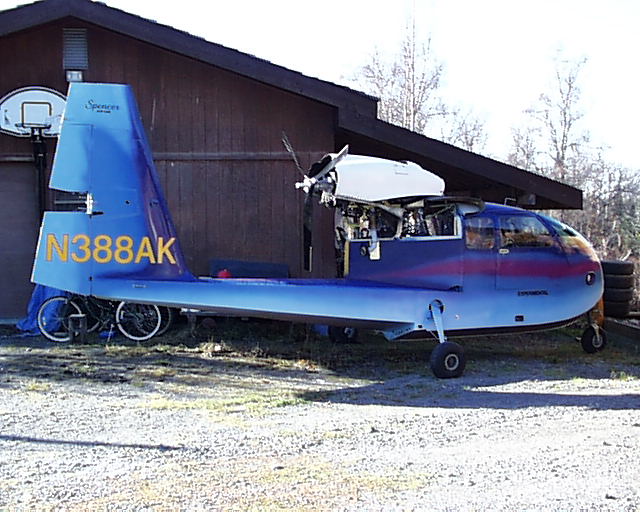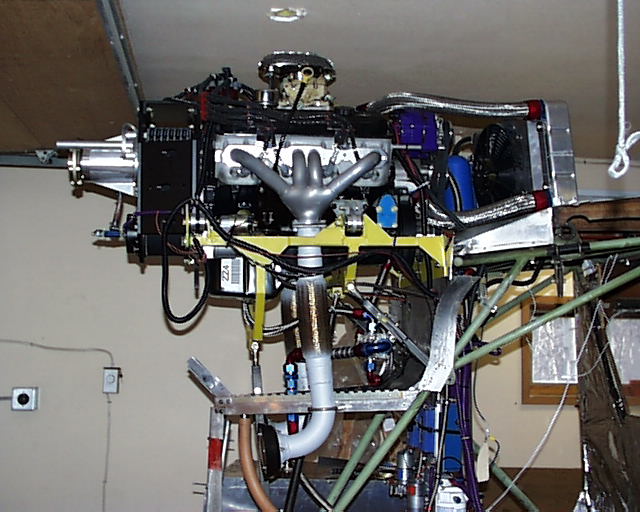 ---
Fatal plane crash investigated
Editors Note: It is with great sadness that I include this on the Seabee News page. I think every Seabee owner knows who Joe McHugh was (Mr. Simuflight). He will truly be missed by the IRSOC and its membership. As you may know by now, Joe was in the passengers' seat NOT the pilots' seat as mentioned below. We are awaiting the NTSB report for further factual information.


2003-06-18
by
Nora Doyle
Reporter for King County Journal
Federal investigators were in Yelm Tuesday at the scene of a single-engine airplane crash that killed Joe McHugh, 71, of Kent.
Douglas Gentzkow, 61, of Redmond was in serious condition Tuesday evening at Harborview Medical Center in Seattle.
Their plane crashed Monday into the bottom of a 300-foot embankment along the Nisqually River Canal outside of Yelm shortly after taking off from the Western Airpark. Gentzkow was rescued from the plane by members of the Thurston County Sheriff's Office dive team and local firefighters.
McHugh appeared to be the plane's pilot, according to the sheriff's office.
John Mayerl, 54, of Yelm, apparently witnessed the crash and tried to climb down the embankment to help but suffered a heart attack on the way. He collapsed before he reached the wreckage and was found dead by rescue personnel, according to the sheriff's office.
Members of the Federal Aviation Administration are collecting information related to the crash and will turn it over to investigators with the National Transportation Safety Board.
McHugh was a retired Delta Air Lines pilot, according to a neighbor. He lived in a house on Crest Airpark off Covington-Sawyer Road in Kent. Most of the homes in the neighborhood, including McHugh's, have airplane hangars housing private airplanes and access to the small airport's runway.
McHugh was a longtime resident of the neighborhood, said the neighbor, who asked not to be identified. McHugh is survived by three children and two brothers, according to the neighbor.
Mayerl's family members told KOMO 4 News that he was an avid outdoorsman who wouldn't think twice about helping someone else.
``He was just trying to basically do what anybody else would want to do -- to help somebody,'' said Jon Mayerl, John's son.
The father and son heard the plane go down just a short distance from their homes in a canal at the bottom of a steep embankment.
``He heard the plane crash and went up on the canal and saw the plane in a ditch and we both went running,'' Jon Mayerl said. ``And unfortunately he never came back.''
``We saw him collapse and roll down the hill and we tried to help him,'' rescuer Ken Rosdahl told KOMO 4 News, ``but it was so steep down there and so brushy that it was all we could do to keep from rolling into the canal.''
Nora Doyle can be reached at nora.doyle@kingcountyjournal.com or 253-872-6726.
---
Ben Coleman and Melody resurrect
Seabee from an unlikely place
Below are the latest pictures from Ben and his new Seabee. It was found in a zoo (or large cat farm, I forget). They plan to get 'er goin' again with the help of the IRSOC (of course!). Click on the photos below to see them full size. Good luck, Ben and Melody and let us know how it goes and if you need anybody to buck rivets!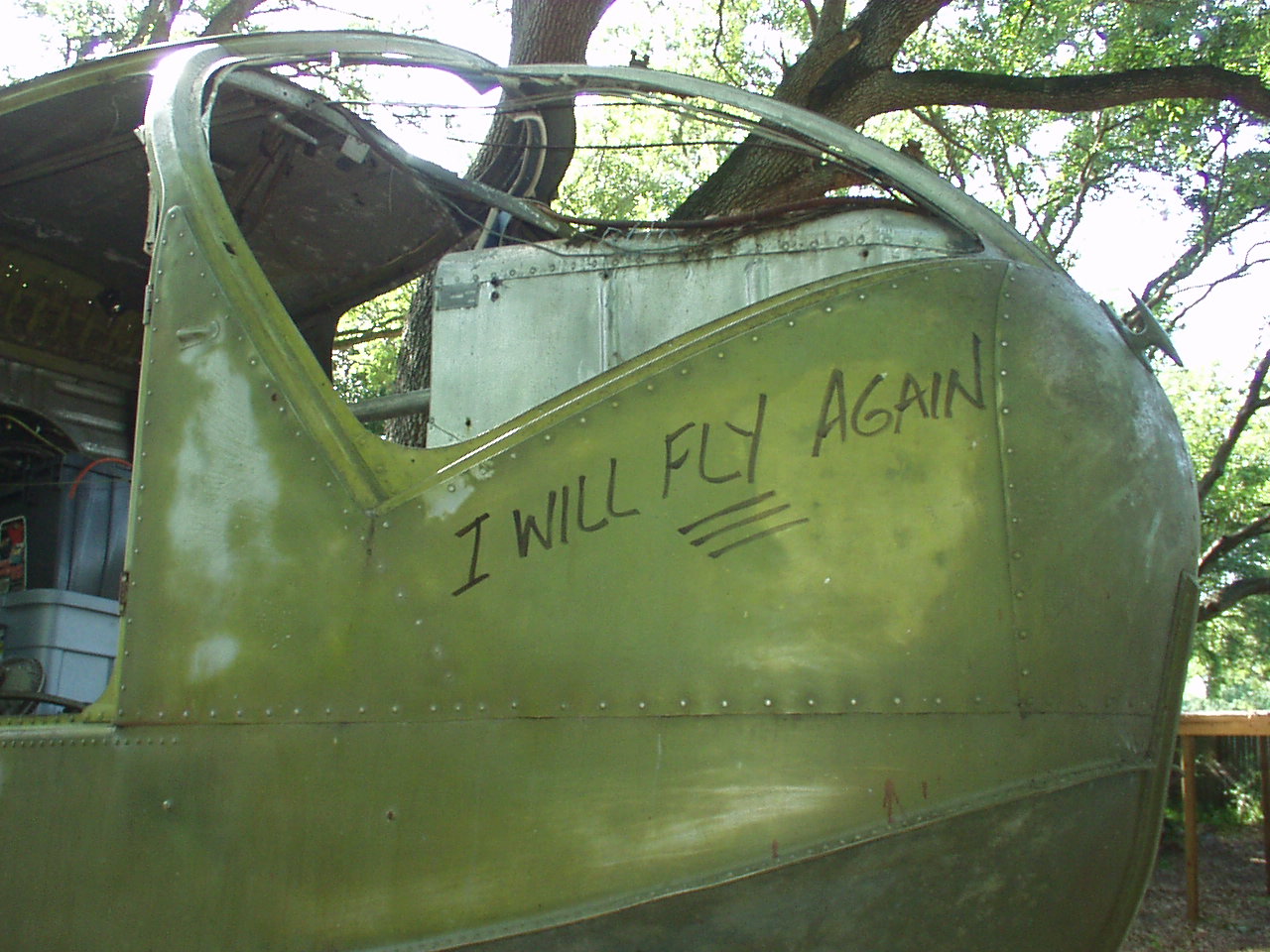 Look very close for the guardian! I believe it.!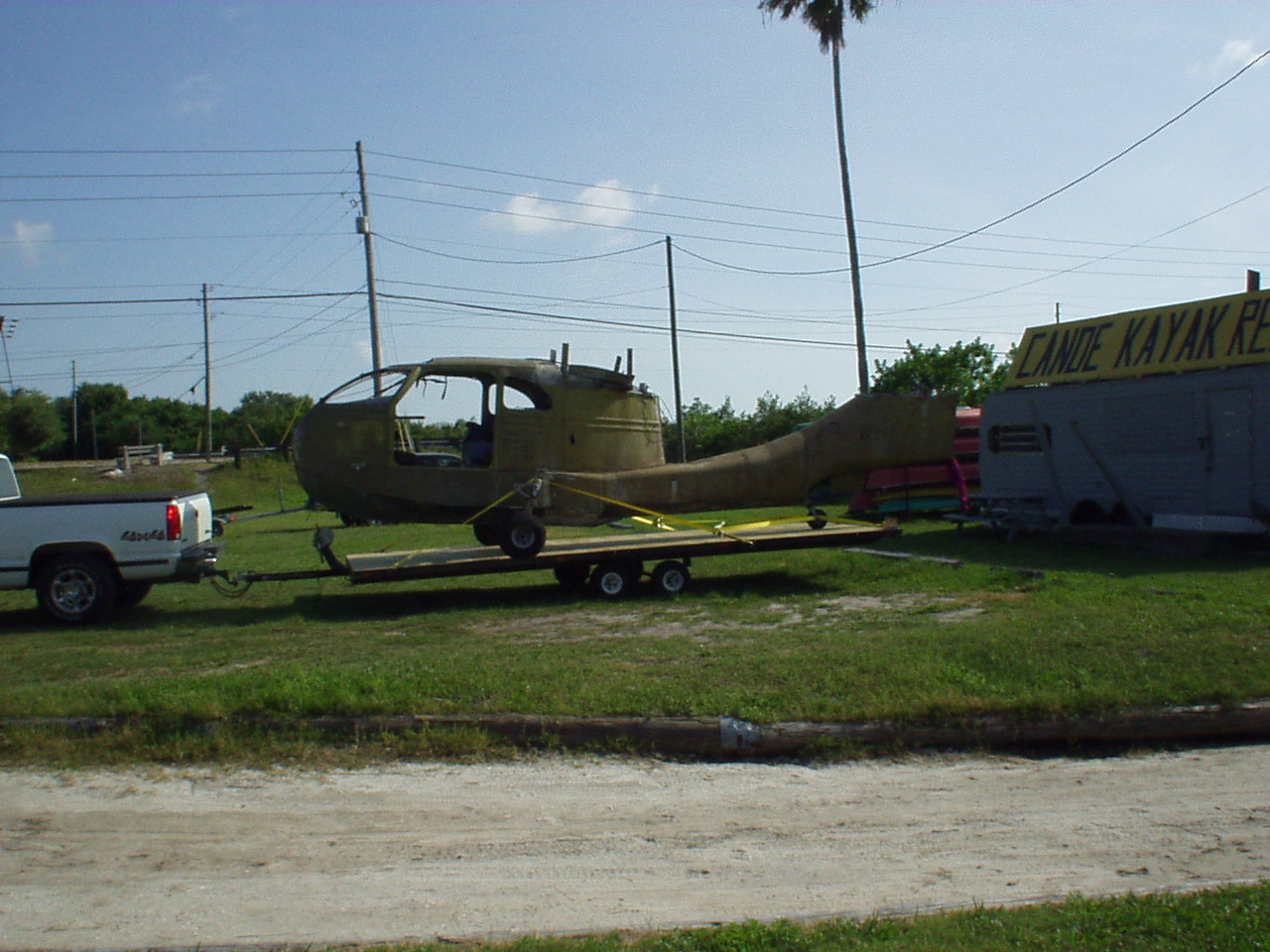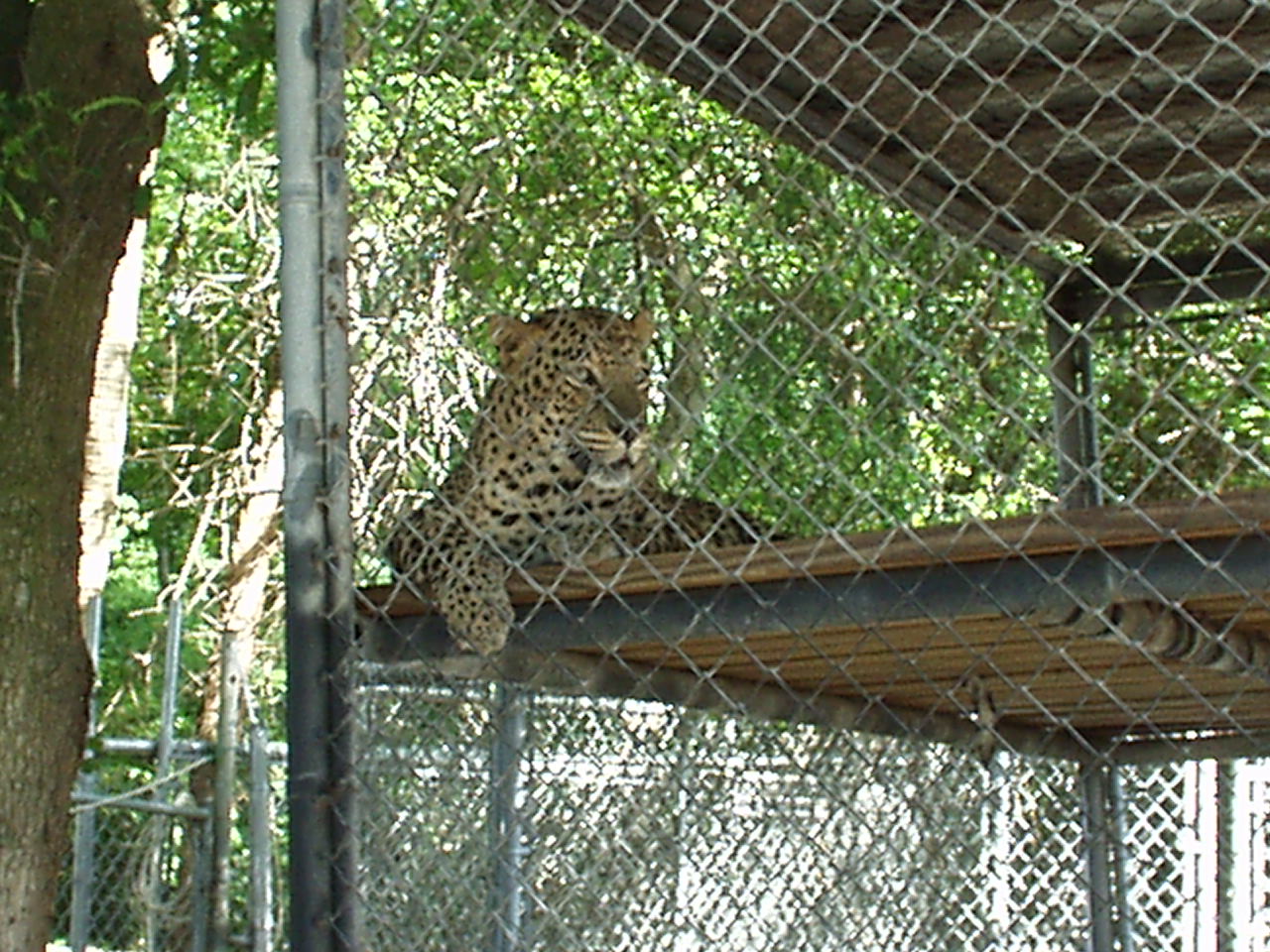 Packed up and ready for restoring. This is THE guardian. 400 pound Lepard Wow!
It may have been easier to find a Seabee at the bottom of
Lake Michigan!

---
Original 'Seabee Club International' Newsletters Found!
February 10, 2003
-Club member Don Anderson was fortunate enough to have acquired what appears to be a complete set of 'Seabee Club International' newsletters. Many of you probably remember the late George Mojonnier and Capt. Richard Sanders, both former editors of the newsletter and the founders of the original 'Seabee Club'. There is literally a lifetime's worth of information in them and you can be sure they will make their way to the pages of this website. Most of the mailings were to Mr. Henry Maxwell. They are dated from 1974 through 1993. We thank him or his family for the donation to the IRSOC. And a special thank you to Don Anderson for allowing the IRSOC to copy them and make them available to the membership via the internet. (Don picked up the shipping! Thanks Don!)
A CD-ROM is available now!
Check it out here!
The CD-ROM is loaded with the exact copies as they appeared years ago.
Update! Some of the Newsletters are done!
Check here
to see a list of completed Newsletters. They have been completely re-typed and re-formatted to Adobe PDF format (to save download time). Others will be added as they become available.
---
UC-1 Twin? Learn about it here!

Jan 28
-IRSOC member Hardy LeBel has written an article for the January/February 2003 issue of Water Flying magazine on the rare UC-1 Twin Seabee. Very interesting reading and chock full of pictures. Check it out on the
Articles web page
. Thanks, Hardy! Great article!
---
Ancient Photos Unearthed by John Hooper!

Jan 27-Former IRSOC webmaster John Hooper, sent in these old photos of Seabees of yester-year. Sent to him by Jeff Wesche, son of Bill Wesche of Republic Aviation, these are original Republic Aviation Corporation promotional shots. Bill is flying one of the Seabees pictured below! He was a test pilot for Republic and you can read more about him on the Honorarium page.
Old pictures are always great! If there are enough, perhaps we ought to dedicate a page just for the old pictures. Send us your old photos.

Thanks John Hooper and Jeff Wesche!
---
New Seabee Floats to be
made available soon!
Jan 7-New composite one piece float/strut combo will soon be available for the SeeBee. This is a carbon/kevlar, high quality professionally produced part that is a direct replacement for the original float. Currently completing the STC process and available for purchase in March of 2003. For more information please contact:

Arnold Holmes
iflyhomebuilts@msn.com
386-756-2041
---
John Cuny Gets a New Engine!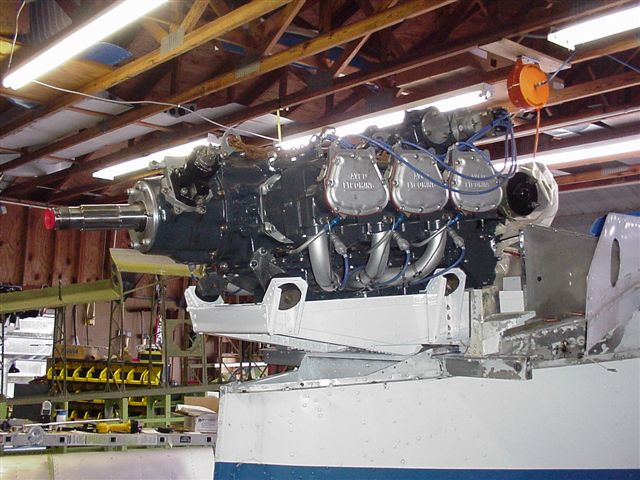 John Cuny writes:


Nov 22- Just wanted to let everyone injoy the engine launch. Time in planning 15 years; Restoration time 3 years and now the 340 hp is mounted to the Seabee. Maybe she will be back in Texas in 2003. Should be able to lift almost anything now. Let me know who wants to be put on the ride list. I'm first! John

John,
Great looking engine! You got a monster Bee there! -Steve


---
MEMBER HELPING MEMBER
It appears that IRSOC members are at their best when helping Seabee Owners solve mechanical problems. It is a fact, that a large percentage of the remaining Bees are being restored, modified or under repair, thus creating a lot of questions. There is no greater or reliable source of answers than IRSOC members and they have demonstrated that time and time again!

SEE THE NEW QUESTIONS & ANSWERS PAGES
---
SEABEES VISIT CANADIAN BUSHPLANE MUSEUM
Local newspaper pictures three club members L-Jim Poel, C-Bill Bardin, R-Rich Brumm, with their three Seabes, parked on the museum ramp. This was just one feature of a very enjoyable tour that included Sault Ste Marie and the bridge: west along Lake Superior to Duluth, Minn: thence to the Dells of Wisconsin

While there they met with Memeber Don Macor. They then headed back to Mackinac Island. A planned surprise trip to Saginaw had to be aborted as Rich Brumm had to deliver some parts to Bill Woodburn back in Canada. All agreed it was a most enjoyable tour!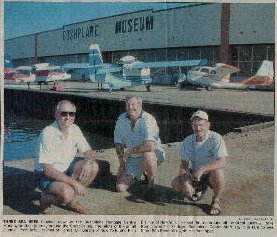 ---
LIKES WEBSITE AND HELPFUL MEMBERS!

This in from airline pilot, Brenton de la Harpe of Cape town South Africa. "I am dispatching my mechanic-friend and partner,Trevor Payne, forthwith to Magnolia Springs, Alabama to check out Todd Underwoods Seabee. Henry Ruzakowski has, kindly offered to fly his Widgen over there so that I might get a second opinion from him. I must say that I never thought the "Seabee Family" would be so kind and generous with their time and effort in offering their assistance, so unselfishly. I thought those days were long gone. This has been a humbling experience, to say the least. My special thanks to you for your role in this and kind regards to you and all the owner members."

"THIS TYPE OF RESPONSE MAKES IT ALL WORTH WHILE!" John for IRSOC"
---
POEL-BRUMM-KELLER Visit John Hooper! Surprise ensues
What a pleasure it was for your editor to meet with Jim, Rich and George at SRQ. Fresh from their wonderful visit to SUN 'N FUN at Lakeland, Fl. George Keller, retired AA pilot instructor and Jim Poel, Capt. for AA along with Rich Brumm, Franklin engine specialist, all contributed to a memorable occasion.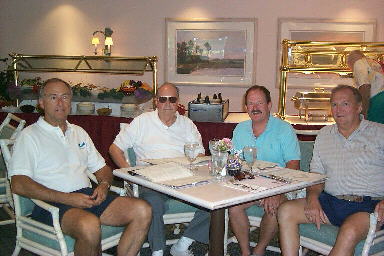 Jim Poel John Hooper Rich Brumm George Keller
---
VISIONS OF LONG ISLAND

This is a beautiful aerial video of colorful and picturesque Long Island, professionally narrated and accompanied by beautiful background music. The photography is absolutely exquisite and L.I. provides a fertile subject full of historical residences, beaches, farms, vineyards, lighthouses etc. One catches sight of a Seabee, flown by member Rich Brumm, taking off and landing on the beautiful waters of the sound. This is a real treat and may be purchased by calling 1 (800) 847-7793. I heartily recommend it. John

---
BOB ACKERSON: SEABEE HISTORIAN WRITES...
"After a long career as an automotive historian, I've reinvented myself and returned to my first love-aviation and a plane that captured my imagination when I was a young boy-the Seabee. In addition to currently working on a history of aviation In the Adirondack Mountains, I'm also gathering research material for a book on the history of the Seabee. I would welcome hearing from Seabee owners about their experiences with their Seabees." Bob Ackerson 15 East Street, Schenevus, NY 12155 TEL: (607) 638-9344 Email rackerson@stny.rr.com
---
MORE SEABEES FOUND ON LAKE ONTARIO!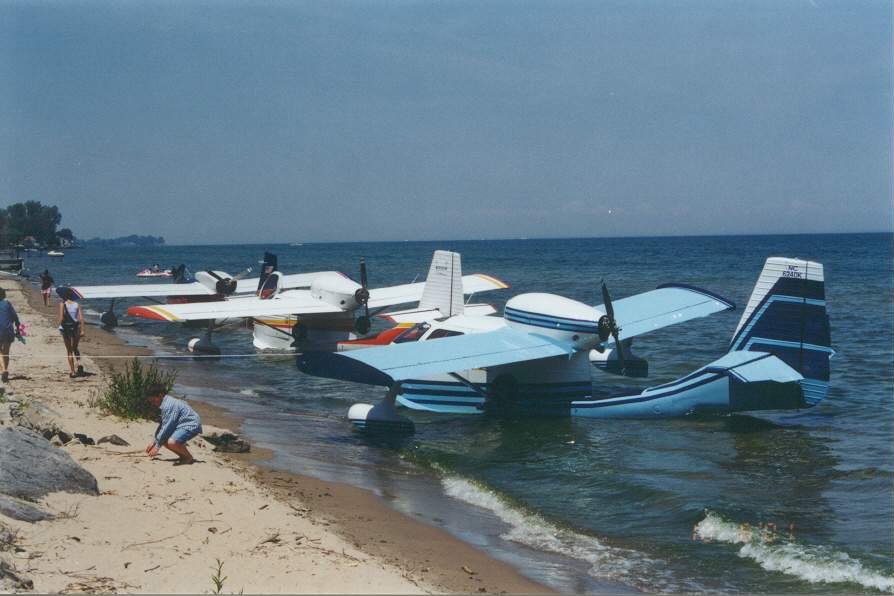 JIM POEL WRITES Hi John, we just got back from a week roaming in Canada. This trip was just a Cessna on floats and our Seabee. Next month we do the same thing around Lake Superior with three Seabees and the float plane. Last week we started our trip at Barry's Bay Ontario. The Lodge owner and Seaplane base operator commented that the was another Seabee in town. I immediately inquired and found out that it was none other than Andy Chapeski. We called and went to visit. It was a nice chat and he even helped me with some field approvals and STC's. I am attaching a pix of our Bees on the South shore of Lake Ontario in June where we went to Sunday Brunch. Take care, Jim

---
NEW LANDING GEAR

DEVELOPED FOR SEABEE!


HON. MEMBER DONN BOOTH sends this picture of an RC-3 Seabee being readied for shipment at the Rebublic Factory on Long Isl and. Looks like a P-47 in the background but Donn says it's a Grumman "Duck" The pix was taken in 1946. Hard to believe that it has been over 55 years ago. Our Seabees are getting old, fellows, treat them gently.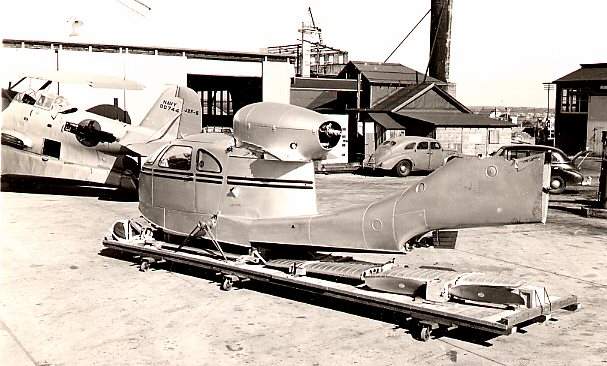 ---
ANCIENT DOCUMENT UNCOVERED BY JUDGE SAM MONARCH...

...a new member from Hardinsburg, Kentucky, writes about their new Seabee, S/N# 18! WOW! That is really a low production number, so low, in fact, that Percival Spencer, Seabee Designer, certified that he personally test flew Seabee #18 at the factory on Long Island, New York on July 31, 1946 as N87468. The former owner was Claude Marshall of Ann Arbor, Michigan. According to Sam, this will be a major restoration and upgrade. He indicates, he and his brother bought the plane from a Mr. Claude Marshall and it has been hangared since 1963. It looks as though the Monarchs (new members) have a job ahead of them. Many of the IRSOC members will probably be hearing from them for suggestions and help in general. As in the past, I am sure they will get the advice they seek.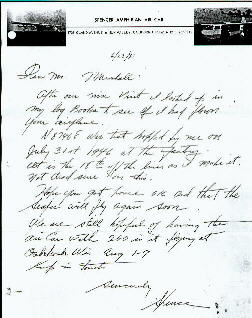 ---
For enjoyable and informative Seabee reading we suggest clicking on the Articles link. You'll be glad you did! Highly recommended!
---
RE: THE DOWNER SEABEES

Jason K. Downer was a Saginaw, Michigan business man, distributor for Trailmobile and other related semi-truck parts and services. I knew Jay as a flight student, a Seabee customer and good friend. In fact, at one time we planned to build and operate an airport, in Saginaw, as partners. The last time I saw Jay was in 1951. He called and indicated he had just purchased a new Cessna 310 twin. As he wasn't rated on multi-engine, as yet, he asked me to fly over to Meigs field in Chicago on business with him. About that time. he purchased the Bellanca Aircraft factory and what he called the Seabee "replacement parts program" from the Republic Airplane Company. Jay left Saginaw shortly after that. He moved to St. Paul to operate Bellanca and I never heard from him again. Imagine my surprize, when member, John Haffner, called my attention to the fact that many Seabees could be found listed as Downer RC-3s by the FAA (about 37). I never knew that he also must have purchased the unsold Factory Bees or manufactured them at the Bellanca plant. Well we both were busy, at the time! Jay died, just recently, March 14,2001 at age 93. PIX was taken at the 1946 Cleveland Air Races*

J. Langschwager; Jay Downer; J Hooper.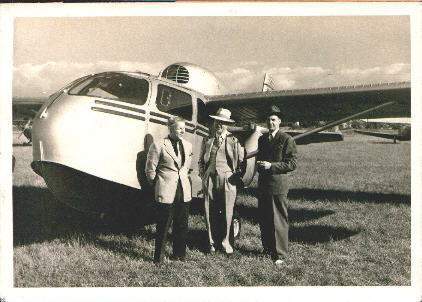 ---
SEABEE ON STILTS?!

Donn Booth sends us pix of two Seabees. One on stilts, parked in front of a bowling alley, somewhere in New England, the other hanging from the ceiling of H. T. Chittums Mercantile Store in Key West Fl. We know there are many Seabees in museums around the world but.....

REALLY! IS THIS THE WAY TO TREAT OLD FRIENDS?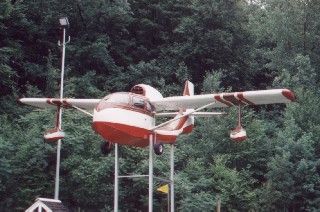 HENRY RUZAKOWSKI WRITES: John, Thought you'd like to know about this. The Seabee that you showed on the stilts in New England somewhere, the gentleman that had put it there came by Miami years ago as I was finishing up my Seabee, he saw the paint scheme I had put on mine at the time and copied it for his.

Also, the Seabee in Key West, Fl, is at H.T. Chittum's Mercantile Store, a clothing store. I built up that Seabee for him in my backyard down in Islamorada (Upper Keys) back in 1989 I believe. I did the painting, delivery and with the help of a cherry picker, we hoisted it up to the ceiling and hung it. The doors and the building were designed around the physical size of the Seabee to house it and suspend it from the ceiling. The fit was so tight at the top that we actually had to have the Seabee in a slight banking turn to fit between the beams, it actually looks better that way. I keep forgetting to send him the Bill of Sale on the aircraft, as I am still the registered owner. Wonder if I could get it back? LOL. And his place is on Duval Street.

One other point, I built yet another Seabee for a clothing store in Orlando, Fl about 2 years ago. I can't remember the name of the shopping mall, it was a new one and we had to bring it in before they closed the extra large doors for delivery of such things as a Seabee. You'll be happy to know that the Seabee that was needed at the store, "A Place Called Mango", was a wrecked one. I had to build up a damaged Seabee. Sounds simple, not really, you ever try and put together damaged and broken parts, they don't fit to well. Took a hell of a lot longer to assemble the Seabee in my hangar for a trial fit and disassemble, load, truck it, unload it, pull it through the entire mall (there were a lot of stares), and assemble it again. The fun part was to hoist it into a position to make it look as if it had crashed into the store. It was quite a site when finished. You could reach up and touch the hull bottom as the nose of the Seabee was on the ground. If you ever get out to Orlando the mall is right off the Florida Turnpike at Highway 50 (Colonial Drive), go about 1 mile south and there it is.

Keep in touch. Henry Ruzakowski email AMPHIBS1@aol.com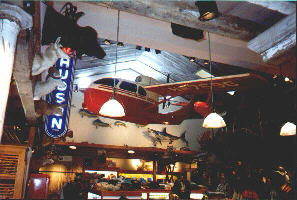 ---
BRUCE HINDS'S MONTHLY NEWS LETTER DECLARED A HIT!

There may not be a Seabee owner's e-mail box that is safe from the information delivered by Mr. Hinds! To receive an excellent Seabee news letter which is full of notices of Bee activity, experiences, pictures, and parts exchange: send your email address to brucehinds@earthlink.net You'll be glad you did!
---
is back in action!

January 12, 2004
- After the death of his father, Joe McHugh, Scott Henderson is going to continue the Simuflight tradition! Below is an e-mail I received from Scott with all the particulars. The IRSOC will be listing the information permanently on the
Services page
and also when Scott has his website up and running we will list it on the
links page
. Thanks Scott, for continuing in your fathers footsteps. I am sure Simuflight will be in capable hands! Good luck!
Steve-IRSOC
"It has been a while since Simuflight has been able to operate because of my fathers (Joe McHugh) death and all the estate issues but we expect to be back in operation beginning in February. Simuflight will be merging with KenAir Aviation Co. of Sonoma Ca. (Ken Thompson) and will building a new facility (Fallon NV.) where we will offer a complete Seabee maintenance and restoration base. Simuflight has a huge inventory of Seabee parts along with all the kits that my father developed through the years. My father salvaged every Seabee part he ever came across through the years and if you can't find it in our inventory then it most likely doesn't exist any longer. We also have a number of critical parts that my father invested in having remanfactured before the originals were lost forever.

We will also be completing a number of STC's that my father had started but never finished so keep in touch as we finish this work and make the kits available. We are pushing to fill all outstanding orders during the first two weeks of February before we pack to move to Fallon so we are encouraging all Seabee owners that need parts and kits to make sure we have orders so we can ship them before we move.

We are also scheduling restoration and maintenance work beginning October 1, 2004. My sisters and I are decided to continuing our fathers legacy by continuing his work and supporting the Seabee community.

All inquiries should be forwarded to the enclosed contact information.

Your assistance in getting the word out is greatly appreciated.

Scott Henderson"


Finite Technologies Incorporated
3763 Image Drive, Anchorage, Alaska 99504
Phone: 907.337.2860, Fax: 907.333.4482
scott@finite-tech.com
January 17, 2006
Scott Henderson wrote:
"I thought I would drop you a note to let you know that Simuflight has competed our new facility and finally moved. We are now located in Fallon, Nevada. The new facility is approx 6000 square feet with attached machining and sheet metal fabrication. The shop will be dedicated to Seabee restoration and maintenance. We began shipping parts the first of this week and will be accepting aircraft starting Feb 1, 2006.
We have also added a traveling A&P/AI to our staff (Tim Sutter) that has many years of Seabee experience both flying and working on them. Tim will be traveling to the Seabee's that can't reach us in Fallon for everything fro maintenance to restorations work.
For all those that have not had a source of parts for the last couple of years we should be able to provide most common parts.
We are also completing two new STC kits for the Seabee:
Landing light kit - puts a landing light in both wings. This kit has been around for a while but we have finally completed the STC for this kit.
Electric elevator and rudder trim - a complete replacement for the current trim system. This new system replaces all the existing hardware with two servo motors for the elevator and adds a rudder trim with a single servo motor. This project has taken nearly two years to complete the certification work alone but it is an excellent replacement for the existing trim system and in some cases the only certified solution where parts are no longer available.
We expect the FAA to sign off on both of these STC's withing the next 30-45 days.
For the first time in many years there is a company dedicated to the restoration and maintenance of Republic Seabee.
Questions can be directed to me at this time, Ken is up to his eyeballs in getting the shop settle down so that he can meet the needs of the aircraft currently scheduled.
Thanks for your time."
Italian Seaplane Club Requests Seabee Information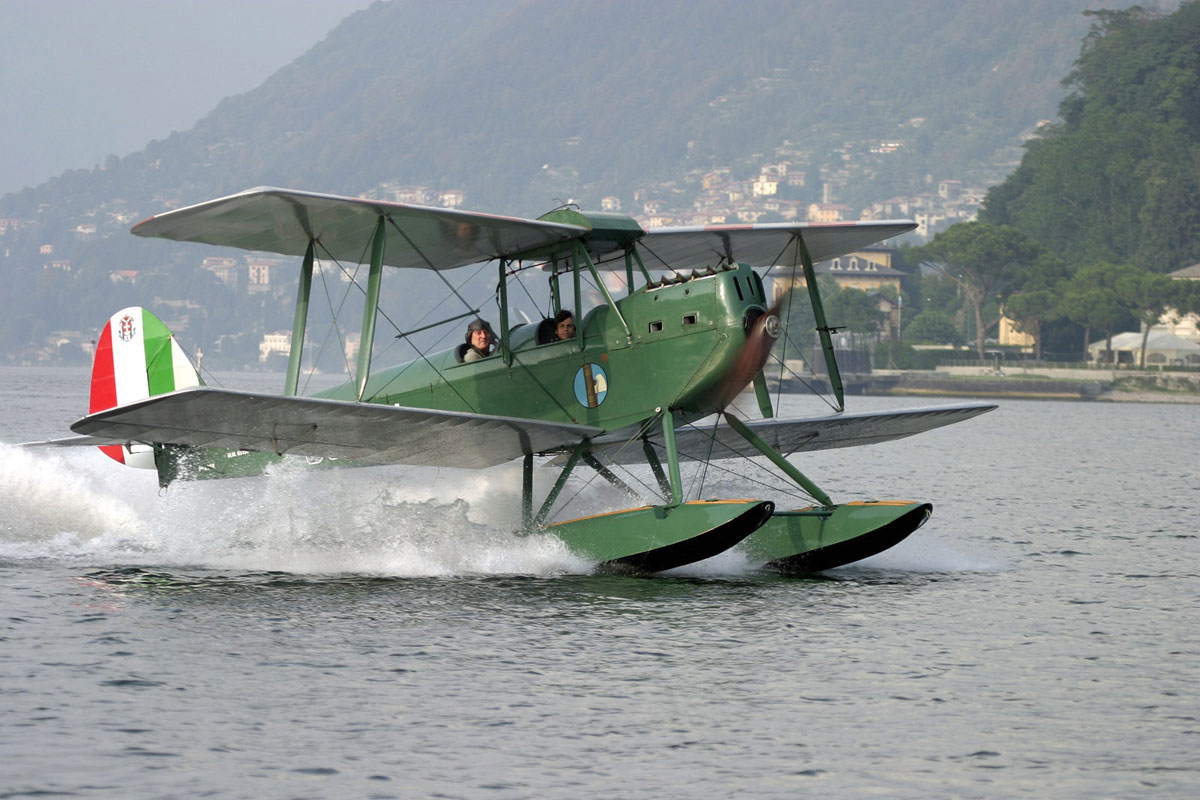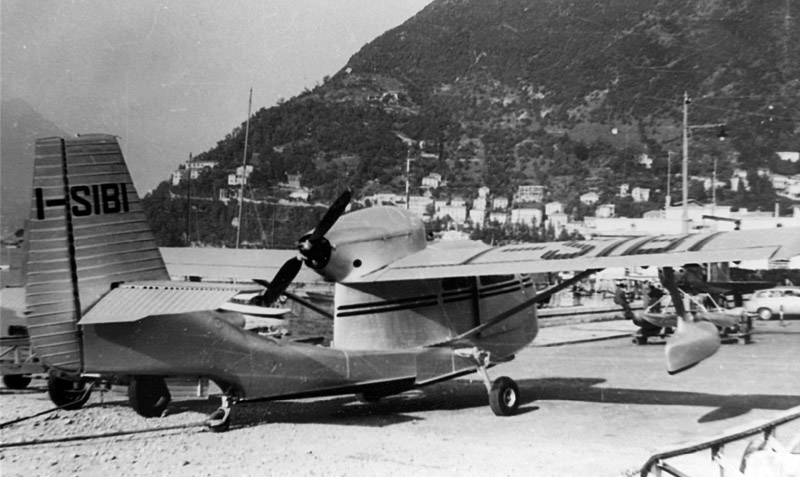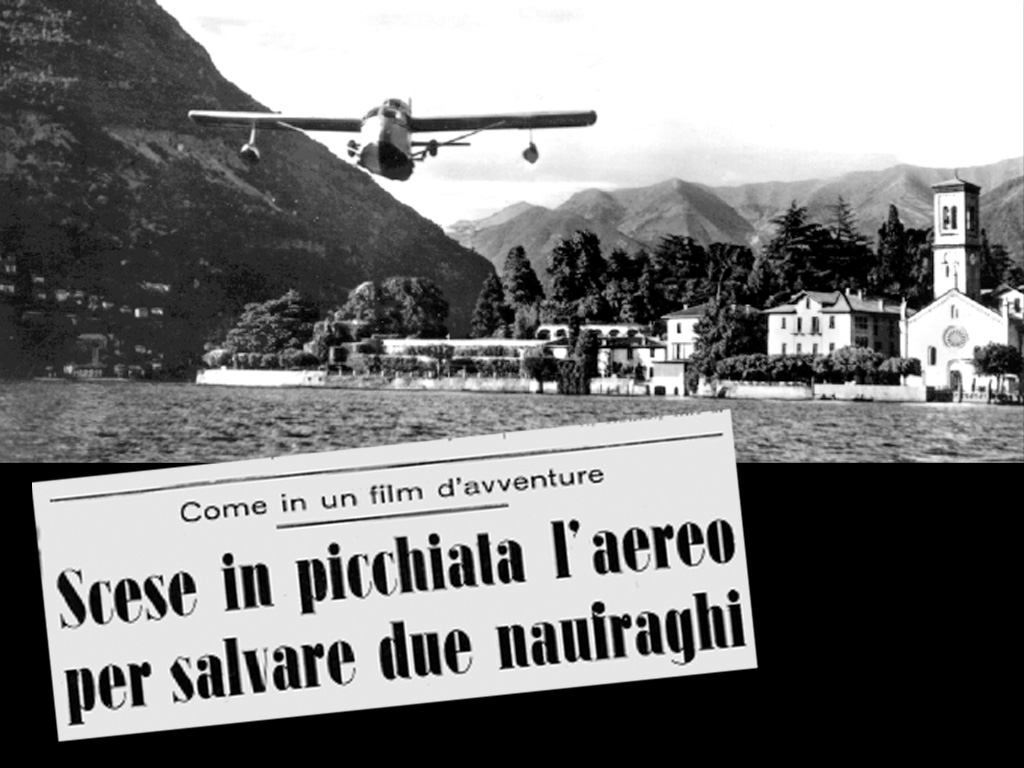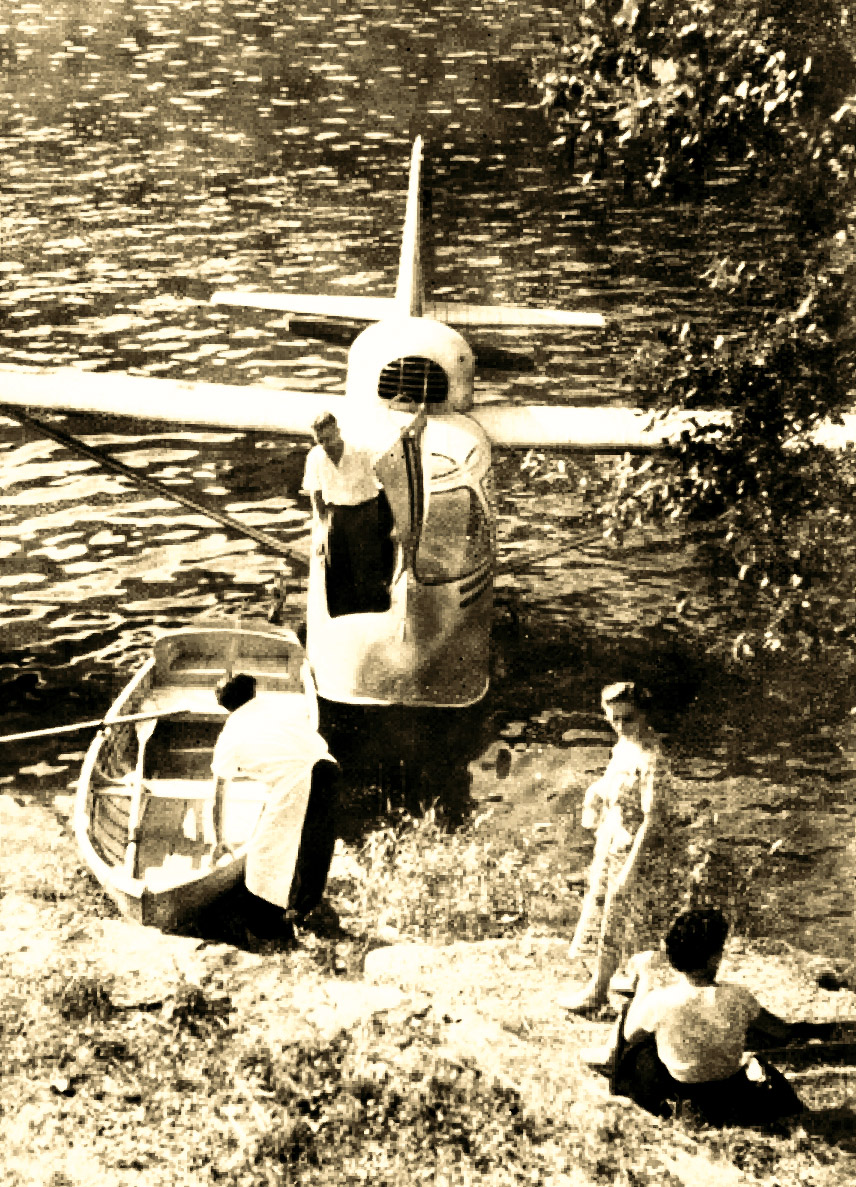 (Ed note:This is truly a global Seabee Club! The e-mail below was received a while back from an Italian Flying Club/Museum and it is impressive! Perhaps you all have some input into their questions about Seabees!!-See below) 



"Dear friends,


we operate the largest seaplane facility in Europe and the oldest seaplane flying school in the world, founded in 1930 (

www.aeroclubcomo.com

).




 




We are slowly carrying on the project of having, in addition to our modern seaplanes, the fleat of seaplanes we had in the 1950s, in flying conditions. In other words we would like to complete the restoration or the acquisition of :




- a Caproni CA 100 (done - see pictureof I-ABOU)




- a Macchi MB 308 (we have done 60% of the work - the picture shows I-CARE as it was in the 1950s)




- a Republic Sea Bee (to be aquired - see the picture of our I-SIBI in the 1950s)




 




So, we would like to buy a Sea Bee.




We own Lake amphibians since 1973 and mantain several of them, belonging to European owners. Personally, I have logged ~2000 hours on Lakes and I have written a book on how to fly them (in Italian).




But we dont't know much about Sea Bees. That's why I am asking your advice.




 




The idea, by the point of view of a collector, would be to have a Sea Bee in its very original configuration (Franklin engine, original panel and instruments, etc.).




But our organization has the promotion of water flying as its primary task. We take every year thousands of people to view Lake Como from above and we sponsor a program to make about 1000 children fly on our seaplanes every Christmas, to tell you about just a couple of our activities.




In other words, we prefer to sacrifice the purity of a perfect orignal aircraft in favour of having an aircraft reliable and easy to operate, also to give to the public the opportunity to fly on a historic seaplane.




 




That's why we think that we should buy a Sea Bee in very good conditions with a Lycoming engine, as the GO-480-G1B6 (295 HP look good; 340 look too many for the aircraft).




 




What I would like to know is if Sea Bees as the best offered in your very nice site are aircraft that can be operated safely and reliably, despite the age. If spare parts can be found easily. If ADs, SBs etc, do not pose excessive problems. If an engine as the GO 480 work well. Which modifications and STCs applied on most aircraft of the type are really needed (for instance the wing extention installed on many Sea Bees seems to be usefull in our situation, as we operate regularly on waves and wakes in our very busy waters).




 




I will be grateful if you can help us in getting familiar with this type of aircraft and give us some suggestions on how to choose one.




 




Thank you. Regards.




 




Cesare Baj




President




Aero Club Como




Como, 

Italy"
==============================================================
New Seabee Project Started by
Jeremy and Tania Brown
Update! August 2006-
Steve,
Thanks for your help.
Here is some pictures of our Seabee 612. Things are going well with the
project. We have done everything to it. Overhauled all Main/Tail Landing
gear and all Hydraulic Cylinders. There was all new control cables with the
paint job that is close to the original style. We are quite excided to get
it together. Now down to the interior and final installation of the dash
panel. It will be nice to send you more photos of C-FGPY when it is in the
air.
Cheers, Jeremy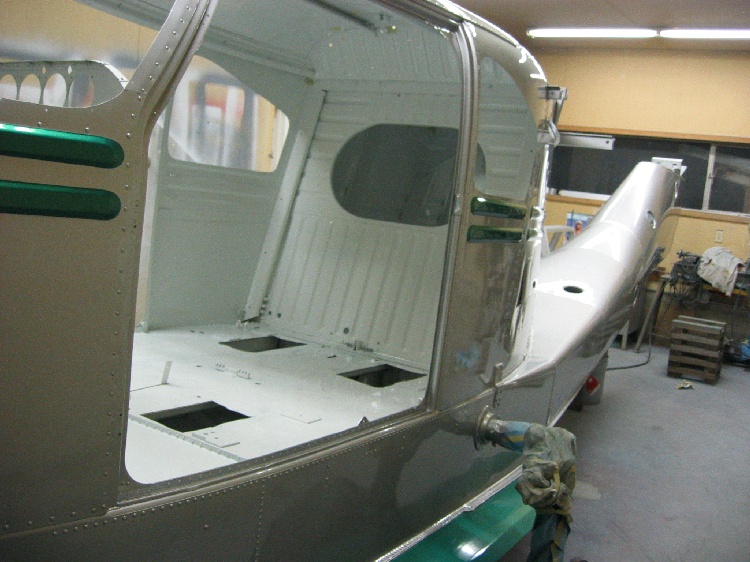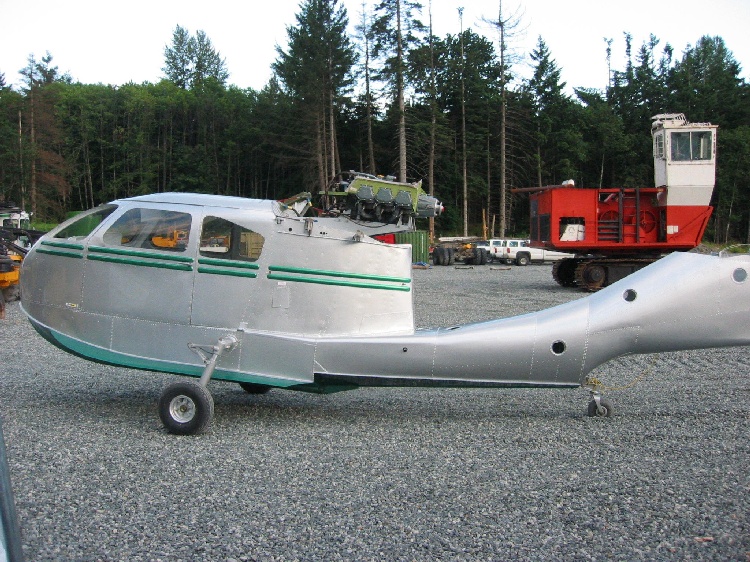 (Ed note: Looks great Jeremy and Tania!)
==================================


BEFORE



January 2004- An e-mail recieved by the club shows a major restoration started by Jeremy and Tania Brown (S/N 612). Below is the e-mail. Keep us posted JEremy!! Good Luck.

"We are in the middle of our project of rebuilding our SeaBee from the ground up. I have completed all of the components and we are just waiting for the paint to be finished. We are putting our SeaBee back to its original color. It will be a green metallic bottom with the strips to match and the main color to be silver metallic. I have attached some shot so you can post them on your site. The main paint should be completed mid December.
Thanks,
Jeremy & Tania"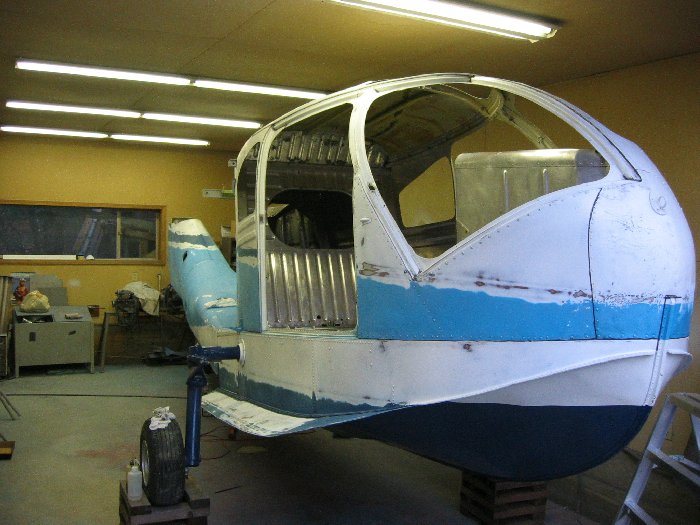 ---
Ben and Melody are at it again!
(no-no, not that...this!)

December 14, 2004
- The IRSOC received the following e-mail from Melody and Ben Coleman...
"...going to pick up a Seabee, S/N 581, in Maryland, that has been sitting in the woods for 15 years. Local kids started using it for target practice. The trip is being dubbed "Operation Seabee Target Extraction". Will provide a visual memo after Christmas.....
Happy Holidays to all....we will be in D.C. (with a 24 foot enclosed trailer).
Love, Ben and Mel"

Then...December 15th e-mail...

"Here is a composite page of pics.....pretty sad. If we collect all the orphaned Seabees in the land, will we get to go to Seabee heaven?"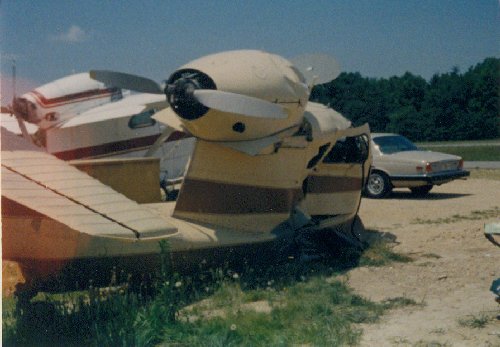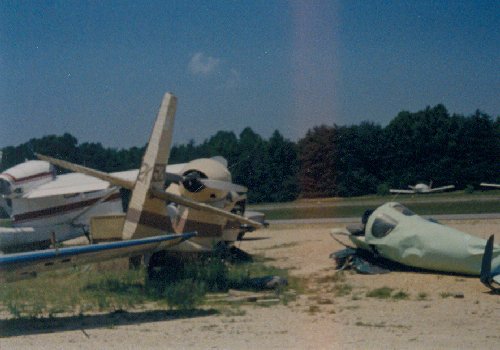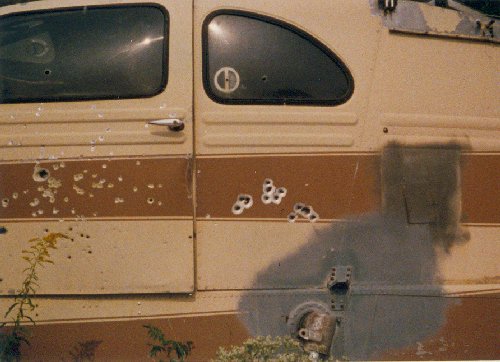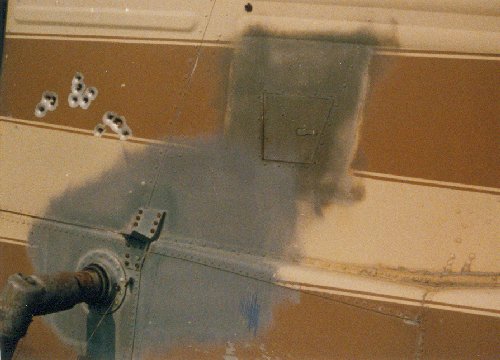 Notice the bullet holes.

(Ed Note:Way to go Ben and Melody!!! I'll send a little note to St. Peter!)

---
Fly-In at Killarney, Ontario!
March 10, 2004-Brian Robinson writes:

Hi Jim,
The V-8 Seabee group is planning a get-together at Killarney Mountain Lodge on 25 June to 27 June. The details are outlined below. Please post a notice on the Seabee club web site inviting all Seabees to join us. There is excellent water access, as well as an airstrip close to the Lodge.
If people need further information, they can contact me at (705) 340-2408.
Date: 25 June to 27 June 2004

Lodge website details
:
www.Killarney.com
Coordinates
: See
Killarney Mountain Lodge Web Site (Airport Info)
Group name
:
Seabee

Contact person
:
Bonnie Sharp

Telephone Number
:
1 (800) 461-1117
Procedure
: Participants to call Bonnie directly and reserve their own room. Register under the group name of Seabee. Participants to send me an e-mail, or phone me, so I know how many people will be attending.
Jim, I need to call Bonnie on
March 22
to confirm how many rooms they will hold for us.
Regards, Brian
---
Glen Curtiss Museum Fly (Splash)-in

Hammondsport, NY
- The Glen Curtiss museum is having it's fourth annual Seaplane Homecoming.
This is the event where Jim Poel flew the Curtiss "A-1 Triad" and the "America".
For more infor

mation call the museum at (607) 569-2160 or Jim Poel at (386) 405-6447. 
You can see the brochure here or visit the museum website at http://www.glennhcurtissmuseum.org/
or go to www.seaplanehomecoming.org for the latest information.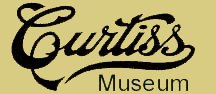 ---
Steve Lantz's "Lake Tahoe Special" is taking shape done!
Takes Grand Champion Seaplane at Airventure 2005!


Update: June 2005 - Steve's "Lake Tahoe Special" is finally completed! See below!
May 28, 2004 - Here is shot of the "Lake Tahoe Special". An amateur biult aircraft based on the RC-3 Seabee fuselage, being constructed by Steve Lantz and Paul Shepherd of Carson City NV. The engine is the Robinson Conversion LS-6 Corvette with 405 HP swinging a four bladed, reversable, scimitar MT propeller. It features the corvette airconditioning and heater system .The Robinson conversion is a beautifully engineered system and has been easy to install. It can be installed under the original engine cowl. The aircraft features gull wing doors, 110 gallons of fuel, and extended wing tips. I will send more pics as progress proceeds.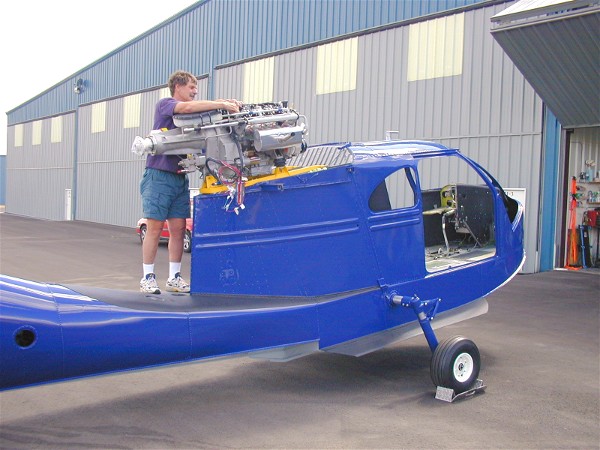 UPDATE!
July 1, 2004
- Progress is good but it doesn't look like the aircraft will be ready for Oshkosh. Im hoping for the Clear Lake splash in. The MT propeller is now hung and in the process of being rigged. The reverse system as it comes from MT was designed originally for Airship Ind. Blimps and would only go from forward thrust to full reverse position. Brian Robinson designed a system that allows for intermediate reverse positions and works very similar to the orignal Seabee system.
(Click on image to see full size)
Tuesday, July 12, 2005- (A date that will live in infamy!)
-
Steve Lantz writes,
"O
n Tuesday, June 12 the FAA certified the aircraft as Experimental Amateur Built. So far I have flown 23 of the required 40 hours (more by now I am sure!) and I can say it is everything I had hoped it would be. Brian Robinsons conversion is a wonderful thing. I have been operating off Lake Tahoe at density altitudes of over 7900 ft on the water and we are airborne in 20 seconds. Yesterday at the South Lake Tahoe Airport with a density altitude of 9050 ft we were off the runway in under 500 ft. It is a fantastic flying machine.
Fuel burn in cruise with the Corvette running at 3300 RPM is about 9 gallons per hour. This aircraft carries 115 gallons with two 20 gallon wing tanks and the main tank. The Corvette air conditioning system works great, pumping 45F air into the cockpit.
Paul Shepherd and I have put over 4200 hours into the construction. I should have the 40 hours local flying completed prior to the Arlington fly in so I am planning on being there. After that Paul and I will be going to Oshkosh in late July. "
Steve continues later...
"...
I agree with you that we are all lucky to be Seabee owners. I think I personally I owe my luck to two people, the first is Brian Robinson for having the courage to engineer and then invest personally in the V8 conversion, and secondly to my friend (for over 40 years) and hangar neighbor Paul Shepherd for spending countless hours working out the details of the
Construction and restoration for this aircraft. I think that I am also fortunate to have been associated with an FAA inspector that knows the FARs and realized that this was a true amateur built aircraft. I think we would all agree that this conversion makes the Seabee a state of the art amphibian, not only safer but more versatile and easier to maintain."


July 3, 2005 - "I now have 43 hours on the aircraft. The engine has been completely trouble free. I am getting off Lake Tahoe in 18 seconds and made a short field takeoff at Tahoe airport and was airborne in under 400 feet of roll at a density altitude of 9050 ft. Pretty incredible. A lot of people have ask about the paint job. We all know that the Seabee was not in the Navy and was not in Vietnam, but I was so what the hell, that qualifies for a Navy paint job. I was a pilot in Patrol Squadron 48 during the Vietnam conflict and spent a lot of time operating out of NAF Cam Ranh Bay flying P-3 aircraft. I believe VP-48 was the last Navy squadron to transition from the P5 Marlin to the P-3. I have dedicated my plane to good old VP-48, long since decommissioned."
August 4, 2005
-
"
Im proud to say that the Lake Tahoe Special was awarded the Grand Champion Seaplane trophy at Oshkosh."
(
Ed note
: We at the IRSOC are very proud of Steve and all his helpers. (Too numerous to mention I am sure) It is a wonderful feeling knowing that Seabees will undoubtedly live forever! If you are interested in the LS-6 V8 engine Steve used, see
Brian Robertson's update here
!)
---
Hardy LeBel dies in plane crash

Long-time Seabee Club member, Hardy Label died in an aircraft accident on November 16, 2003. More details are forthcoming. All we know at this point is what Mr. Wallace has sent us below. Our sincere condolences go out to Hardy's family. (Hardy was the author of the Twin-bee article
here
.)
"Dear Seabee Guys,
Just wanted to let you know, in case you have not heard, that our friend Hardy LeBel, died on November 16, 2003, as a result of an aircraft accident at Westerly, Rhode Island. Hardy was a member of our Exporers Club Chapter in Boston, Mass, where he has given talks regarding his love of aviation and aviation history. He was a great guy, enthusiast in life and he will be sadly missed. You should know that Hardy lived and died doing what he loved. If you would like further information (as you know, sometimes we can learn from these sad events) I would be able to direct you to the accident info. You should also know that he was not flying the Twinbee at the time. Sorry to pass on this news-
Regrettfully, Bob Wallace"
Update!
"Hello Steve,
Thank you for the message back regarding Hardy. I will try to forward two files for your info regarding Hardy. One is from Block Island News where Hardy spent a lot of time flying. The other is the FAA Preliminary Accident report. I normally live in New England myself but have been working these last two years in France (not many Seabees here) but only heard this news and tracked it down from here. I thought you guys would like to know of this. I have a Cessna 170A myself but sure love those Seabees and think your website is great-very informative...

Kind regards from Bob Wallace"
Below are the articles sent by Mr. Wallace. I think you will find them fascinating reading...(Steve, for the IRSOC)
South County Independent article


FAA preliminary accident report
---
Yet another "Golf course" Bee!
June 18, 2003-Mr. Charlie Oliver, from Jolly Old England, was vacationing in Florida when he happened across this Seabee at a miniature golf he writes:


"On holiday in Florida (from the UK) last year with my son, I became quite fascinated by a strange looking aircraft adorning a miniature golf course in Orlando. I took a number of photographs and following my return to the UK, discovered it was a Republic Seabee. This aircraft type is now lodged firmly in my affections and maybe one day I will see one flying for real. This particular example sits on the top of the Congo River crazy golf course in International Drive, but I only wish it were in my workshop being restored! I attach some of the photographs that I took.

With kind regards

Charlie Oliver"
Mr. Oliver is VERY interested in Seabees and would very much like to at least 'sit in one'! If anyone can help him out his e-mail is
charles.oliver@baesystems.com
. I think if he ever returns to the States, I don't think that will be a problem! Thank you Carlie!
(If anyone knows the serial number or history of this Seabee, would you please
let us know
.)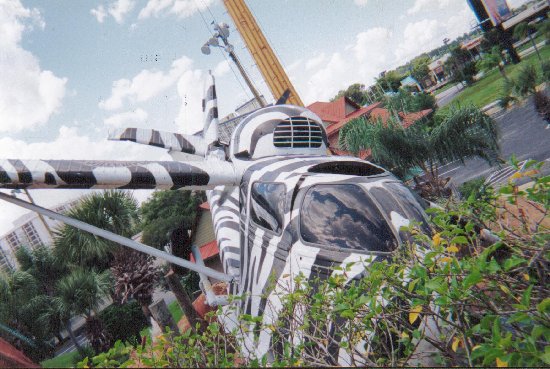 ---
5 Seabee's seen at Sun 'n Fun 2003!


Seabee's L to R: Jim Poel, Richie Brumm, Henry Ruz., Steve Mestler
(Jan Bem parked on the beach)

attendance. Brian Robinson was supposed to be there but was stuck in the weather in Canada. Dorothy Stringer and John Murphy were also present but had a 'hull' of a problem and had to leave their Seabee at Winter Haven. Although the overall attendance was considerably lower than in the past, the fun was still ever-present. After a quick repair of Steve's left wing float strut, all the Seabee-ers went full throttle toward all the events the Fly-in had to offer. The first splash-in was at Oak Harbor on the 3rd. Jim, Richie and Henry flew out to partake (Steve went shopping).
On the 4th, a splash-in at Lake Parker was attended by all four Seabees. That was quite a sight! Jim took Mike Volk of SPA fame for a ride in his trusty steed and we may just have another Seabee convert in the works.
Lake Parker was a very busy place indeed with everything from a PBY to a flying rubber raft! The night of the 4th was spent at the Seabirds Dinner and awards ceremony with food fit for a king and the outstanding company was better than that.
The 5th was highlighted with a flyin at Lake Easy. Good food with good company at a GREAT resort.
With only 25 minutes to make it back to LAL before the airshow started (LAL closed), all four Seabee's started up, ahem, all three seabee' s started up. Where's Henry? His starter crapped out and if I didn't see this for myself I would have never believed it. Henry started a ISGO-480 by hand!! With Jim's help, he got it running and we made it back to LAL right at the whistle! (of course Steve was last to land). Right as we made the turn off the runway, the tower said, "Lakeland AIrport is now closed!" Whew!
Lake Easy, comin' in! Richie's "School Bus" and Henry's Bee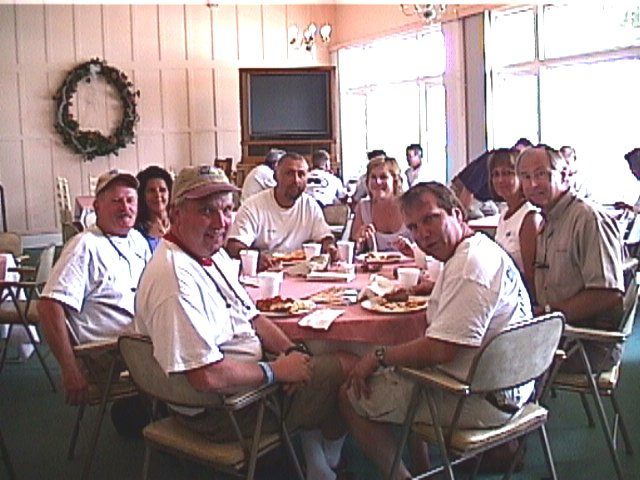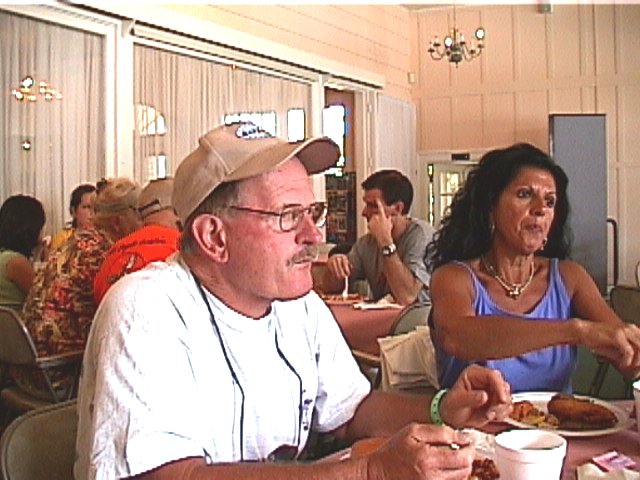 L to R: Richie, Karen, Steve, Henry, Shelby, Richie and Karen Brumm
Scott, Lovada and Jim Poel at Lake Easy
Mike Volk, of SPA fame, was in attendance and what is that I see? He's wearing an official IRSOC Seabee hat! Alright Mike! He is quite a nice guy and a definite asset to us Seaplane Pilots. Thank him next time you see him.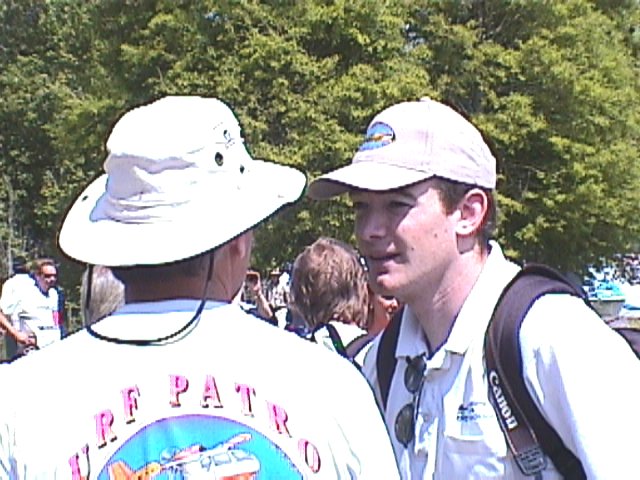 Jim Poel with Mike Volk. Great hat, Mike! Jan Bem at Sun 'n Fun
Richie Brumm flew a yellow Seabee they nick named the 'School Bus'. He had one of his famous Franklin engines installed in it and it worked flawlessly!

It was the first time at Sun 'n Fun for this author, and he plans to go again and again and again...they don't call it Sun 'n Fun for nothing! By the way, Jim Poel won 'Best All Metal Amphibian"! Congratualations, Jim.
---
Flying Boat Video Available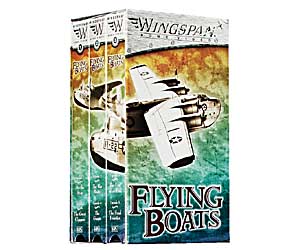 March 22, 2003
-Evidently, Discovery Channel had a special on Flying Boats last month and they are now offering the video
online here
. The video is 5 hours and 12 minutes long and I hear it has shots of our cherished Seabees in it! Thanks to Bruce Hinds for the e-mail with the information.
Price is $34.99. Check it out!

---
"Running out of fuel is due to excess
air in the gas tank!"
(or Tips from Guy Cazort)


MARCH 19, 2003-
But seriously don't believe your dip stick untill you have first drained all of the water that leaked into the floatation compartment that sits directly under the fuel tank. That water will displace your fuel bladder and register as gas. (See
July 1985 Newsletter
for dipstick measurements)

The best bet is to know your fuel consumption and don't get close to empty and be aware of that fuel indication problem. I had another reply of someone who had a similar experience with incorrect fuel indications due to water under the fuel bladder. Also if your fuel is high it will probably have enough pressure to keep water from displacing it. I think that the problem only occurs when your fuel is low. Unfortunately that is the worst time for it to happen.
When I first bought my Seabee someone told me to check the aileron control cables where they make the turn from the fuselage to the wings. Sure enough they were frayed around the pulley. I had all new stainless steel cables made and installed them along with the other things listed in that article. Some one else suggested that I remove the valve covers and check to make sure that the valves were oiling. My engine had low hrs since overhauls and I figured that I didn't need to check this. Boy was I wrong about that. the guy who rebuilt the engine installed B9f pushrods in with B8f rockers and three didn't match and the oil passages didn't align. also carbon can get clogged in the hydraulic lifters and slow or stop oil flow. I soon wore out a valve guide. I have a JPI EGT CHT gauge so I saw the problem soon after the valve guide wore out.


Go through the article
"Cazort buys a bee"
and check all the things that were wrong with mine to see if you need work on yours.
As John Hooper would say: God bless,
Guy Cazort
---
AOPA Has FAA Medical Form online!

February 28
- Check
here
for the AOPA Medical "TurboMedical" survey. You have to be a member to take it, but who isn't? You can save your information (on the AOPA website) or delete it.
---
Seabee Lands in Golf Course!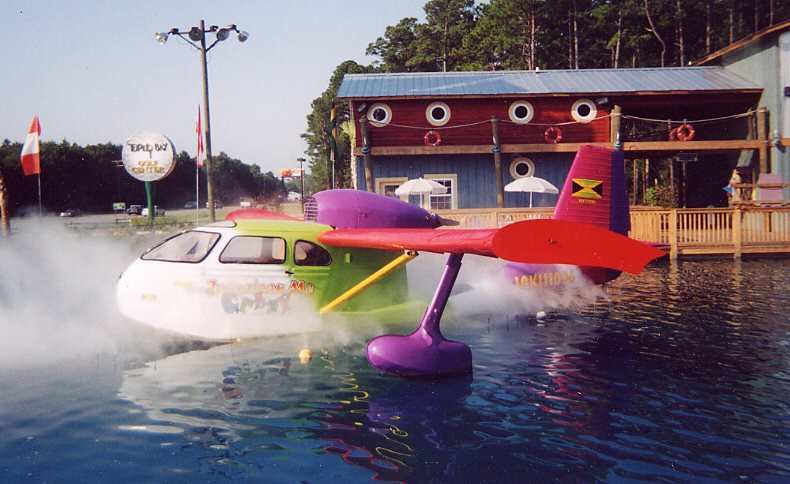 Jan 28-Donn Booth sent this in for our inspection. It appears that a miniature golf course uses this Seabee as a hook. Wild paint job! He says there is an electric motor driving the propeller and spray bars along the sides for effect. (It would be interesting to see what the serial number is.) If anyone knows anything about this machine, e-mail us and we'll include it here. As tempting as it might be, please do not paint your Seabee this way!
---
New V8 Powered
Seabee Website

Jan 8-Brian Robinson has got a website that explains all about the Chevy V8 conversion. From the looks of it, there is nothing lacking on the website! It looks great! Click here to go there now. Good luck Brian. This may keep our Seabee's flying forever!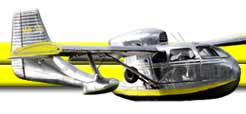 ---
JIM POEL FLIES THE SEABEE FOR THE SPA
All of you would be Seabee pilots, better click on the INDEX for "Flying The Bee" written by Jim Poel for "WATER FLYING" published by the Seaplane Pilots Assn. In it Jim reveals the Seabee in all its vagaries. This article will give you a good feeling about the Bee and you will be a better, safer Seabee pilot for having read it. Congratulations Jim on this great article. If you fly a Seabee, it is a must for you.
---
STEVE MESTLER WRITES TWO SEABEE ARTICLES IN "CAROLINA SKIES"
Writing about his love affair with the Seabee "Marty B", Steve Mestler's articles make interesting reading for Seabee Owners. His humorous account of trying to take off with the hull full of water is excellent reading along with providing a few caveats for all of us. You will find his stories under "Marty B" (Articles) in the index. We know you will enjoy them.
---
JIM POEL ON SPECULATOR, NY 2001 FLY-IN
Hi John:
"Just got home from rainy Speculator. Thursday was the only day that it was nice! We had five Seabees again this year.I may have another pix or two for you, later. The Bees that participated belong to Ed Tello, Bill Bardin, Brian Robinson, Rich Brumm and myself. There were many other Bee enthusiasts and admirers so our ships got at lot of attention. Yours truly was the only entrant in the contests and failed to win this year. No trophies for Seabees this year. (wait till next year) We took several pix of the five Seabees flying in formation. Will send some if they turn out."
Jim.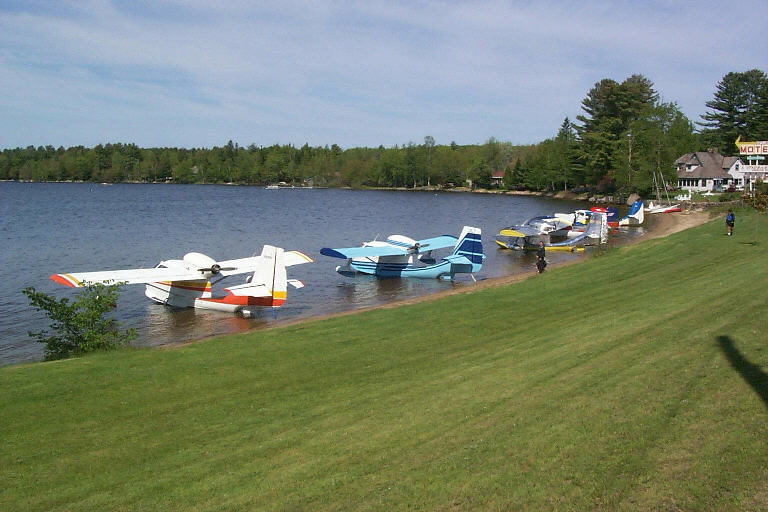 ---
Man Seen having FUN at
SUN & FUN APRIL 2001
Several members of the Seabee Owners Club enjoyed themselves at the EAA "Sun N Fun" 2001 fly-in at Lakeland, Florida. Pix shows Richie Brumm and George Keller relaxing at this years Lakeland Florida fly-in. Richie indicated there were five other Seabees there, at various times. Many seaplane owners showed interest in Rich's Franklin engine installation. After the fly-in Rich and Brian Robinson flew to Key West for a little more fun in the sun.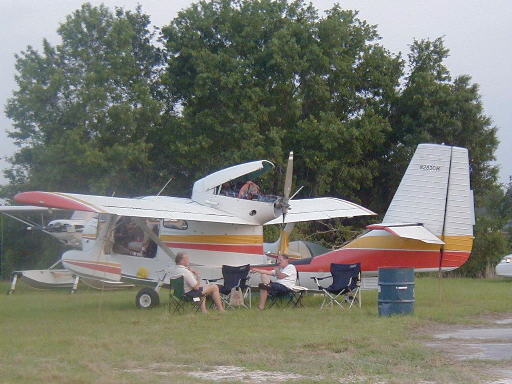 ---
SEABEE FLY-IN HERE?
THINK ABOUT IT!
Bruce Erwin writes.... I live on Lake Barkley, Kentucky. There has been a Seabee landing and doing
touch and go's out in front of the Lakehouse and makes one think of what a beautiful place this would be for a Seabee Fly-in. Twin lakes, Barkley and Kentucky are 60 and 80 miles long respectively and there are many protected harbors,airstrips, ample lodging and restaurants. For details write the Cadiz, Ky. Chamber Of Commerce or contact BRUCE ERWIN lakeman@dynasty.net

SOME ARE RECOMMENDING ALASKA!
Tim Sutter writes...

Beautiful Lake Louise is the perfect place for a "Seabee Alaskan Vacation." Just a short hop from Anchorage you can be fishing for TROPHY lake trout in a hurry! The LODGE, open year around, offers restaurant and cocktail lounge, rustic cabins, bed and breakfast summer specials. Plus Fuel, Boat & Motors, Canoes, Swimming Beach and many other amenities. For Reservations call Toll Free 1-877-878-3311

Tim says: "The lodge is a very nice place and has a nice sandy beach and you can taxi out of the water if desired". He indicates he has a good beach and a place to park three or four Seabees, out of the water. Any Seabee owner is welcome to camp at his place. He has space for several dry tent locations.

Tel Tim: (907) 223-4230

Deborah Wallace writes...

We had a wonderful exerience this summer, delivered a Seabee to Anchorage, we took 6 days. I think I will be writing an article on the Seabee as the ultimate camper. We had just one week to prepare for this trip. Quite a challenge. Stopped and saw Don Kyte in Juneau, and he said that flying thru Glacier Bay then up over the Grand Pacific Glacier was the most beautiful flight he had ever taken. We had lovely weather and so went for it! Incredible. A trip of a lifetime! Have the Washington State Seaplane Pilots Assoc. Splash In this week end here atLake Cushman, I'll be cooking Salmon. And then we'll head to Clearlake CA at the end of the month for the West Coast Splash In, always one of my favorites, I'll visit my sister. I am quite impressed with how much the website has grown! Still need more time to see it all! You're doing a great job! Watch your mail box for the latest. Take care, Deborah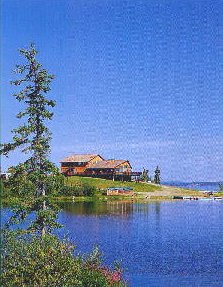 ---
SOME ACCUSED OF BUILDING THEIR OWN HOME-MADE "SEABEE" AMPHIBIAN!


Patterned after the Seabee, by the designer of the Seabee, this "Spencer Air Car" is a big, comfortable, four-place amphibian of proven design. (38 are licensed and flying).

Complete set of blueprints available for $300.00.
Please contact
Mr. Robert Kerans of Spencer Aircraft
Box 327
Kansas, IL 61933
For Details of Aircar or Seminar Tel (217) 948-550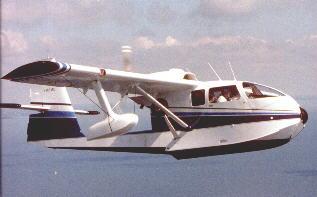 Spencer
Aircar
---
BELIEVE IT OR NOT!

It turns out that the post office of New Caledonia decided to commemorate the opening of the New-Caledonian Airlines in 1947. The airlines purchased five Republic Seabees for domestic routes, resulting in the issuance of a stamp for each. Also the country of Bhutan issued a SEABEE stamp. It turns out that Bhutan is a small country in the Himalayas, bordering China with elevations of 4K to 14K feet. No one seems to know this came about. Let us hear from you, if you do!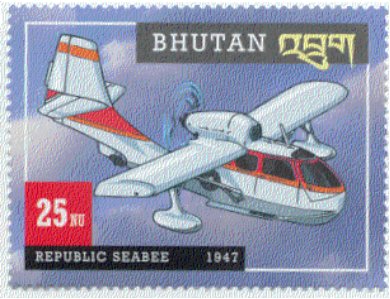 ---
SEABEE OWNERS MUST READ THIS

Subject: Jay Downer
Date: Wednesday, May 27, 1998 9:42 PM
Dear John:

Came across your home-page tonite and am extremely happy I found it. My name is Jack Thomas from Bay City, MI and back in the late 40's and early 50's, John C. Anderson and myself owned SeaBee licence number N6333K. We knew Jay Downer quite well because of our interest in SeaBees. An interesting thing that you may not know about Jay after he purchased Bellanca and all of the parts and rights to Republic SeaBees. He was trying to improve the performance of the SeaBee and he actually stuck pieces of yarn to all of the surfaces of the airplane and had it towed as a glider and photographed it from another plane to study the airflow. One of the things I remenber was that he thought the SeaBee performed better with the landing gear down because of the turbulent air that the prop received with the gear up. We always flew ours with the gear down after that. We also had quick disconnects on the hydraulic lines so that we could remove the gear easily for fishing trips into Canada. We flew out of James Clements Airport in Bay City and it is located right on the Saginaw River,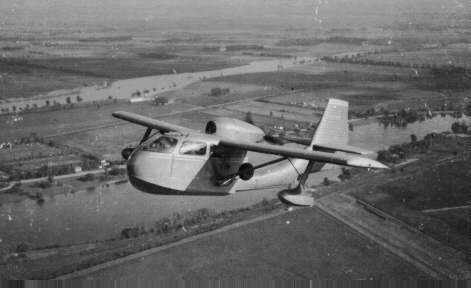 so it was easy to take off and land in the river to remove the gear. I had an embarrasing experience with the plane shortly after we bought it. I had been practicing water landings and takeoffs and was back on my way to the airport. Since I had been flying a Beech Bonanza a lot previously, I checked the landing gear light and it was green and never thought about the light being red when the gear was down. When it sank the last few feet I knew what happened but it was too late. I landed on a shale runway and it was like being inside of a kettle drum. It was smooth though. Slid about 100 feet and it laid over on one float when it stopped. No real damage tho. Had an A-frame truck come out and lift it so I could get the gear down. Only damage other than my pride was a broken tail wheel cable.

John, I hope this e-mail was of interest. Drop me a line.

Jack Thomas jethomas@concentric.net Bay City, Michigan

ONE OF THE BEST OF THE BEE STORIES, THANKS
J. HOOPER
---
HERBERT S. NORRIS
FINDS HIS SEABEE!

Bremerton, Washington- Herb sent us this pix of his beloved old Seabee flying machine N6295K. Long since retired from piloting, Herb says he was of the generation that was controlled by red & green lights from the tower. Nuff said? Our records indicate this Bee is presently owned by Dr. Ben Blackett of Tacoma, Washington.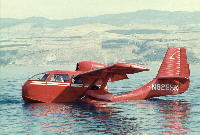 ---
Alabama Seaplane Splash-In

Friday, March 26 to Sunday, March 28, 2004

Centre, AL
. Arrive Friday afternoon at the Centre Airport (
C22
) or on Weiss Lake at the Alabama Belle Hotel. Rooms are available at the Alabama Belle and Centre Motel. Transportation is available from the Centre Motel. Food will be served throughout the event at the Alabama Belle, and activities at the hotel will include pontoon boat rides, fishing, hiking, and social gatherings.
Contact Harley McGatha for details and to register,
comanche@tds.net
.
---