Members Pete Norman and Eric Huppert flying the award winning Seabee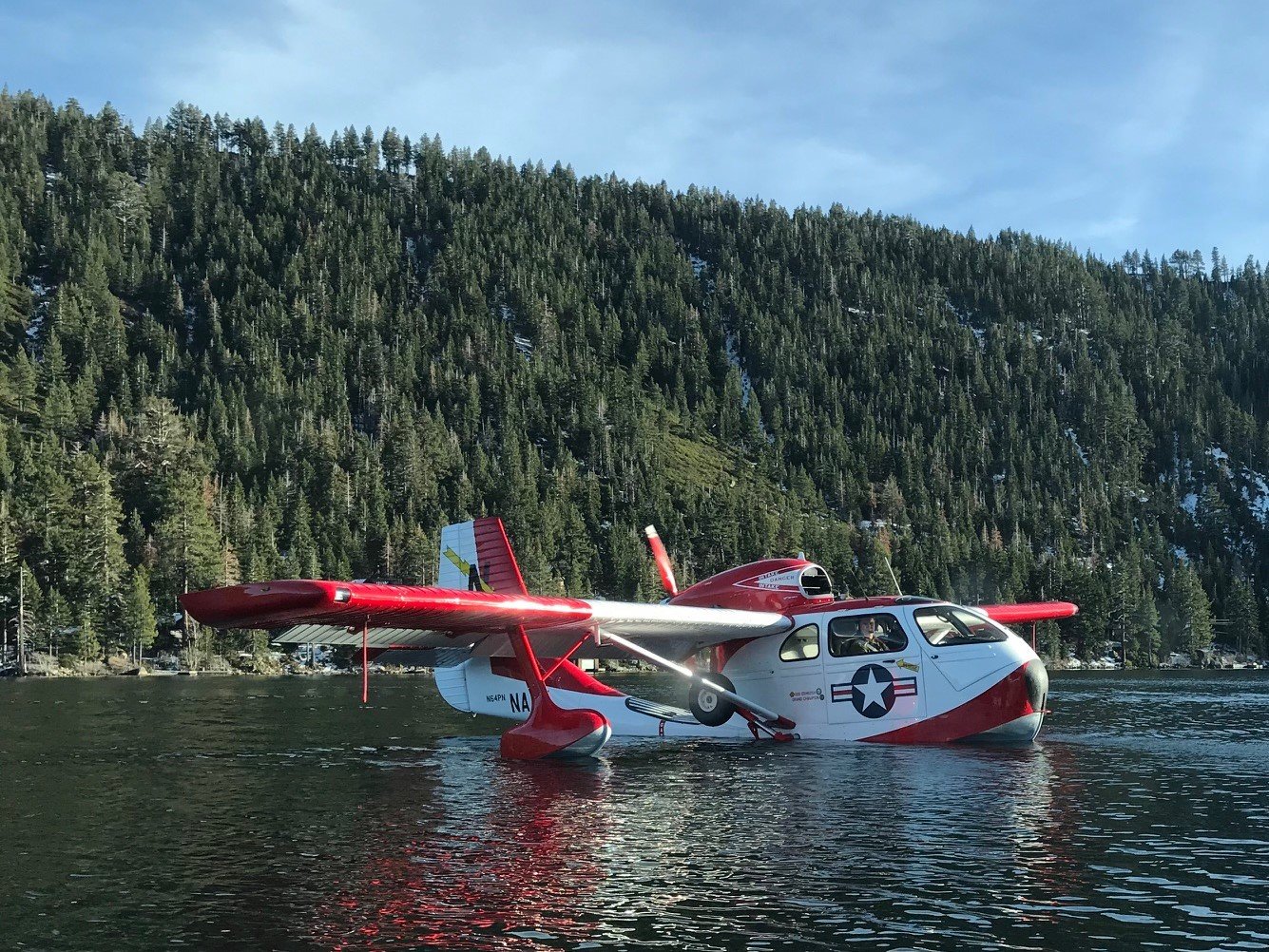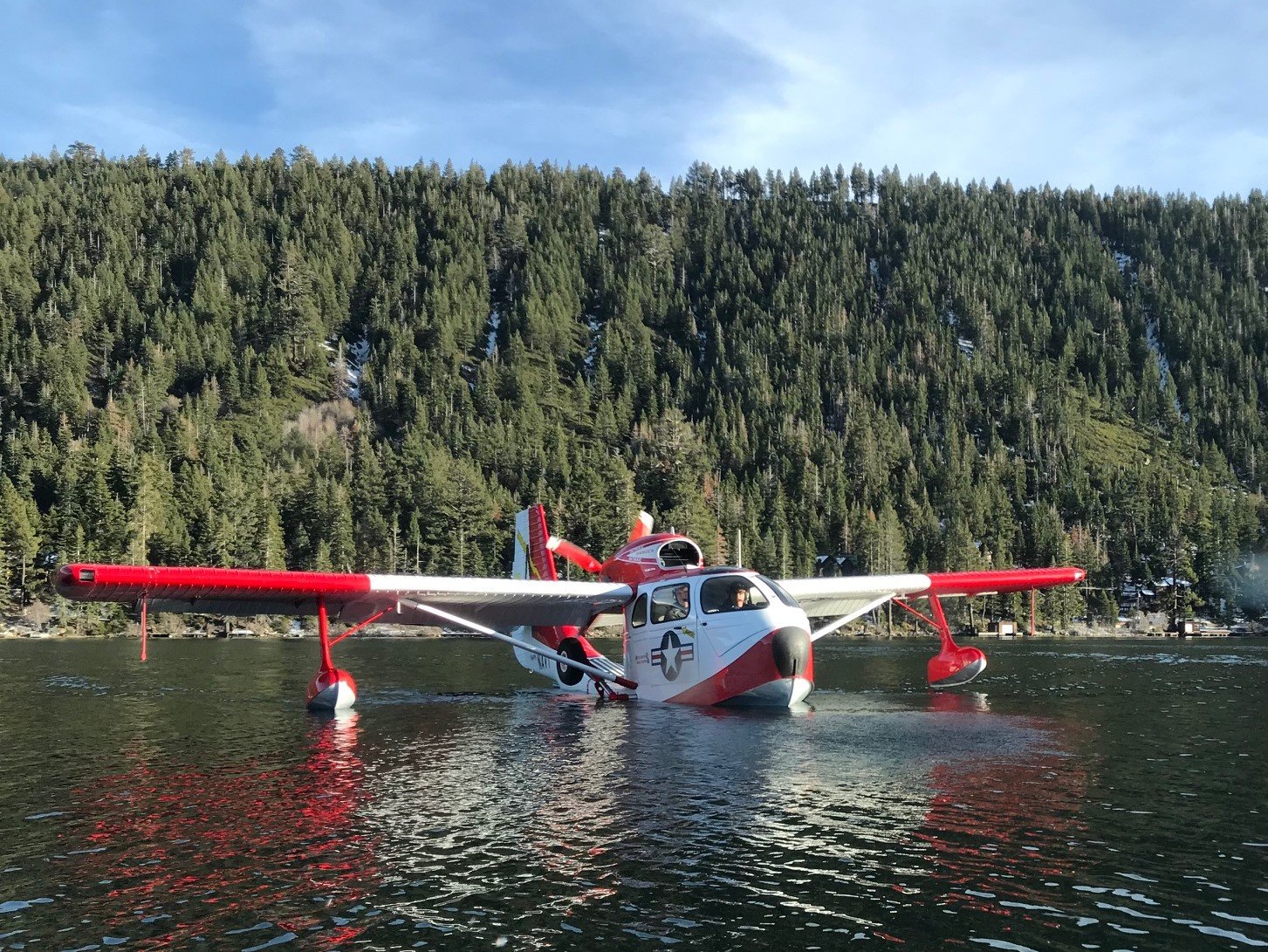 Eric Huppert visiting Pete Norman on Fallen Leaf Lake just south of Lake Tahoe.
Photos by a guy in a Turbo Lake Amphibian.
---
Anybody know about the Starn's Seabee operation in Atlantic City?
I received this from Mr. Don Dyen. Very cool photos...
If you know anything about Starn's, contact Don at d.dyen@verizon.net.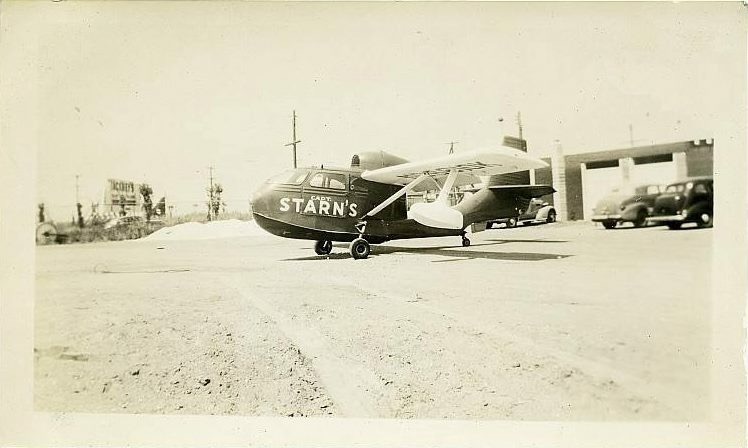 Photo 1
Photo 2
"Hi, I was born in 1944 and as a child we had a house in Ventnor New Jersey. I used to go with my parents to Captain Starn's Inlet in Atlantic City. They had a Seabee there and I used to watch it at the dock where it would start up and take off in the bay or ocean there. I used to watch it, with my little brother, fly up and down the Island, it was very loud and had a distinct sound and we could always hear it coming. I found a photo of the Captain Starn's Seabee from about 1949 and I figure it flew from the inlet and gave rides to people from maybe 1947 to 1952, and then I am told they stopped due to all the boat traffic at the inlet. We also saw where they parked it to store in the winter at Bader field in Atlantic City which was near the inlet. We, my brother and I, were heartbroken when they stopped flying it there. My brother has passed on and I've been remembering things about this plane that we both loved so much. I looked thru your list of planes sold but couldn't find anything about one that went to a buyer in Atlantic City, but maybe it was one of the ones bought and shipped to Philadelphia. I'm just curious if you know anything about the Seabee that flew out of Captain Starn's and if you do or have any photos I would love to see them if possible. I am attaching the one shot I would of the plane and a promo piece from Captain Starn's listing the seaplane ride and prices as you might find this interesting. Over the years I have built plastic models by Lindberg and am looking at buying plans for one, a radio control one with a 51" wingspan, I built so many flying models as a teenager, but never a Seabee. At any rate, thanks, for listening, and anything you could tell me about Starn's version, I would really appreciate.
Thanks, Don Dyen"
========================================================

Below are photos of the "Ol' Marty B" taken from an Aeronca Champ by former Pan Am/National Airlines pilot Jim Franklin. Taken on Lake Murray in South Carolina. Thanks Jim!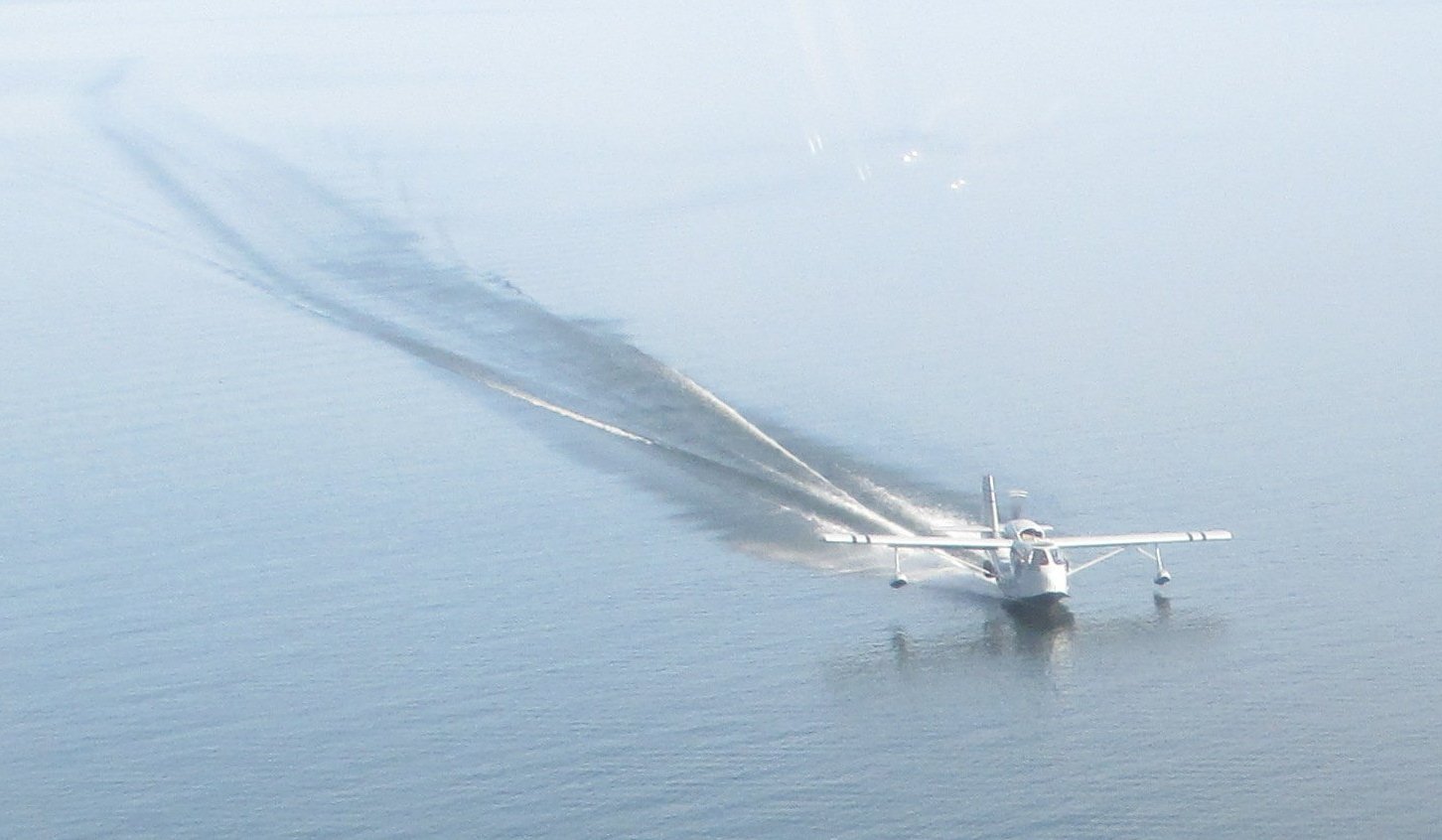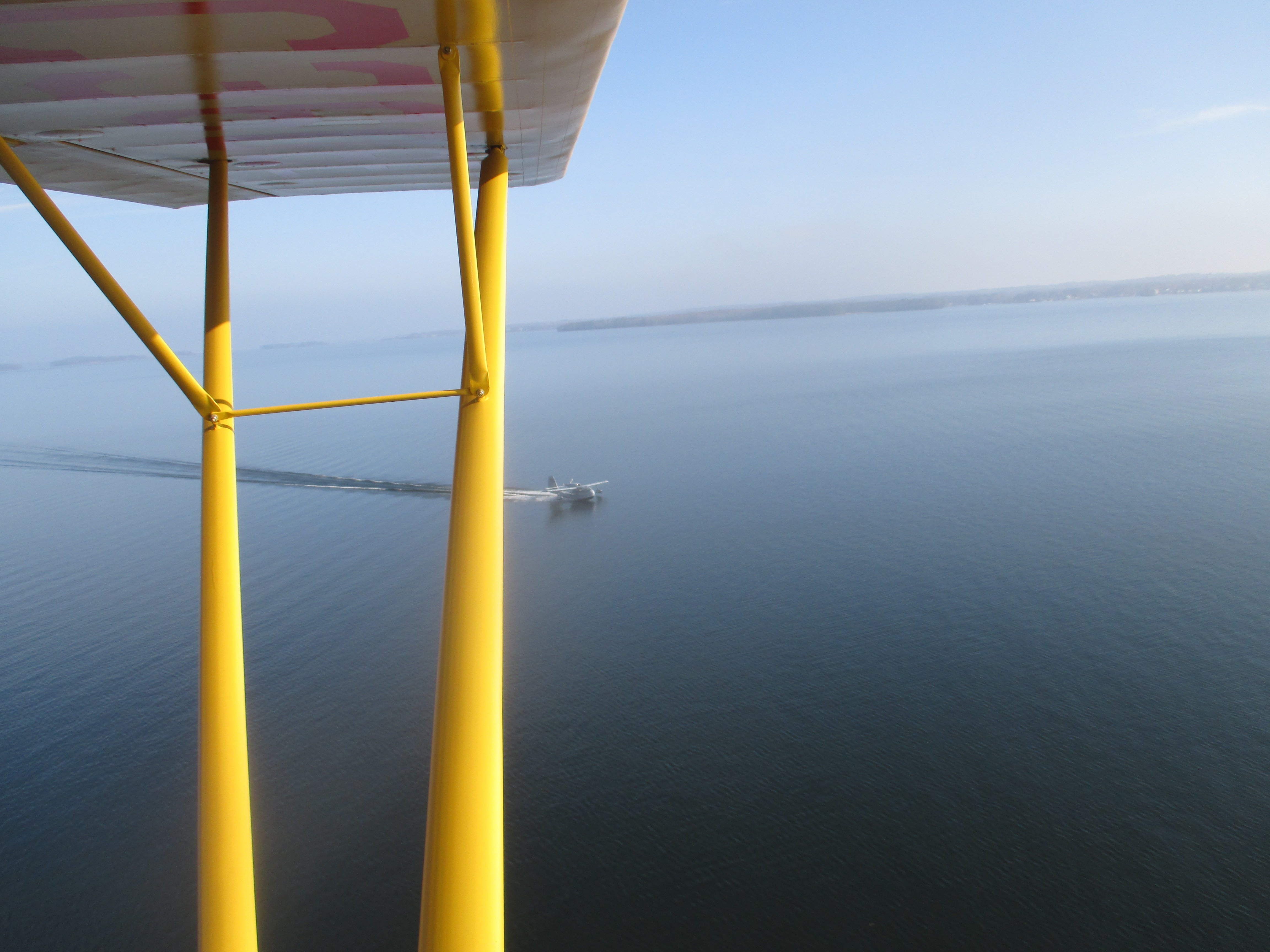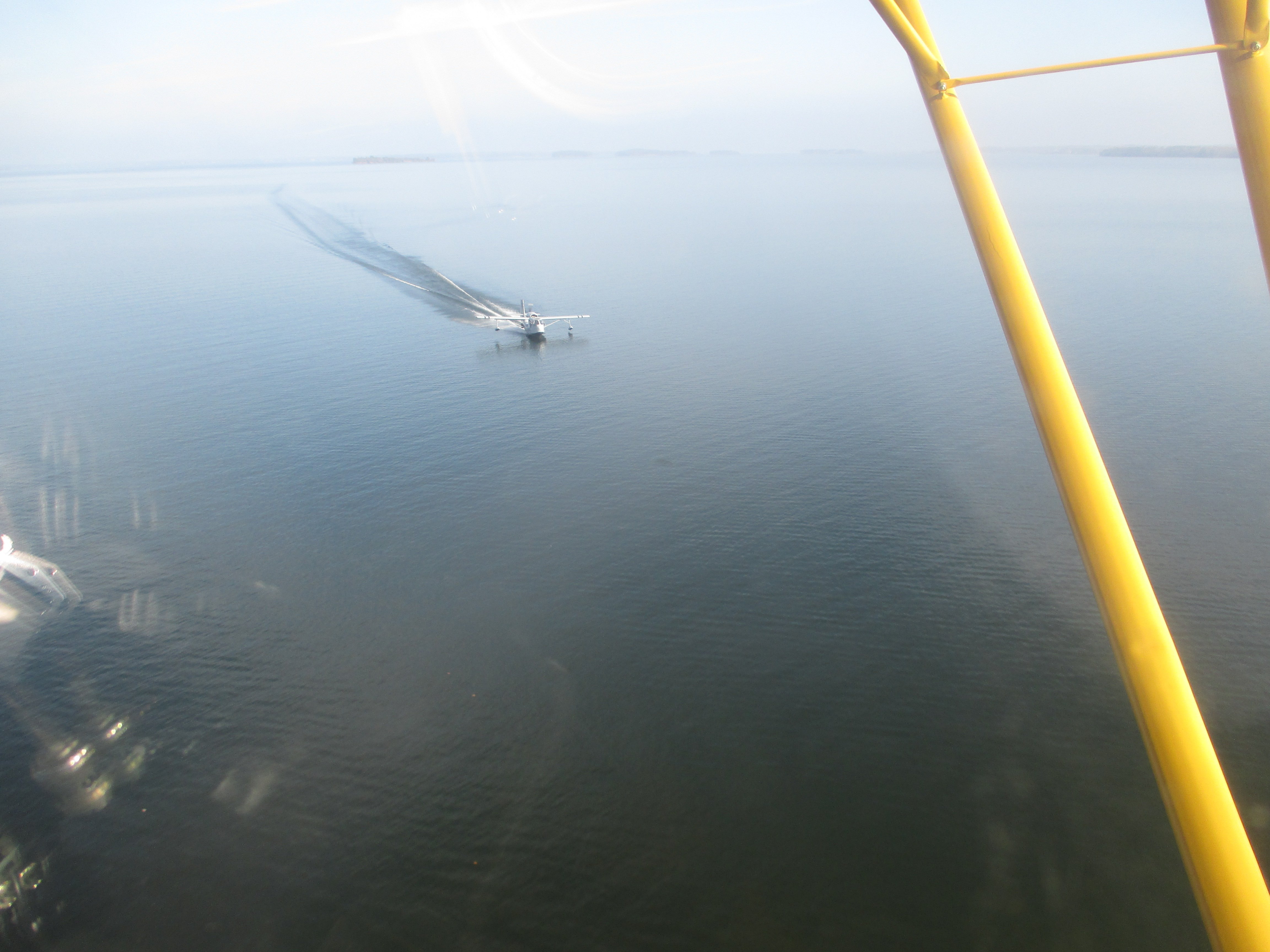 ==================================================

Member Tom Hoag at the Vintage Aircraft Weekend at Paine Field,
where Boeing has their big plant. Thanks Tom!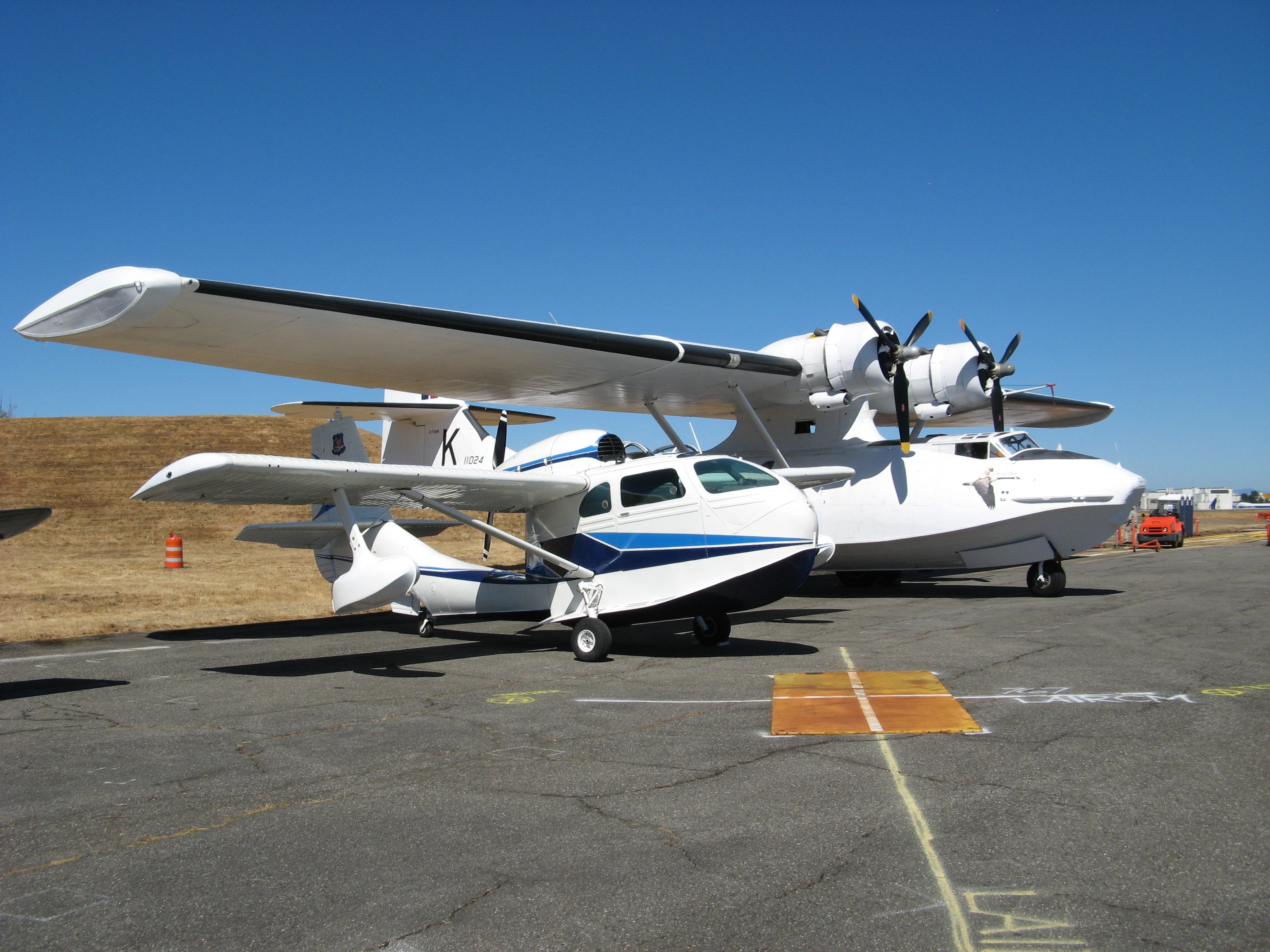 ===================================================
Our future is in good hands!


Member Eric Huppert copiloting with Grandson Josh.




At-a-boy Josh!!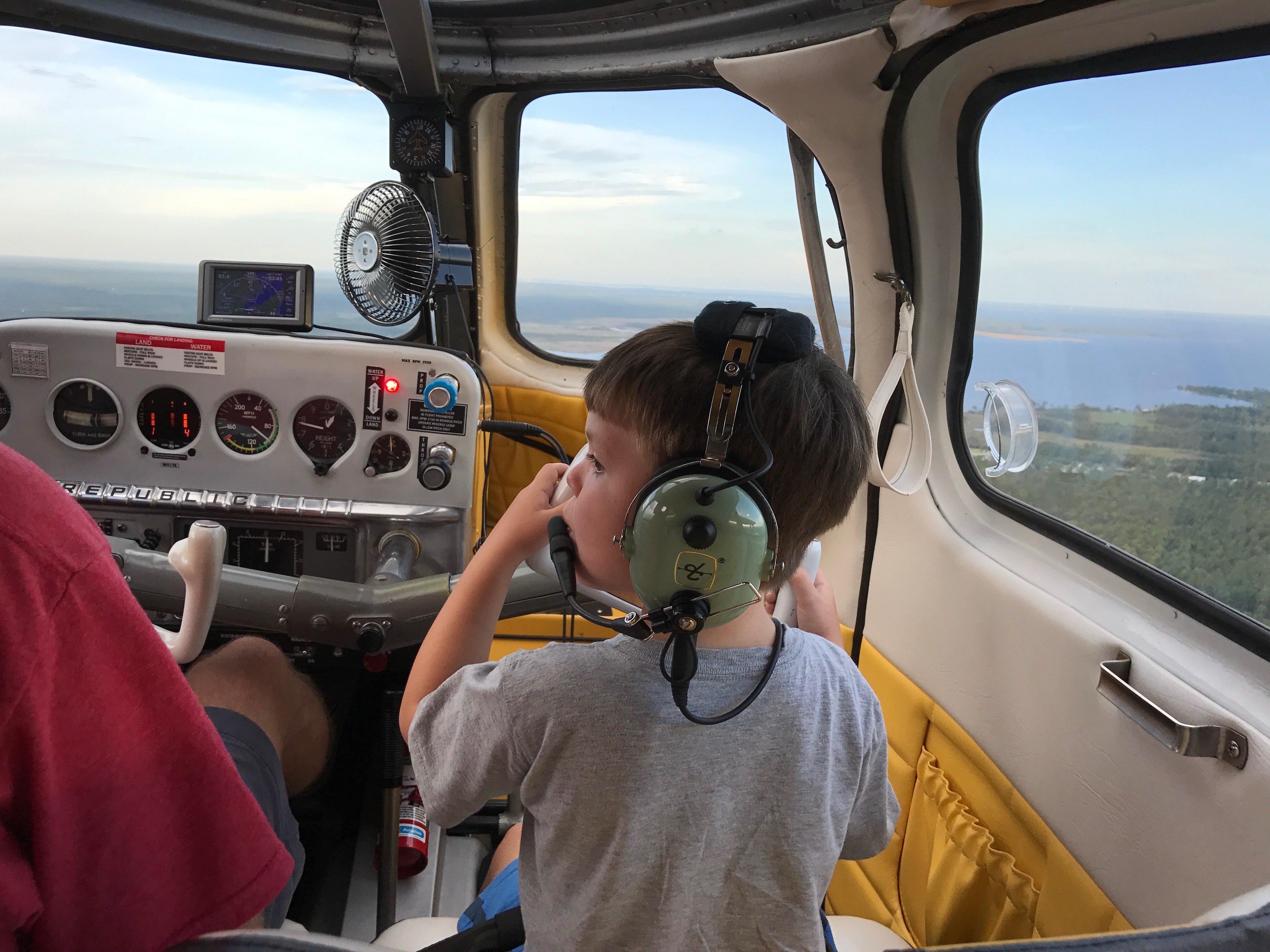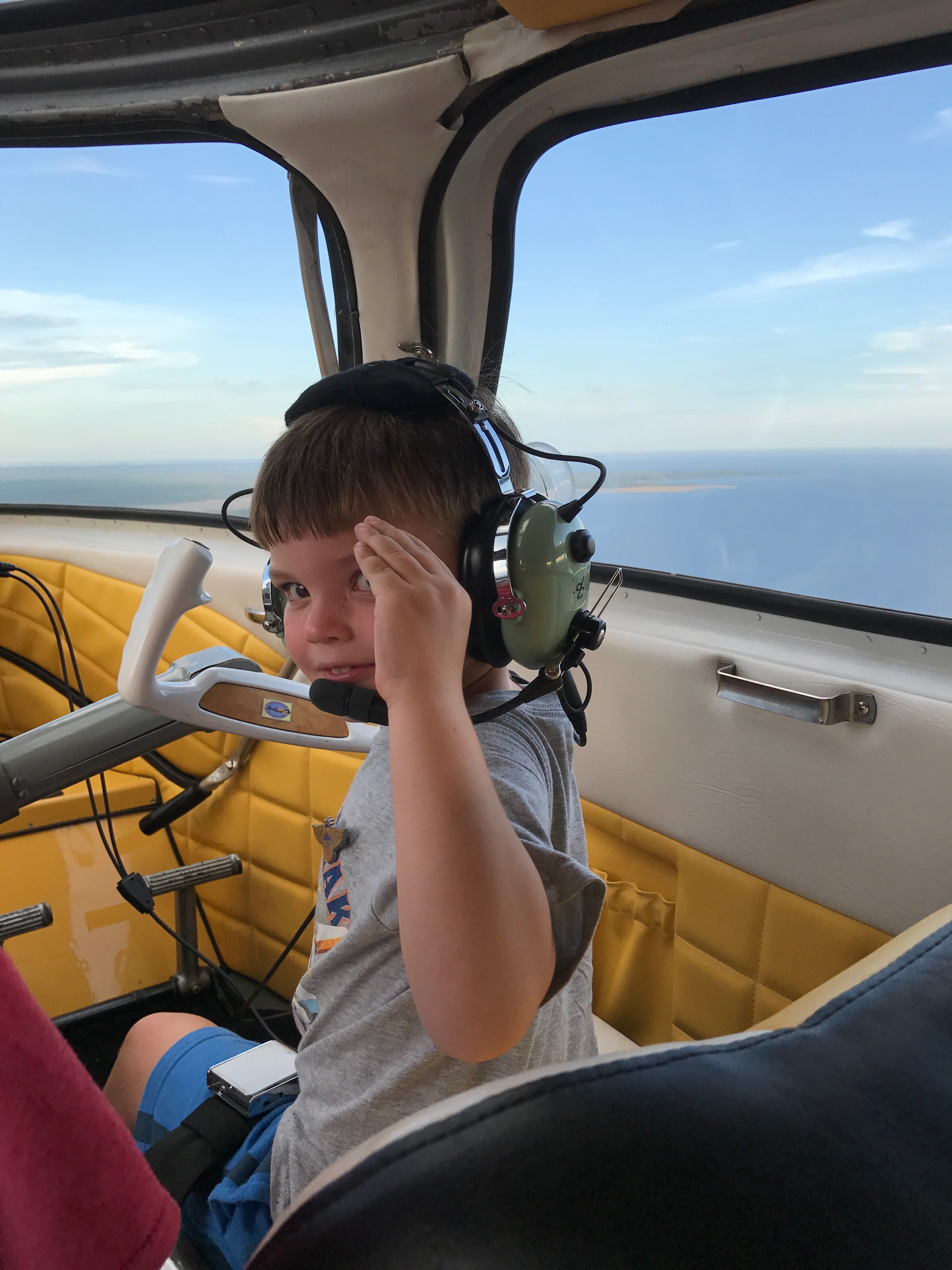 Photos by Josh's Mom, Kristen.
(click on photos for full size view)
---
Our Canadian brother Michel Allard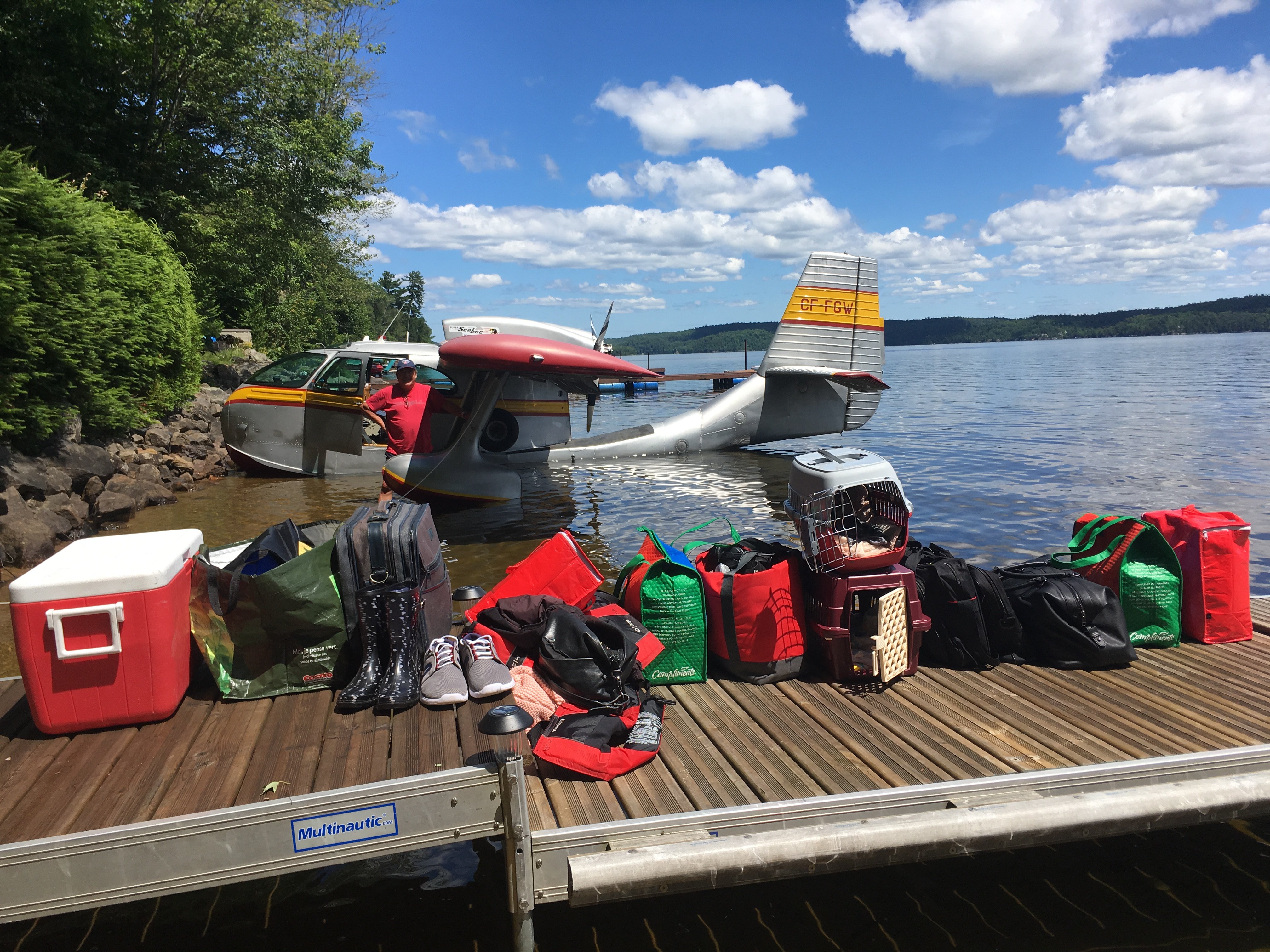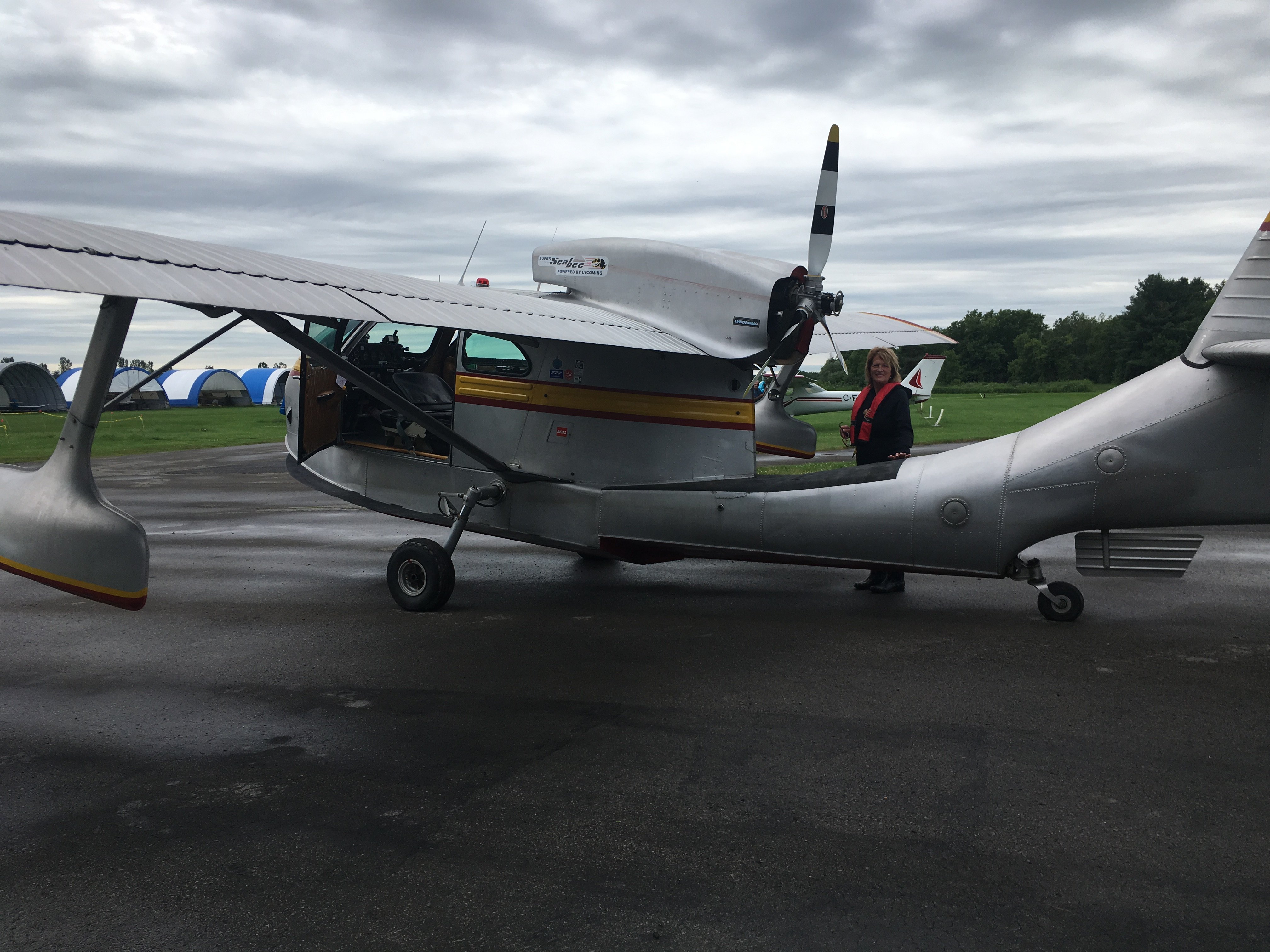 He must have an extended baggage compartment! Note the two dog carriers!
Great photos Michel! Thank you.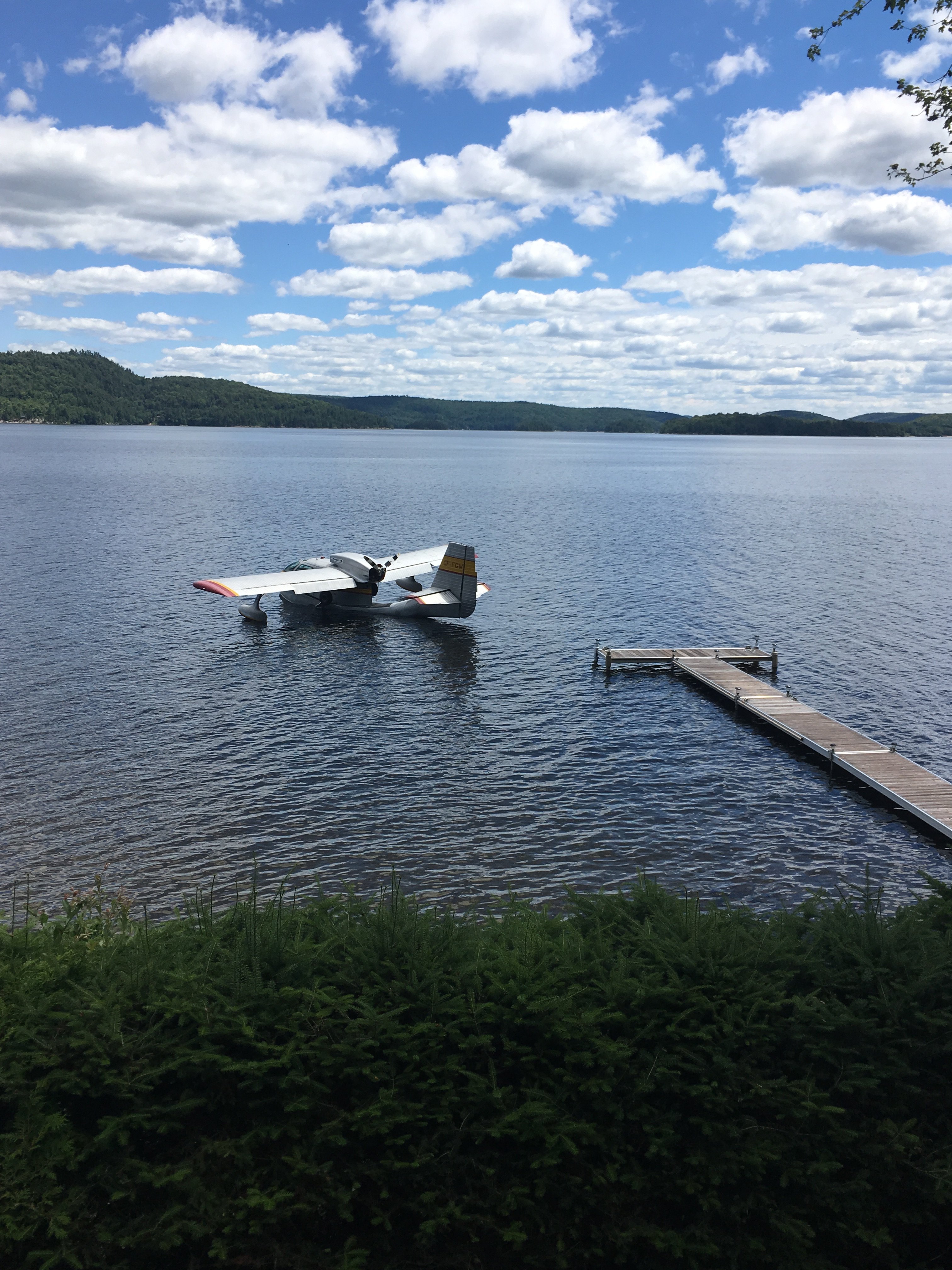 Photos by Michel Allard and wife
---
The "Ol' Marty B" at Herb Sherwin's House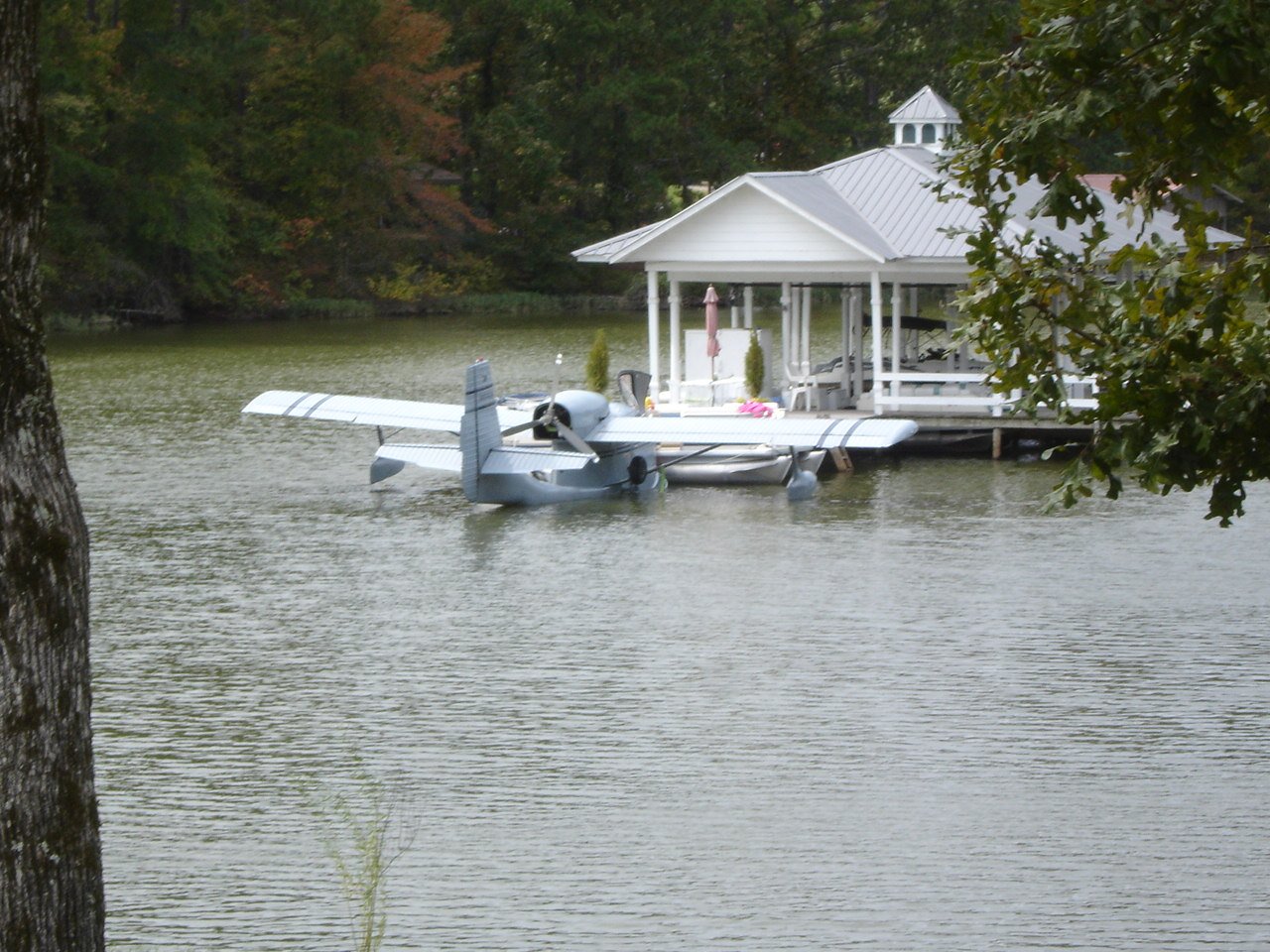 Herb Sherwin found this photo of my Seabee at his home in Alabama way back in October 7, 2012. Thanks Herb! I'm glad you found it!
---
Aero Club Como (Italy)
The Seabee flies again!

Members Ed Tello and Henry Ruzakowski made a trip to Italy to get the Lake Como Seabee airworthy again. What a trip that must have been! Congratuations to Cesare Baj of the Aero Club Como and to Henry and ET for their "above the call of duty" work. It appears that everything went fine but Cesare says there are a few little things to take care of. The main thing is, IT'S FLYING!
| | | |
| --- | --- | --- |
| ET, Melisa, Shelby and Henry | Aero Club hangar | |
| | | Look close...ET and Henry! |
| | | Photos by ET, Henry R. and Cesare Baj |
Seabees from down under
A comprehensive list of Seabees in Australia from our brothers down under.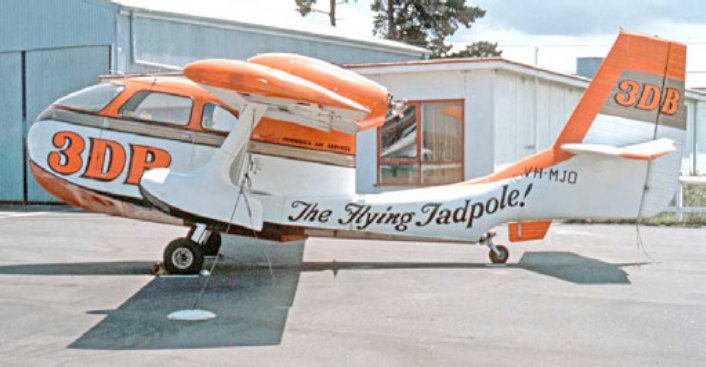 (Click on image to open PDF file)
=====================================
Our Philippine brother
Member Elpio Paras (R) and future member Russell Legg (L) with Elpio's Twin Bee in the Philippines.
Russell, from Australia, vacationed there and tracked down Elpio.
The Twin Bee is hangared there and Elpio
is anxious to get it flying again! Thanks Russell and Elpio!
(I wondered how you were doing Elpio)
=====================================
New member Eric Huppert
(somewhere in Florida)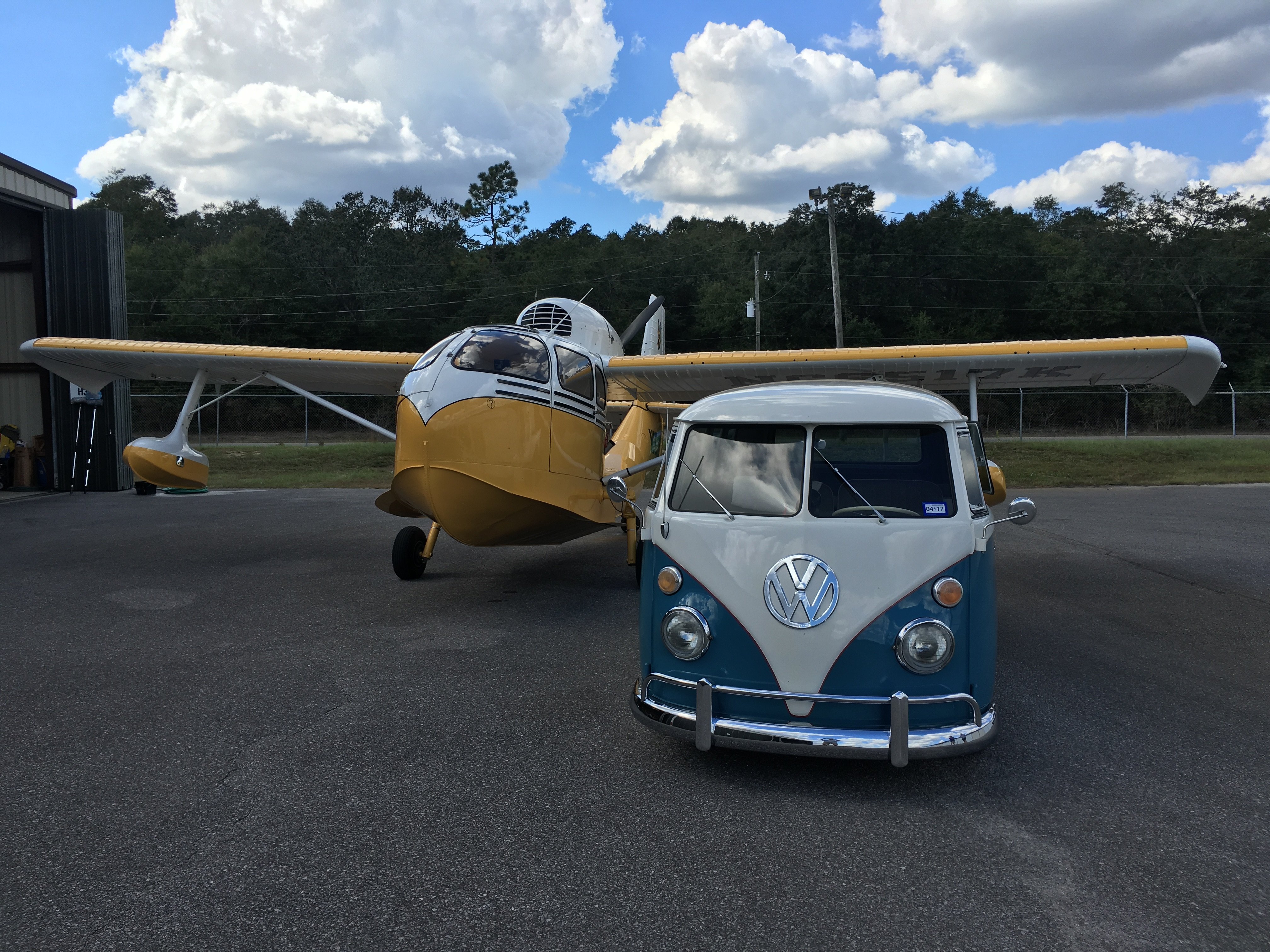 (photo by Eric Huppert)
Club member Eric Huppert caught this VW Bus and his Seabee. He says,
"
Which one's the VW bus? Or is there a Seabee missing it's wings?"
(A restored 1964 VW next to NC6517K in Pensacola, FL)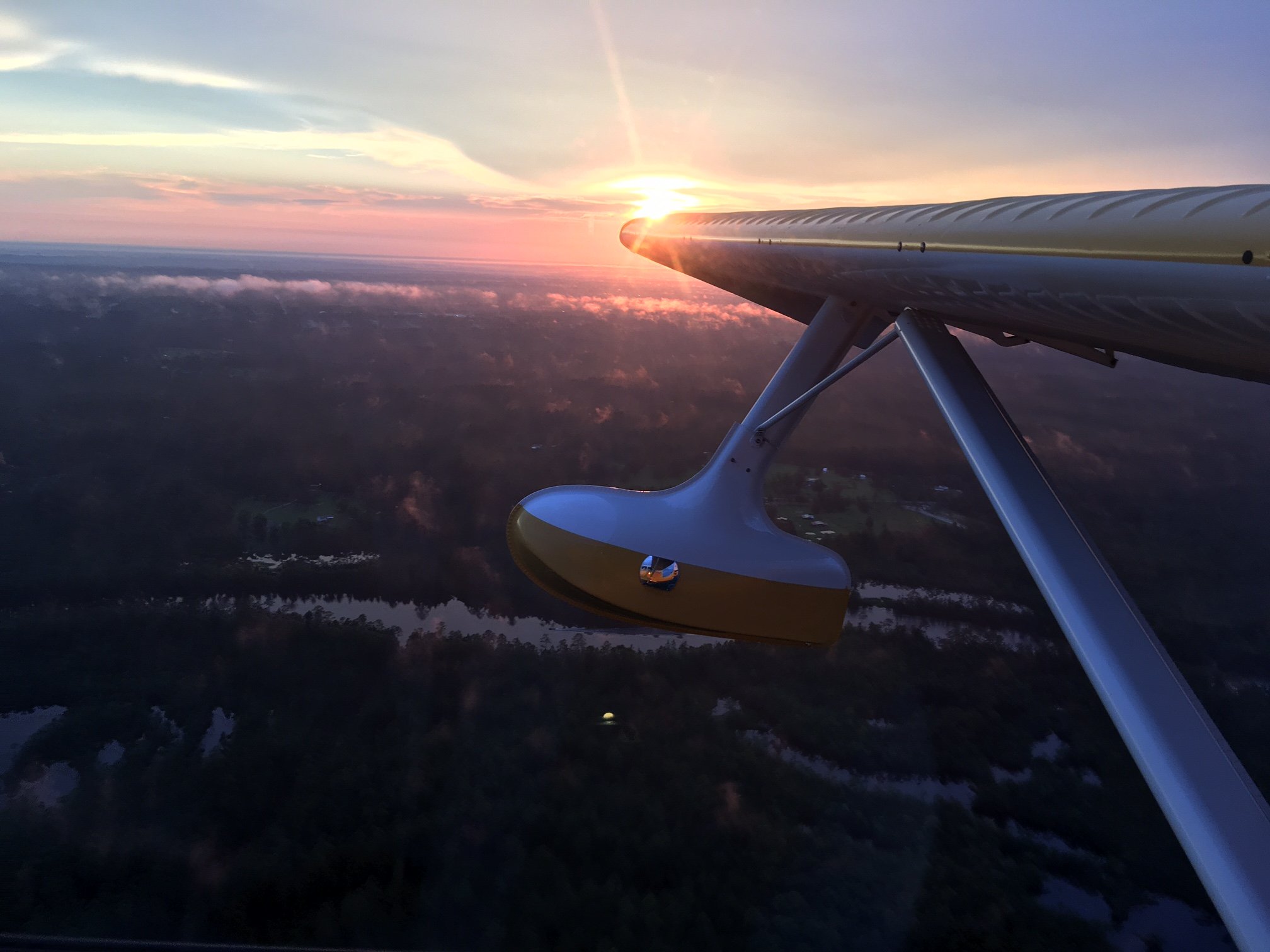 (Eric Huppert in Florida)
=====================================
Member in Maine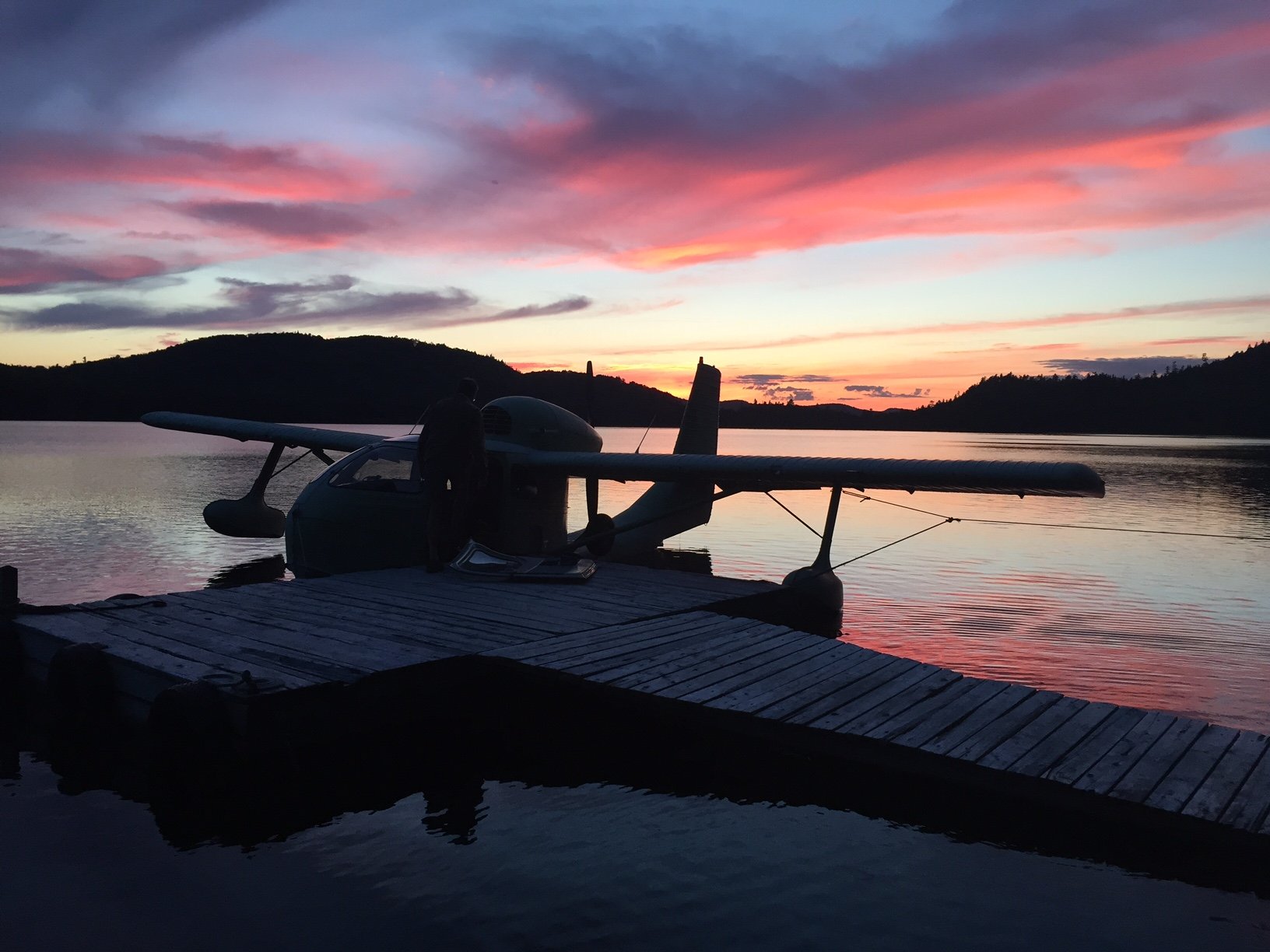 Somebody's Seabee in Maine. Beautiful!
=========================================================


Experiments with water devices
Check out this neat video on the Grumman Mallard! (It's really a Grumman Goose)
I never knew!
=========================================================
John and Dorothy Murphy Accident
See the newslink here.

We don't know what happened as of yet but will keep the membership updated with the latest information. Crash took place right after takeoff from Winter Haven, Florida.
Update: John and Dot are okay but still in intensive care.
8-16-2016: More info here. Some confusion about the status of John and Dot.
============
Update: From a member who knew John...
8-26-2016:
"I just reviewed the incident report and found it to be pretty accurate as I remember from the conversation I had with John about a week after the event while he was in the hospital. He mentioned few facts that I will pass on.
After takeoff at about 300 ft. he experienced a reduction in power and he turned towards Lake Echo in an attempt to land in the water but he lost altitude and hit the trees surrounding the lake about which time the power came back to full. The drag of the plane in the trees prevented gaining altitude . The plane ended up about 200 ft. from the water. I asked if the gear was up or down and he said it was down so a landing in the lake might have been dicey.
As a side comment,the Murphy's own a home on Lake Echo so he was familiar with the territory. When I talked to him he did not mention the head injury but said he was pretty beat-up but expected to be discharged from the hospital in few days but Dot more seriously injured and would be hospitalized longer.
I talked to him a few (days) later and he was home. He called me few days later to report he was back in the hospital because a collapsed lung but nothing else had changed.
The next contact was from a friend of the family that told me of John's passing. I don't know the cause of his passing. He was buried in Rocky Mount, NC last Friday with full military honors.
As a side light, I helped put that plane together both at his house and at the Rome, Ga. Airport and witnessed its first flight. He bought that Bee in a thousand pieces. A phone call with Dot revealed that there were lots of Bee parts in the FL hanger that have since been moved to the home garage and wanted to get them to someone that could use them. Any suggestions?"
=============================================================
John Cuny wins again!
(Photos by John Cuny and ?)
John Cuny won "The Best" at Lake Otsego in Michigan.
Congratulations John!
See MOV video here
(Photos by John Cuny, video by Mary Hardcastle)
===========================================================

New member Jason Knier and his crew are restoring
N6113K! (In Alaska)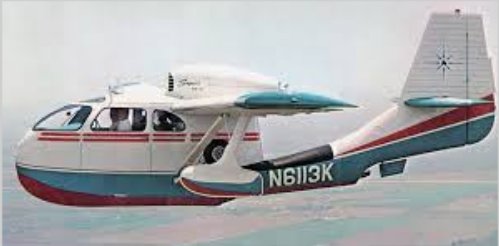 (Photo by Jason?)

You can follow their progress here
http://tugmoe.com/knier-seabee/
.
They have made some good progress in a very short time and there are some GREAT photos!
Thanks Jason.
======================================
Member Rick Kaskel on a Marston Mat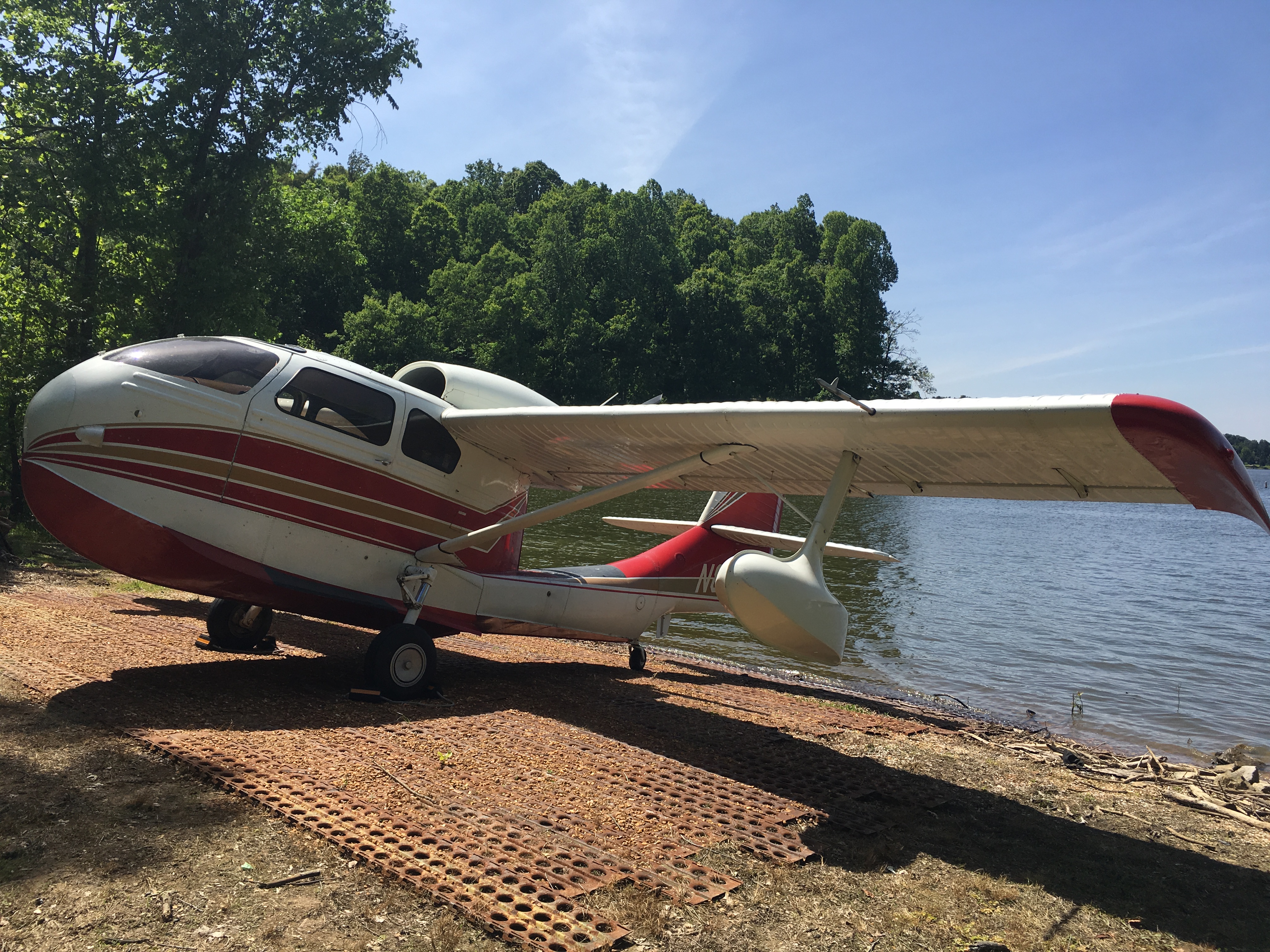 As far as I know, this is a first! A steel ramp (Marston Mat) was put down on a river shore and Rick successfully ramped it. There are a few setbacks as the tail wheel started to slide down the ramp sideways as he entered the water. After much knashing of teeth, the Seabee was righted and flew away unharmed. Good job Rick!
Update!
Member Buce Hinds says they have used these at Clear Lake for years. I didn't know that! Here's what he says,
"
The steel mess mats had been used at the Clear Lake Splash-In for years. The ramp could not be permanent, so each year they'd lay the mats. Haven't been there in a few years, not sure what they are using now. They can get really slick. I know Richard Bach used them at a house he had in FL, they were about an inch or two below the sand surface and worked really well."
(I stand corrected; S.M.)
=============================================================

This is what Seabee-in' is all about!
(Photos by Jaren's wife Alyssa)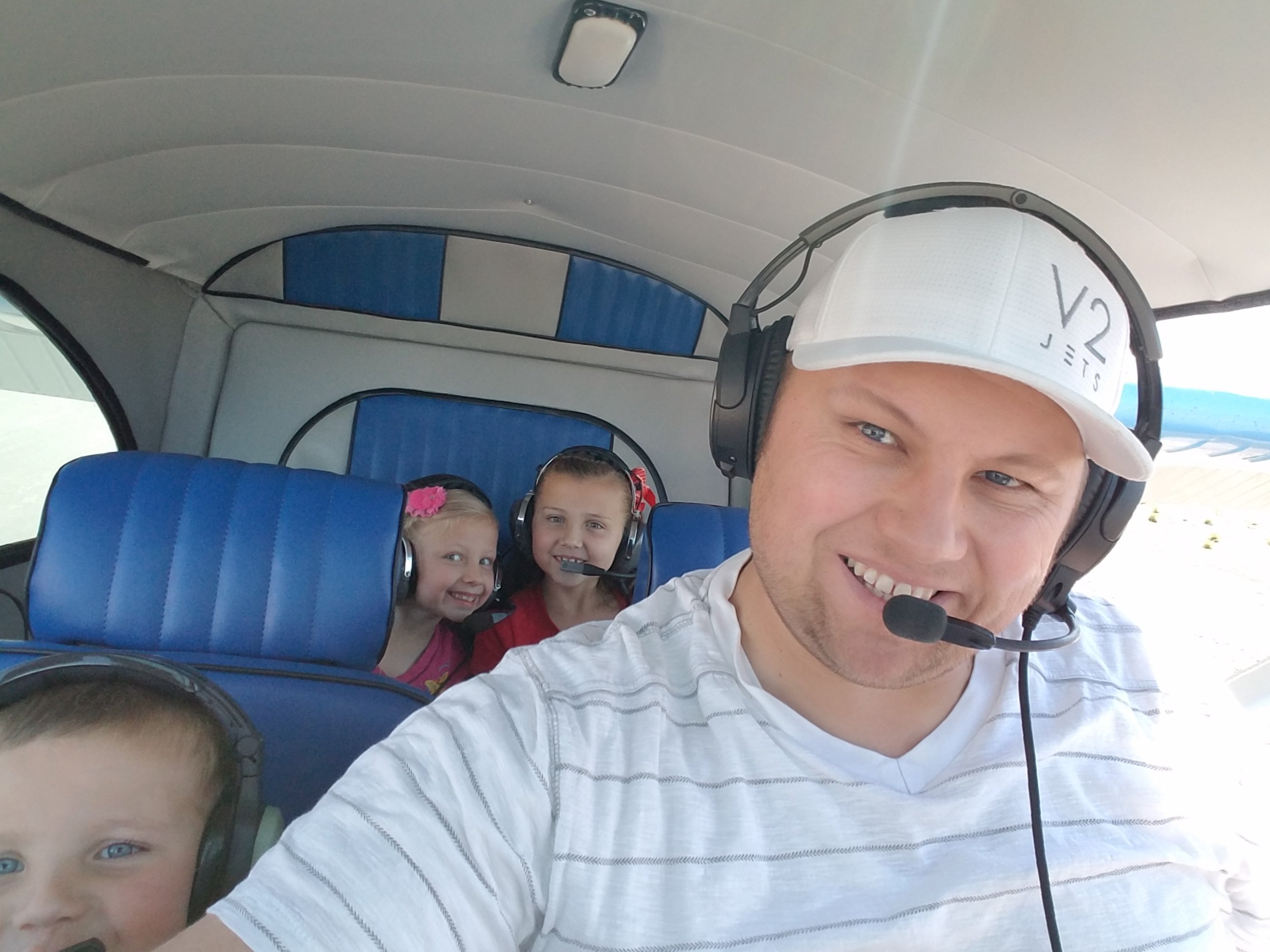 Look at the little boys eyes. Priceless!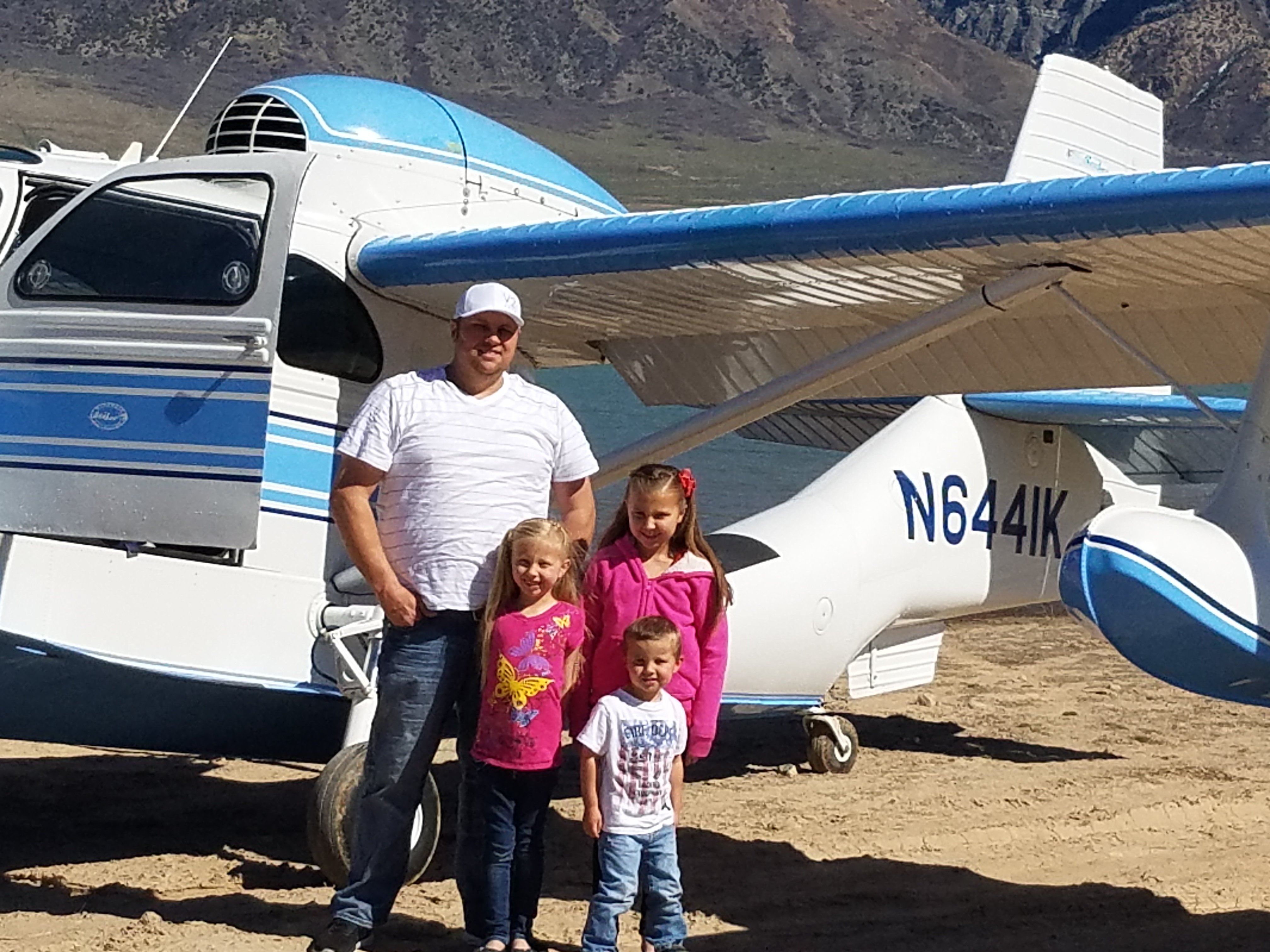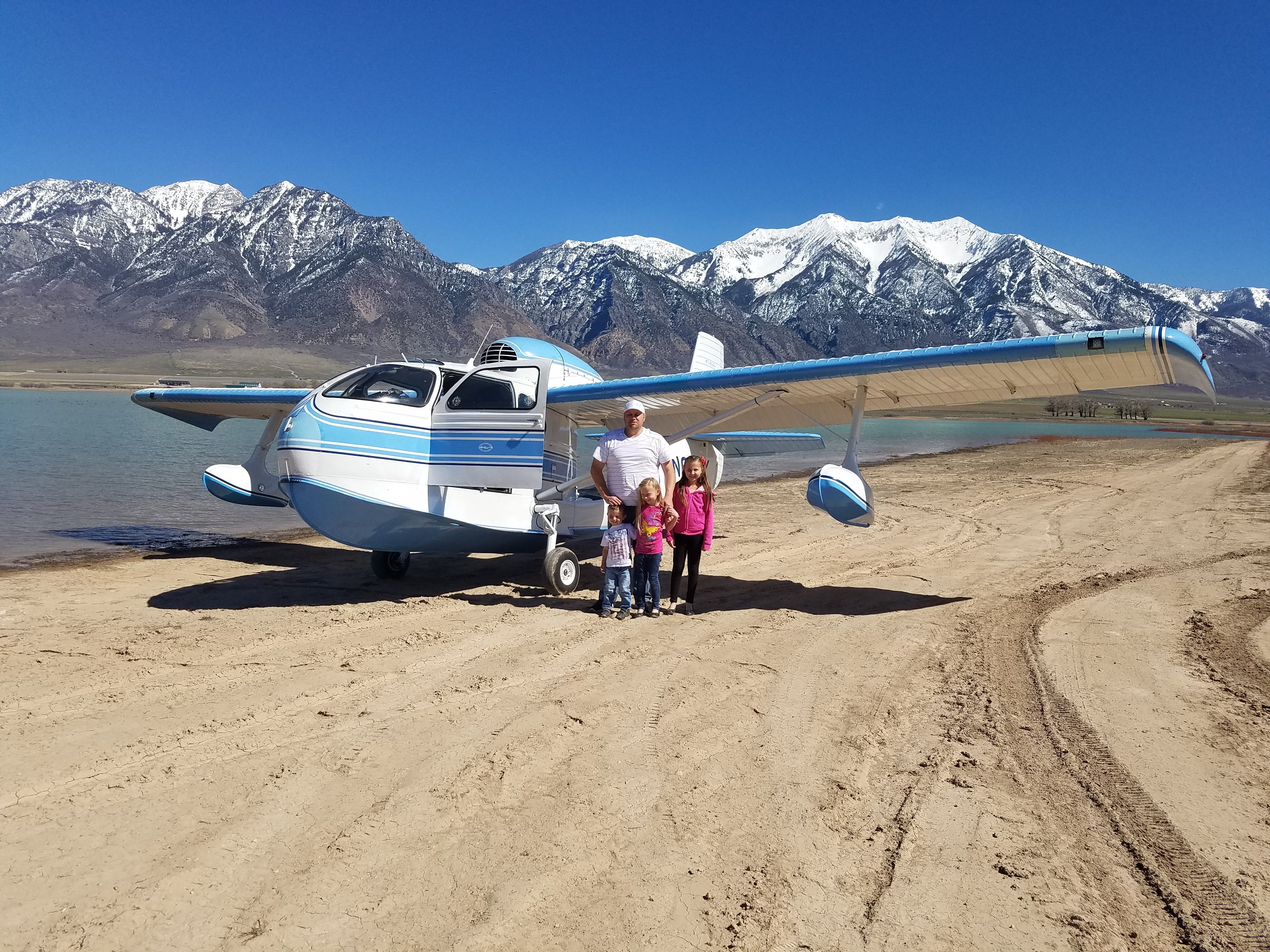 Great looking family!
=======================================
1950 Amateur Film winner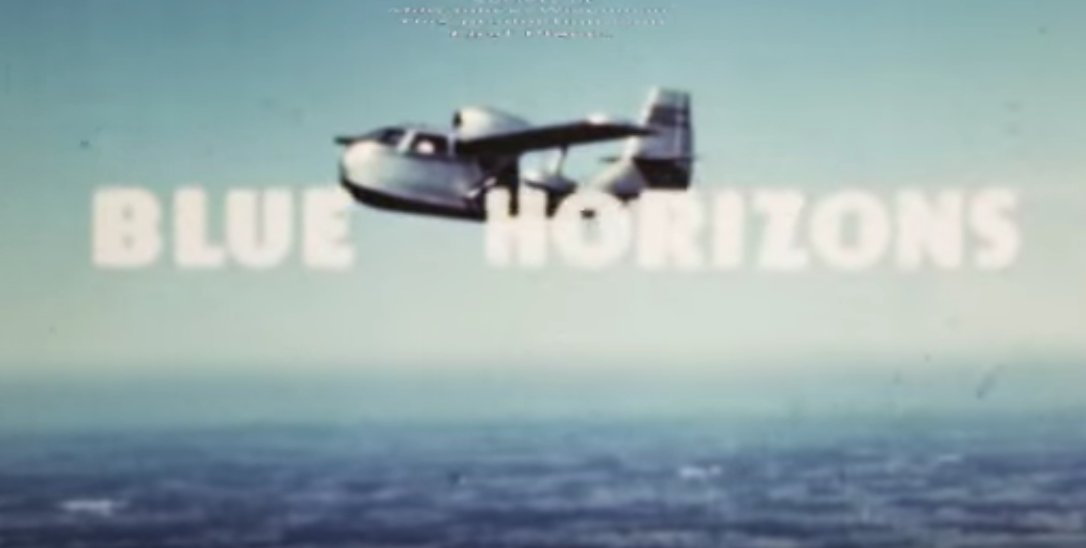 Click on image for Youtube video.
Thanks to member Rick Kaskel.
========================================
Photos from Speculator 2005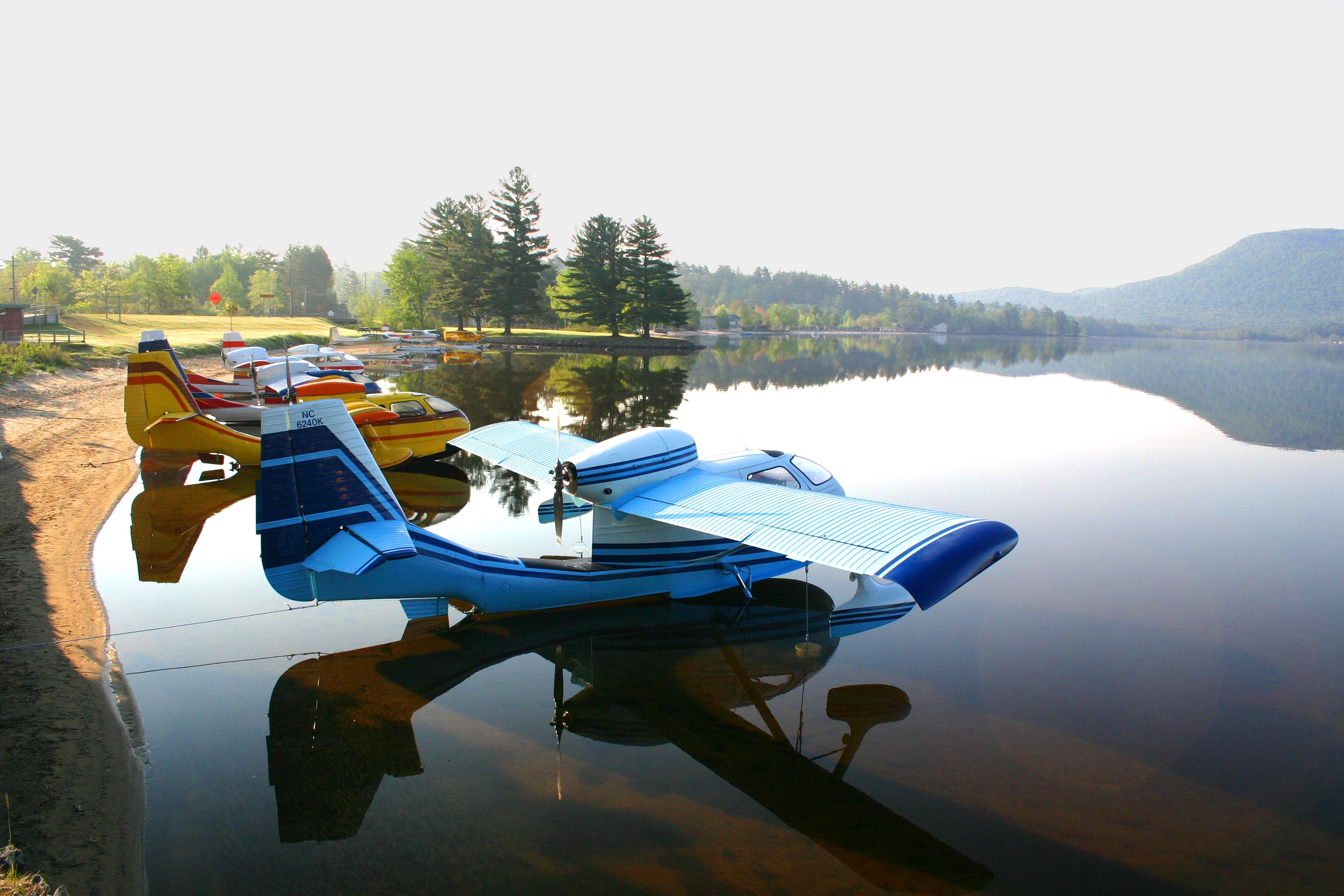 Left: Late Captain Chuck Bassett.
Right: Late Captain Jim Poel, Miller Monarch, Bill Bardin, Richie Brumm,Chuck Bassett

======================================
The newest Seaplane pilot in the USA!
(as of April 9, 2016)

Finally! My son Cris got his seaplane rating today!
(Photo by his very proud dad, Steve)
Click on image



MP4

or

MOV
(The .MOV file is sideways. I'm working on it.)

MP4

or

MOV

MP4

or

MOV

Beautiful Dusk Flight!
(.MOV file)
Photos by Eric Wolf
Cool photos and movies from "anonymous" member!
(Somewhere over the northern hemisphere!)

NOTE

: If the above videos won't play, right-click on the MP4 or MOV link and save it to your desktop. Then double-click the file to play.
==========================================================
Member Bill Bardin wins Best Amphibian at Oshkosh 2015!


Congratulations Bill!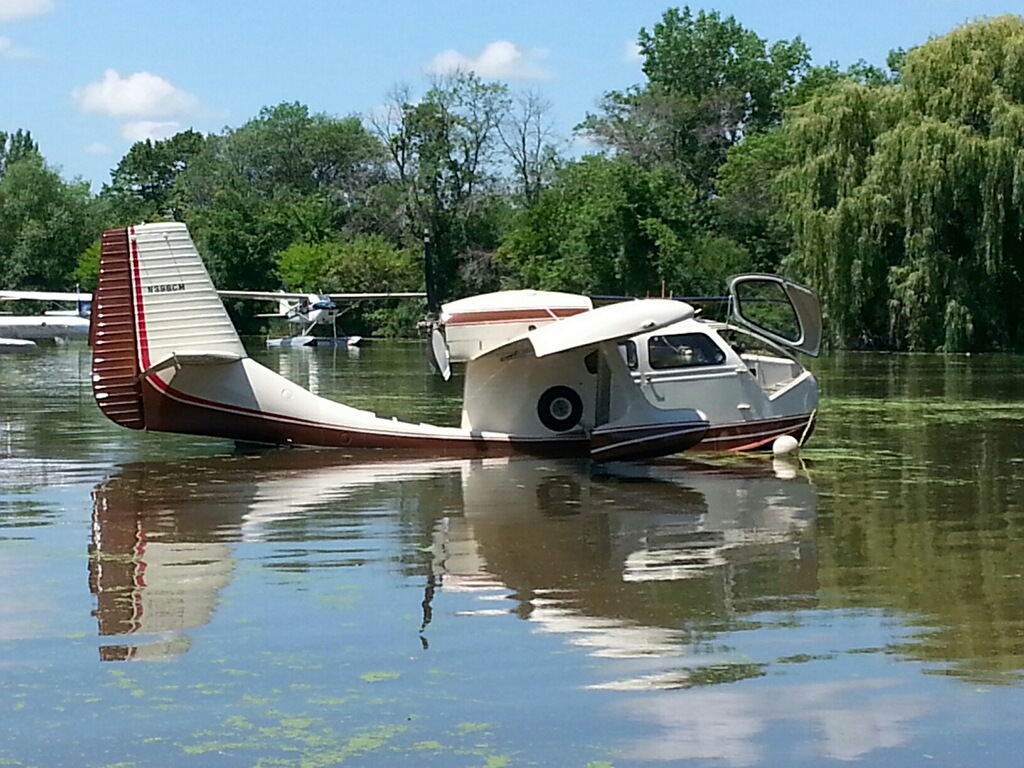 Photo by Bill Bardin Photo by John Cuny



Photo by Isaac Alder
==========================================================

Member John Cuny
had his first flight!
WON GRAND CHAMPION SEAPLANE
at Oshkosh 2014!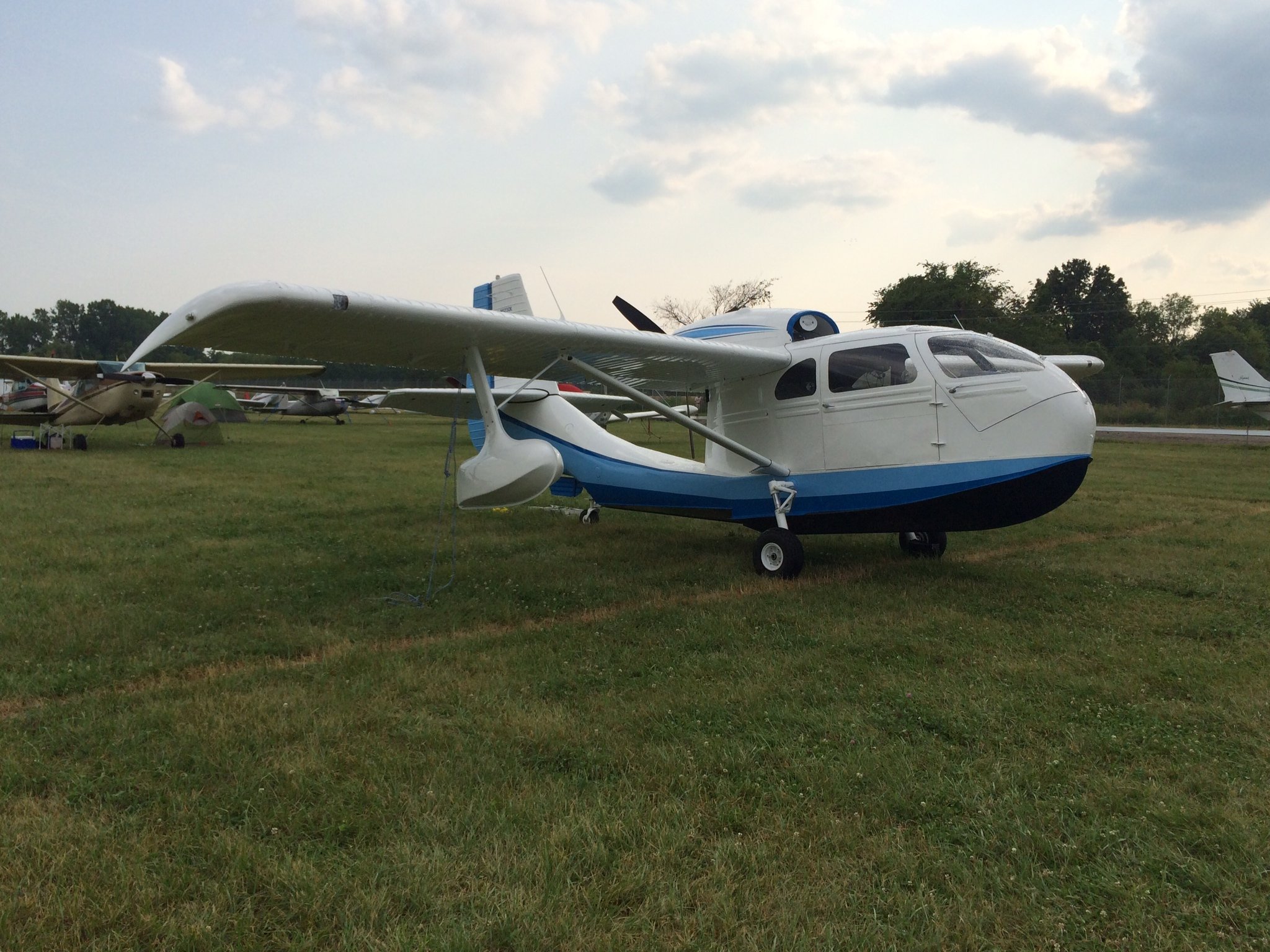 Above is a photo of member John Cuny accepting the "Golden Lindy Award" for Grand Champion Seaplane at Oshkosh. (Left photo by Bill McCarrell; Right photo by John Cuny)

John says,
"
Sorry if you get this twice but I know so many of you supported my effort for so long I wanted to include you (meaning the e-mail recipients). The Seabee won the Golden Lindy for Grand Champion Seaplanes Oshkosh 2014. Thanks again for all your support over these long and trying years."
===================================================


Sun 'n Fun 2011
Sun 'n Fun was fun with all the Seabee guys from all over the country. We even had a few new members show

up! Below are some photos taken by Michele Brignac (Henry Ruzakowski's significant other).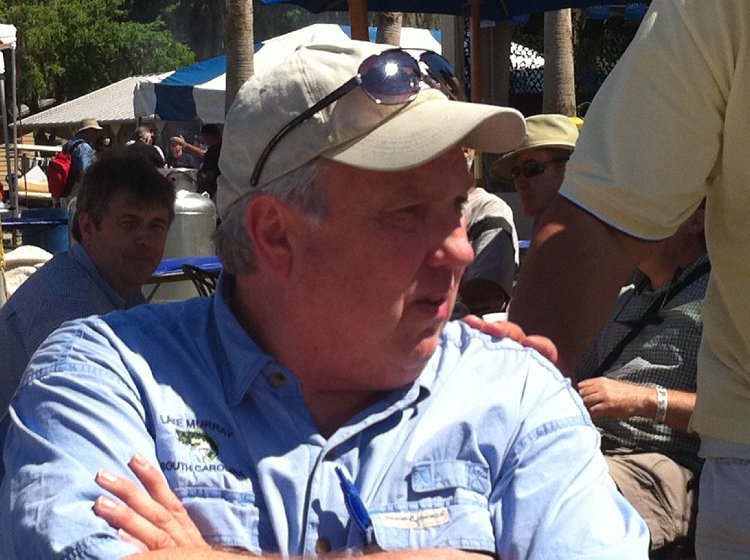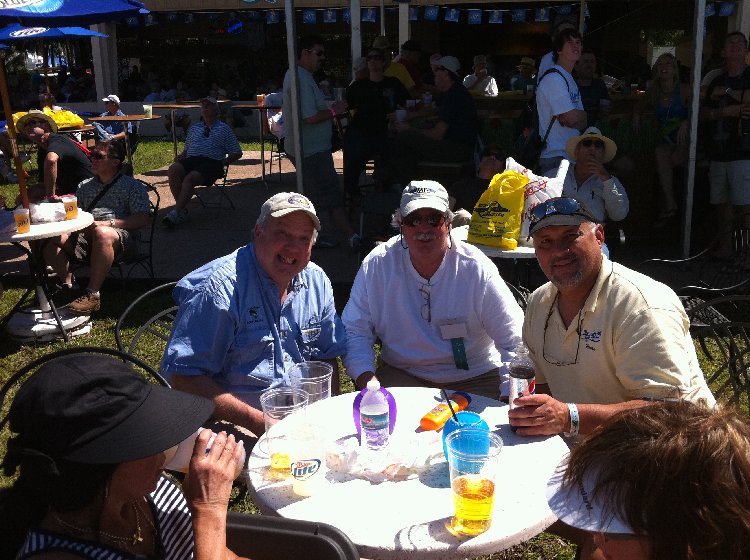 Your webmaster-Steve Mestler L-R: Karen Brumm, Steve Mestler, John Cuny
Henry Ruzakowski, Donna-Lee Bardin.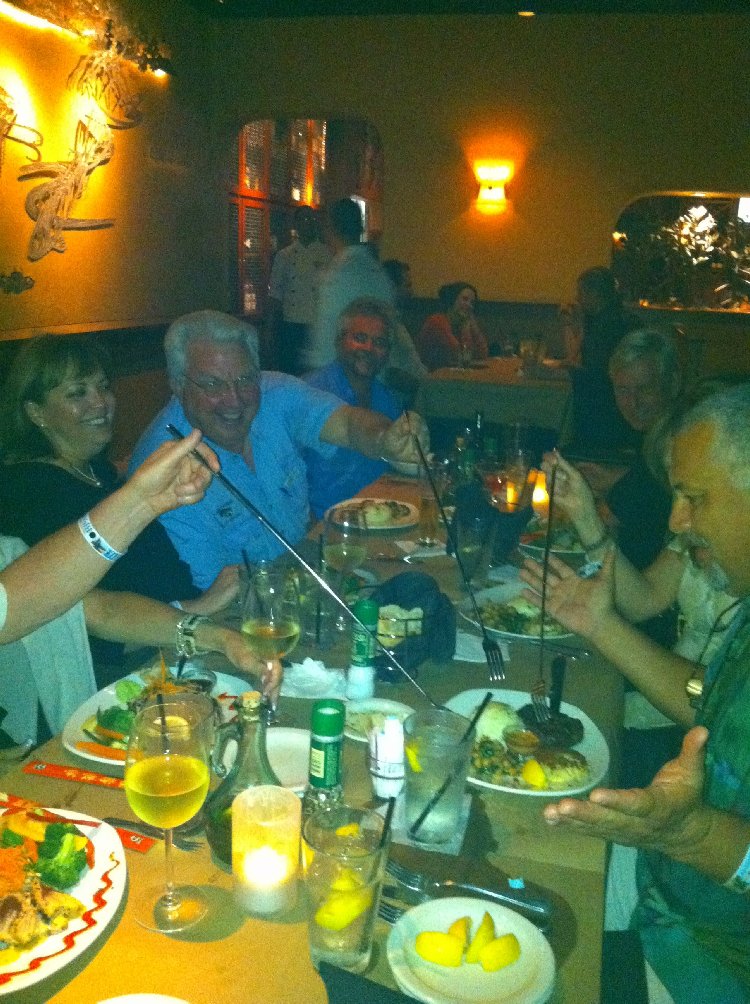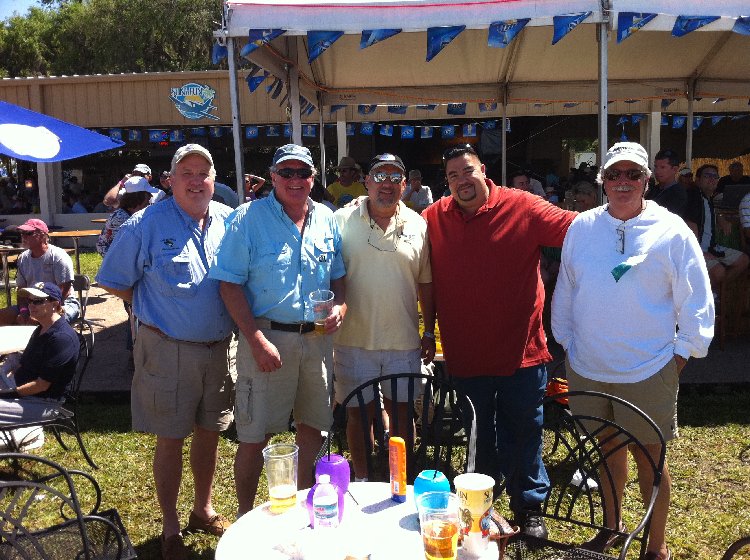 Seabee Dinner; L-R: Steve M., Bill Bardin, Henry R.,
everybody's eatin' Henry's food! New member - Lou
Pizarro (from the hit TV show "Operation Repo", John Cuny.
================================================================
PACIFIC EAGLE AVIATION offers international and domestic charter trips and operates AIR TOUR ADVENTURES that feature Custom Tours; Whale Watching; Flight Seeing; etc.
(Jim O'Donnell says he believes this is the only commercially flying Seabee in the country. I believe it. SM)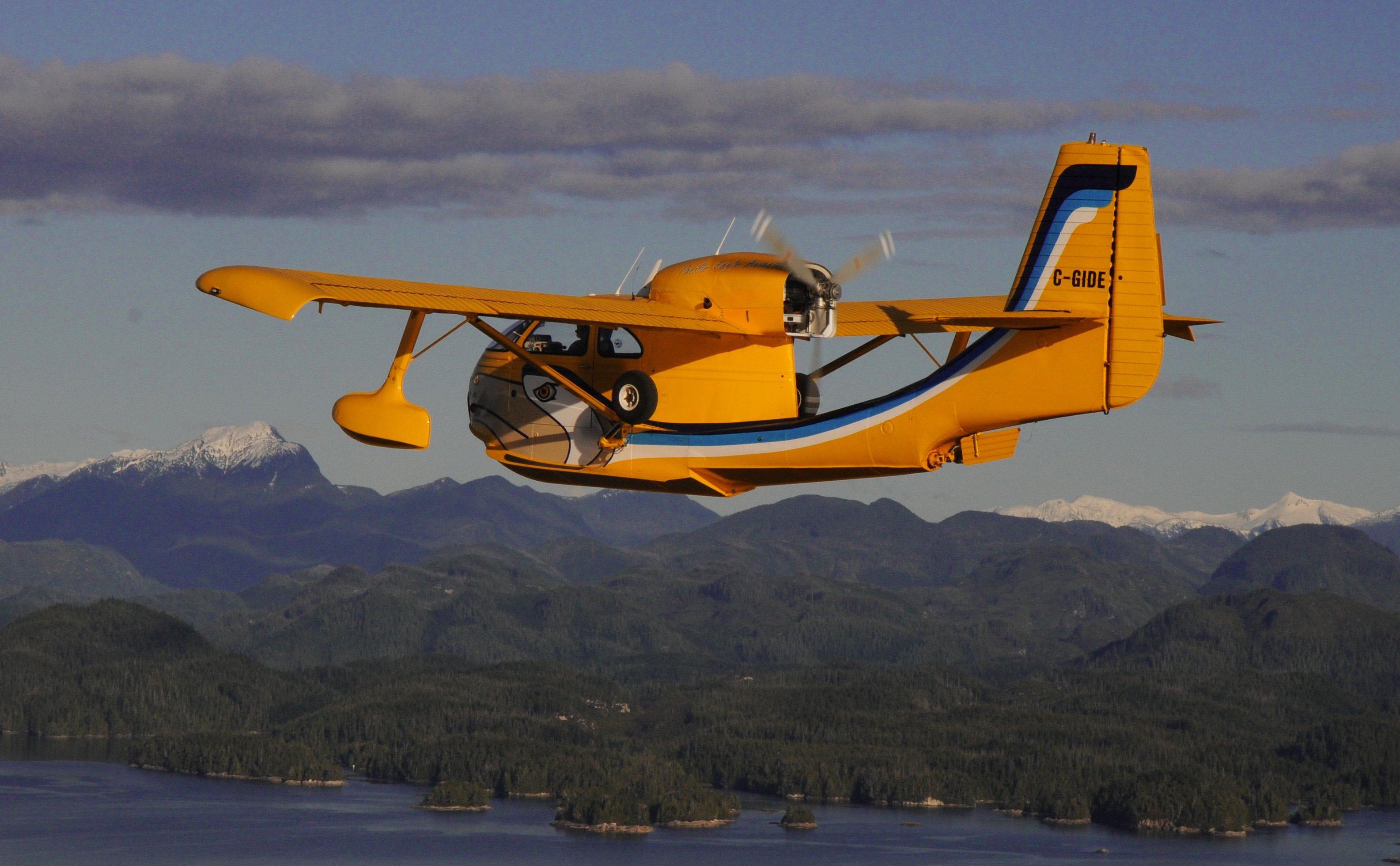 Member Jim O'Donnell's Seabee
---
(Ed. note: I got this e-mail from Gary Brush, the inventor's son. It's got to be
the most unusual use of Seabee Hulls I have ever seen!)
"Steve and James,
Are you or someone you know in the International Republic SeaBee Owner's Club interested in an "Autoboat" made from two SeeBee Flying Boat Hulls? The Autoboat was invented by my late father, John Brush, as relayed in the news article below. Since my father recently passed away, my brothers Jay, Burke and I are looking for a new home for this unique piece of SeeBee History.
We are looking for only a nominal sum ($950) for both the car & hulls which make up the Autoboat, as our primary goal is finding someone who appreciates SeeBee's and their unique use in this invention.
Please let me know by phone (281 687-9400) or email (
gsbrush@sbcglobal.net
) if you or someone you know in the SeeBee Club may be interested, so we can work with you to arrange a new home for the Autoboat.
Fyi, the Autoboat is currently at my father's house in Cincinnati, Ohio. My brother Burke lives in the Cincinnati area, Jay lives in Inman, SC and I live in Houston, TX.
Also, please see attached pictures of the Autoboat, a text version of the newspaper article noted above and copies of the Autoboat Patents. Thank you for taking the time to touch base with your club members on this request.
Sincerely yours,
Gary Brush"
Article below:

From "99 Miles of River", November, 1964:
The Brush Autoboat
Here is probably the weirdest contraption cruising the Ohio River .
It is the Autoboat (later named the Autamaran), the brain child of John Brush from Cincinnati, Ohio, while he was in a Japanese prison camp in the Philippines during World War II.
The idea for the craft came from conversations with a fellow prisoner and former harbormaster for the United States Government at Manila.
The boat-auto combination is lightweight and easily trailer-able on the highway.
It can be launched and removed at any beach or launch ramp accommodating outboards.
Here is how he built it:
John Brush, a mechanical engineer with Procter & Gamble Co., purchased two non-flying WWII See-Bee flying boats for their hulls in 1955.
After the cabins and several feet of the tail section had been removed, the hulls were modified.
Next, a frame of steel tubing was designed to connect the two floats, and ramps for the car wheels were fabricated from high-tensile aircraft aluminum sheet.
The See-Bee landing gear wheels were altered and remounted, one on each float, for towing on the highway. All aluminum parts were riveted and all steel tubing welded. Another Cincinnatian, Donald Witte, handled the critical parts of the welding and riveting fabrication that were needed for the desired light weight.
The 21 foot long, 13 foot wide catamaran is folded down and into itself keel-to-keel, so that its maximum width on the highway is six feet, 2 inches. A three-point tractor-type trailer hitch, connected to the major members of the steel tubing frame, joins the car and catamaran for towing on the highways. Its height when folded is only six feet and the car can easily tow it at speeds up to the legal limit of all highways.
Launching takes about 15 minutes. Similar to any outboard launching, the car backs the catamaran into the water until it floats. The nature of the hull construction makes it tend naturally to open up to its floating position when the catamaran reached its normal draft of about 18 inches. The trailer wheels now stick out the sides, above and horizontal to the water.
Next, a six foot bridge-ramp and a four foot beach-ramp are laid into position from the shore to the front of the Autoboat. Lines are fastened amidships on each side of the craft. Line handlers on the beach steady the craft. The car is then backed up the ramps and onto the catamaran. Wheel-stops position the car exactly. Through a trap door under the rear seat, the drive shaft of the car is then connected to a counter-shaft on the boat. The countershaft drives the propeller through two universal joints. The automobile's front wheels are now in position on wheel disks that are connected to the rudder by cables.
After the ramps have been pulled aboard and tied down, and steadying lines tossed to the pilot, the amphibian is ready to take off. Putting the car in reverse gear backs the craft off the beach and from then on the car is driven up to 25 miles per hour (22 knots). The craft is steered from the driver's seat.
Since nothing has been left on the beach, the driver need not return to his starting point. He can drive up to any shore that will support his car. He then reconnects the drive shaft to the car's rear wheels. Using the ramps again, he drives off the catamaran and onto the shore. After disconnecting the ramps, he uses a built-in electric winch to fold the hulls back up, keel-to-keel. The trailer wheels now face down, so after connecting tie cables and hooking the hitch back up, the car pulls the boat out of the water. The ramps and other gear are then stowed, and final tie-downs secured.
The car and boat are now ready to speed off to the next launch point.








Bruce Bishop flying his new Seabee over the mountains at 11,500'.
Nice view! Thanks Bruce!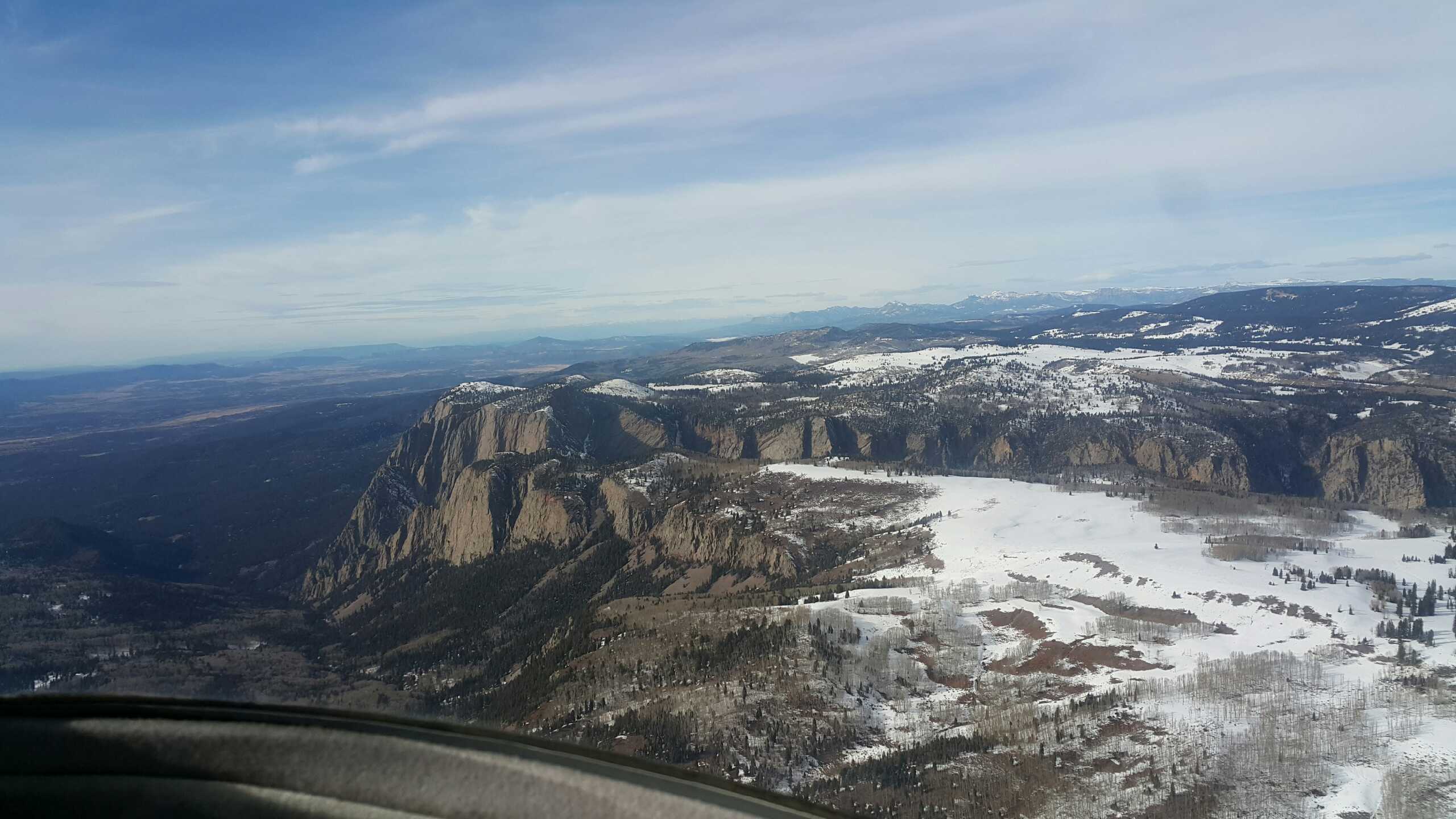 Bruce says:

"Those are the Brazos Cliffs near Chama new Mexico taken from N6325k on a flight from Taos (SKX) to Durango (DRO). We were at 11,500."
Who says Seabees can't fly over the mountains?
==================================================================

Member Bruce Hinds and the "Dragon" Bee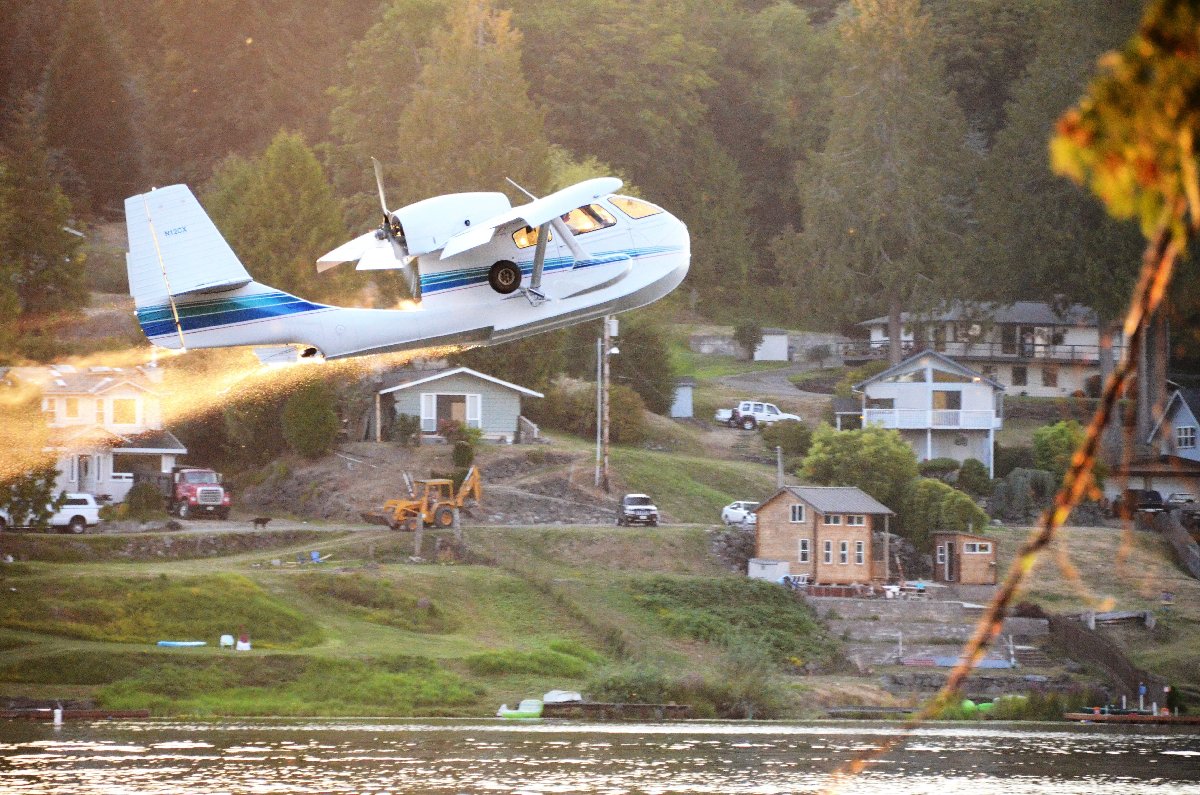 The lighting was just right for this spectacular shot


(Photo by Mel Malkoff)
==========================================
Anyone know what this is? Yes we do!

The most definitive answer comes from Mr. Larry Montgomery:
"Hello,
I noticed a question on the Seabee website asking about this photograph. The yacht was named Brezzin Thru and belonged to my great great aunt, Leila Post Montgomery. The vessel was originally constructed as a U.S. Navy patrol boat and later converted to a pleasure yacht. It foundered in a hurricane in 1950. The wreck is located in Kingston Harbor, Jamaica.
Best regards,
Larry Montgomery"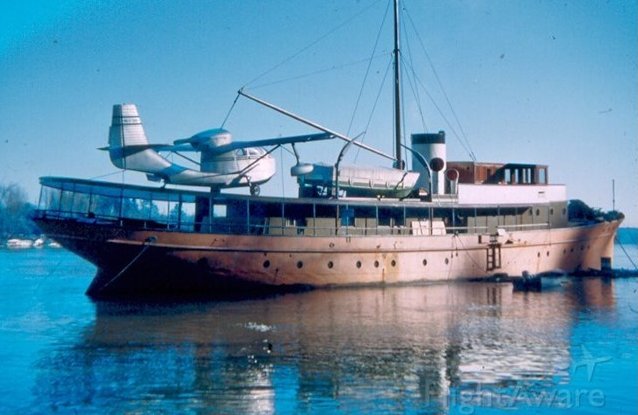 Another view of the Seabee on a boat...different boat.
Photo courtesy of Bruce Hinds. Thanks Bruce!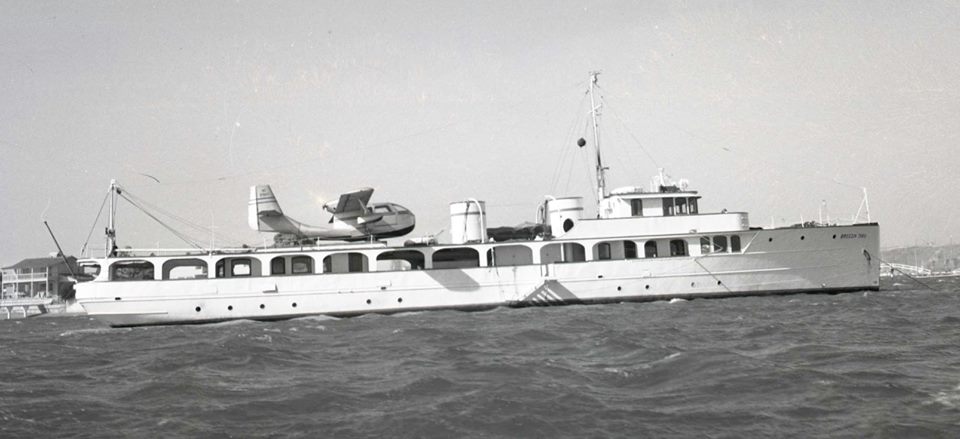 If you have any idea what a Seabee is doing on a boat, let me know!
Patrick McCormick sent this and asked the same thing! Email me.

Answer from Member Blair Robinson: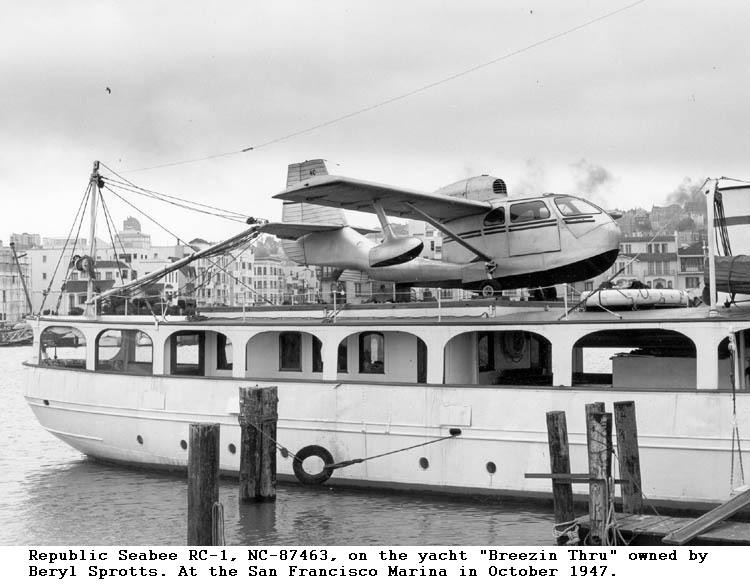 According to Steinar Sevdal's website, that Seabee on the boat is N87463, SN 13 and it was the first delivered according to Steinar's website.
====================================================================

You make the caption!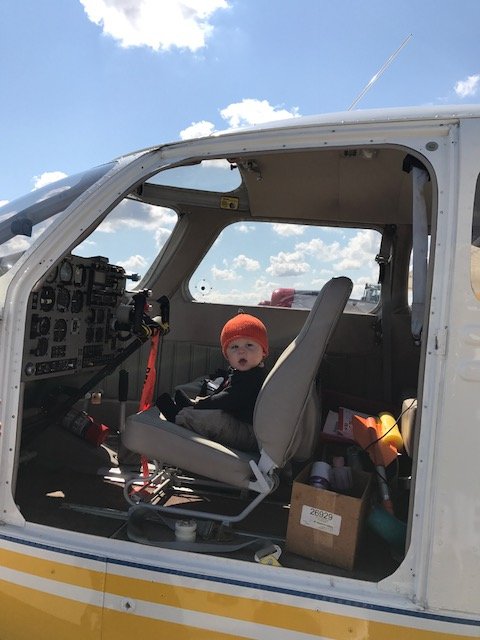 Member Bruce Douglas took this photo of Wesley at the Annual "Old Glory Honor Flight" fundraiser at Appleton Airport. I thought it was cool enough to ask for your caption!
Send them to me
and I will post them. Mine is...
"How did I do Mom!" or "Whew! That was a close one!"
More photos of the event here:
Photo 1
Photo 2
Photo 3
Photo 4
Photo 5
Photo 6
Photo 7
Thanks Bruce!
==========================================================

Member Eric Huppert at the Beach!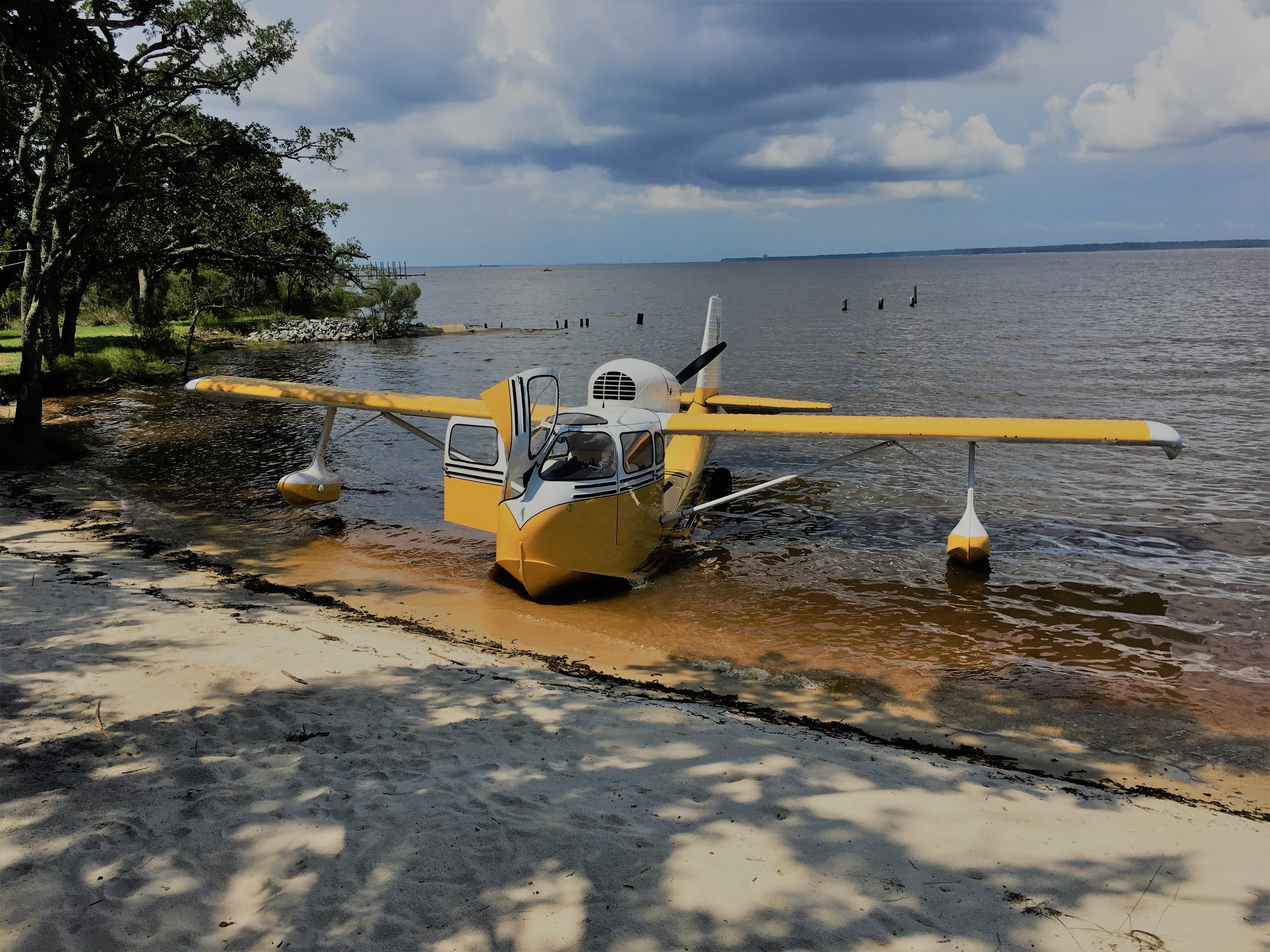 Somewhere in Florida. Photo by Eric Huppert. Nice shot Eric!
---
Our Seabees make the cut for
Air & Space/Smithsonian Magazine!!

"The Seabee Keepers"
With a devoted international following, an exceptional amphibian still creates buzz.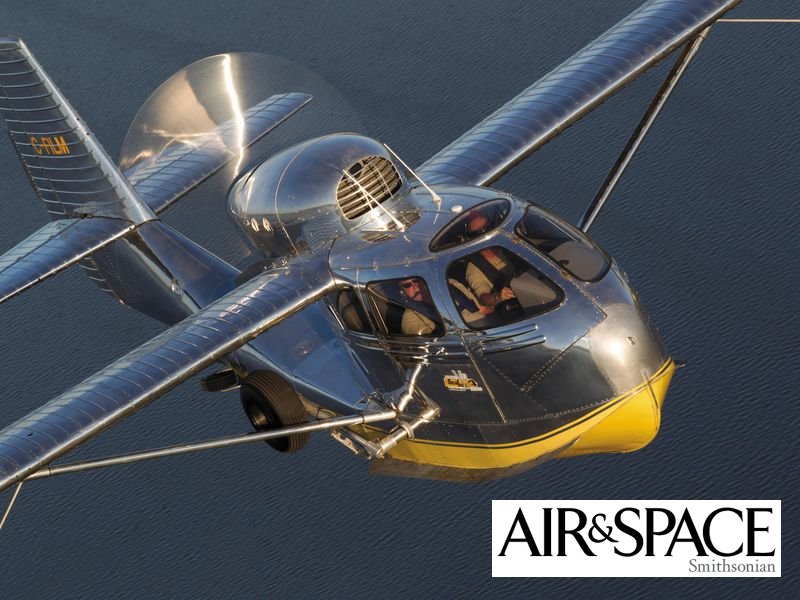 A Republic Seabee (member Brian Robinson),
the ideal sportplane, climbs over a Wisconsin lake.
(Photo by Jim Koepnick/EAA)
"How do we explain the continuing popularity of a 1940's-era seaplane? An article in the latest issue of Air & Space/Smithsonian confirms what we've known all along: The Republic RC-3 Seabee is pure fun. Robert Bernier, who wrote the story, remembers his flight in a Seabee at age 10, and he interviews Bee owners (including me) about what makes this airplane unique and why it inspires such loyalty in its owners. The issue is now on sale. You'll want to keep it."
To buy a copy of the magazine, call or e-mail James Babcock at Smithsonian Enterprises.
babcockj@si.edu
or (212) 916-1323
(Ed note: My sincere thanks to Bob Bernier, Diane Tedeschi and Caroline Sheen at

Air &Space magazine! Wonderful people!)

---
Member J.R. Ranney sends this:
From a biography of Glenn Curtiss, inventor of the seaplane:
"A flying machine in which it is practically impossible for the operator to suffer injury in case of accident. Even in the worst kind of accident, the most that can happen to the operator is an exhilarating plunge into fresh or salt water, as the case may be, with the beneficial effects of a good swim if so desired."

---
Member Jaren Lynn at an undisclosed location
Member Jaren Lynn in an ideal spot! Looks like a perfect day of Seabeeing!
Good crew too!


Thanks Jaren





(Click on images for full size view)

Member Mark Dimmock has done it!
The restoration of CF-DLX is complete. It looks terrific!
| | |
| --- | --- |
| Before | |
| | |
Mark and friends have been working on DLX for two years (must have been non-stop!) Great job Mark!
=========================================================

Bruce Douglas in the great white north with NO heater!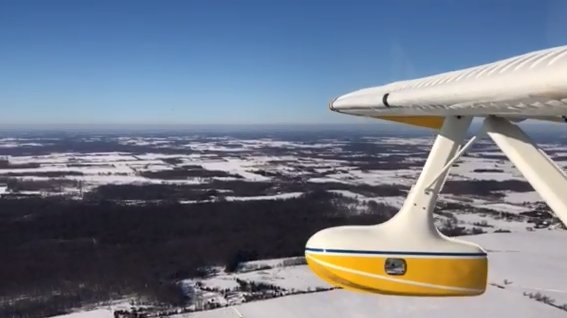 (Click on image for .MOV file)


=====================================================

Hard Landing!!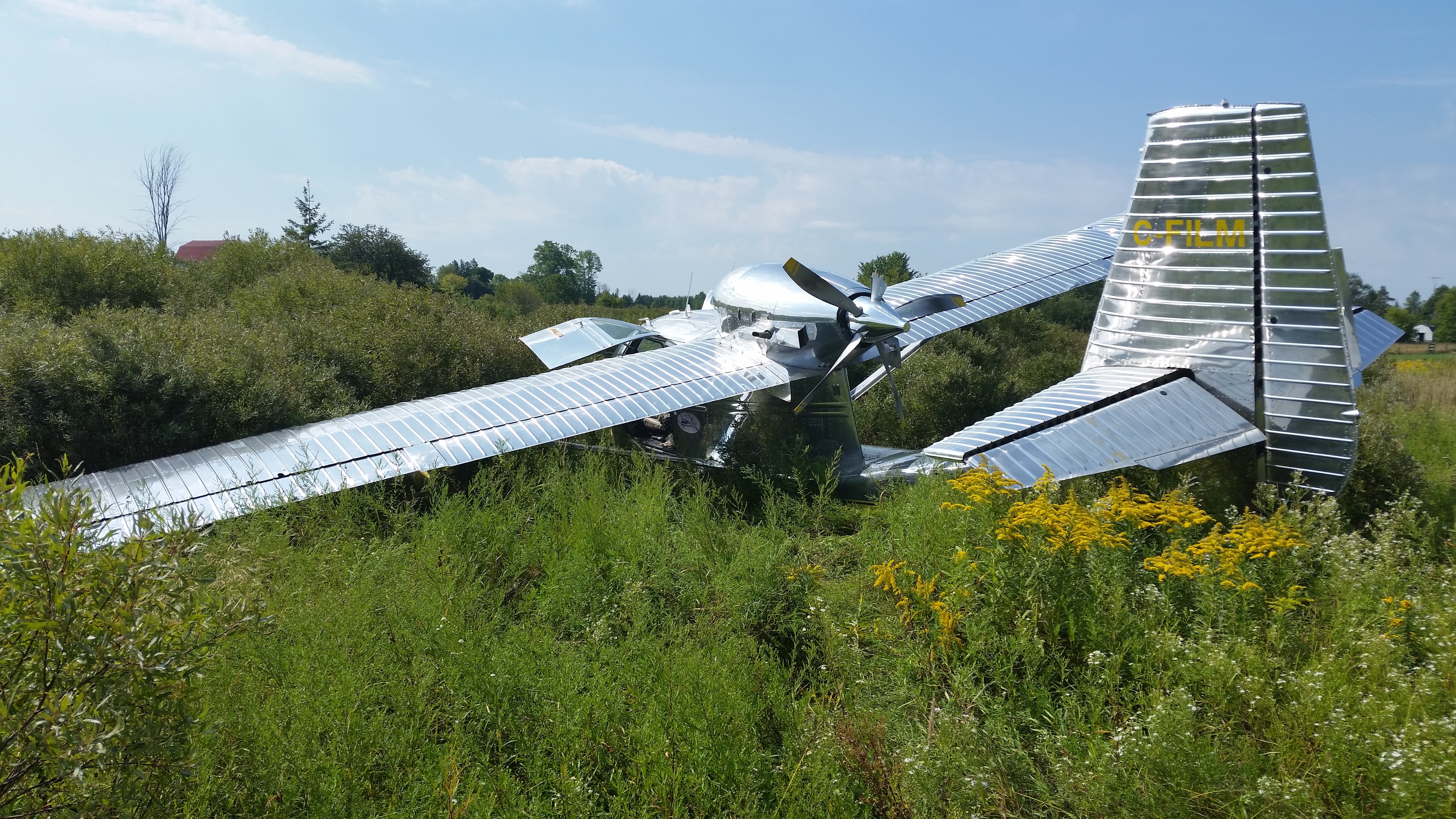 Member Brian Robinson explains what happened. All are okay.
Read his explanation
here
. Yes, they will rebuild!
Photo 2
Photo 3
===================================
Hammondsport 2016
The Seaplane Homecoming splash-in



Bill Bardin and Rob Kinyan


(Photo by Karen Brumm)




Bill Bardin and Ed "ET" Tello


(Photo by Karen Brumm)




Richie Brumm, KC,

Mellisa Tello (in the Seabee),

Donna Lee,

Karen Brumm, ?


(Photo by Sheryl and Mark Phillips)




L to R: Matt Stevens (172 Amphib), Cam Dunlope (SPA Field Director), Donn Boardman, Chris Wall (180 Amphib), Myron Mitchell (Lake Amphib), Adrian ? (Lake Amphib), Rob ? (172), ?, SPA

Director Steve

McCaughy


(Photo by Sheryl and Mark Phillips)




Parade around Keuka Lake




?, ET, Bill Bardin, ?, ?.




(Photo by Rob Kinyan)


Bill Bardin, KC Ostronik
(Photo by member KC Ostronik)

(Ed note:

Let me know

who these people are!)



Hammondsport 2016 took place last weekend (September 17-18) and was a
big success. Members Bill Bardin, KC Ostronik and Ed "ET" Tello represented the Seabee community. Other seaplanes were in attendance as well but three Seabees is a pretty good showing.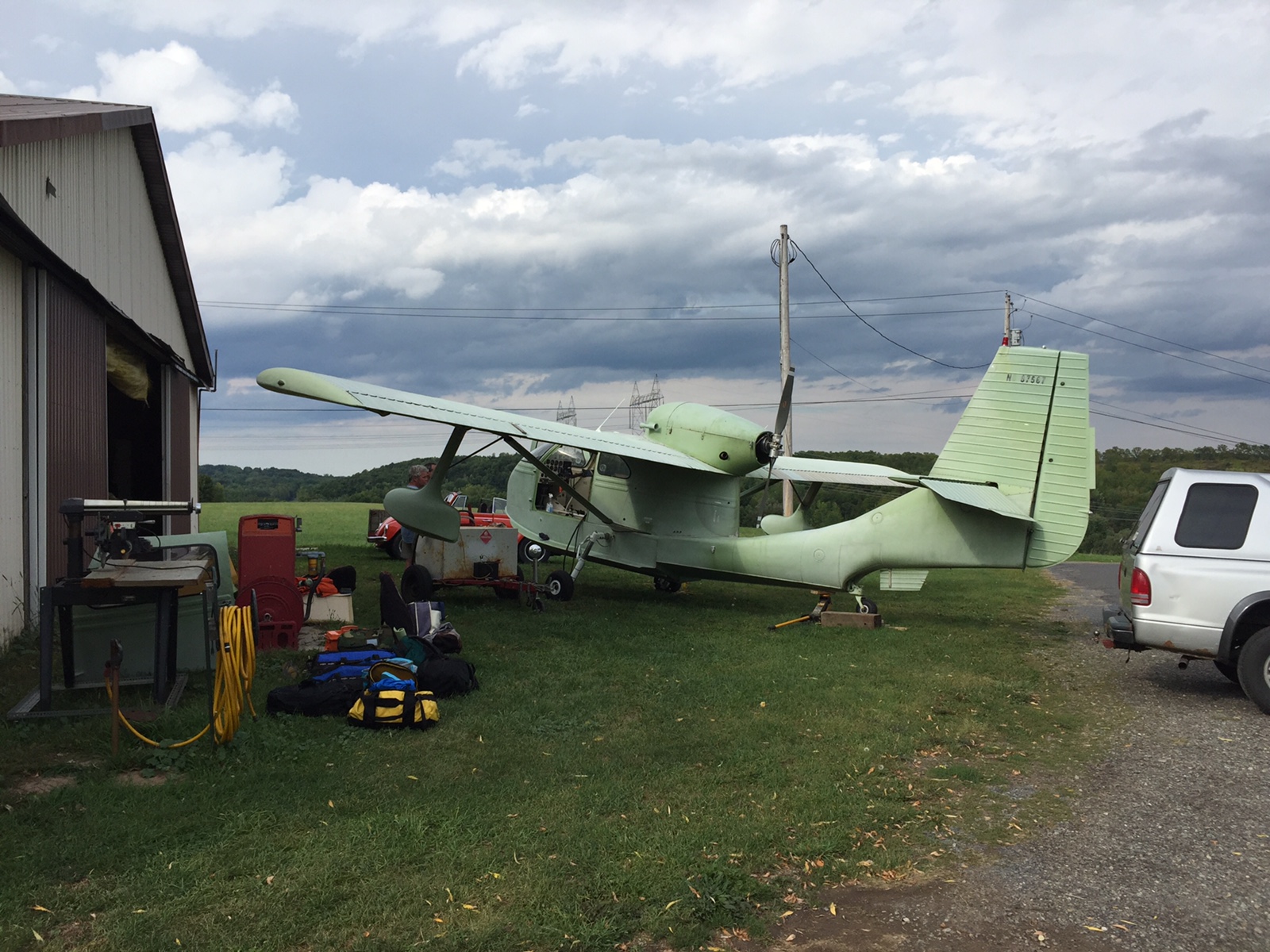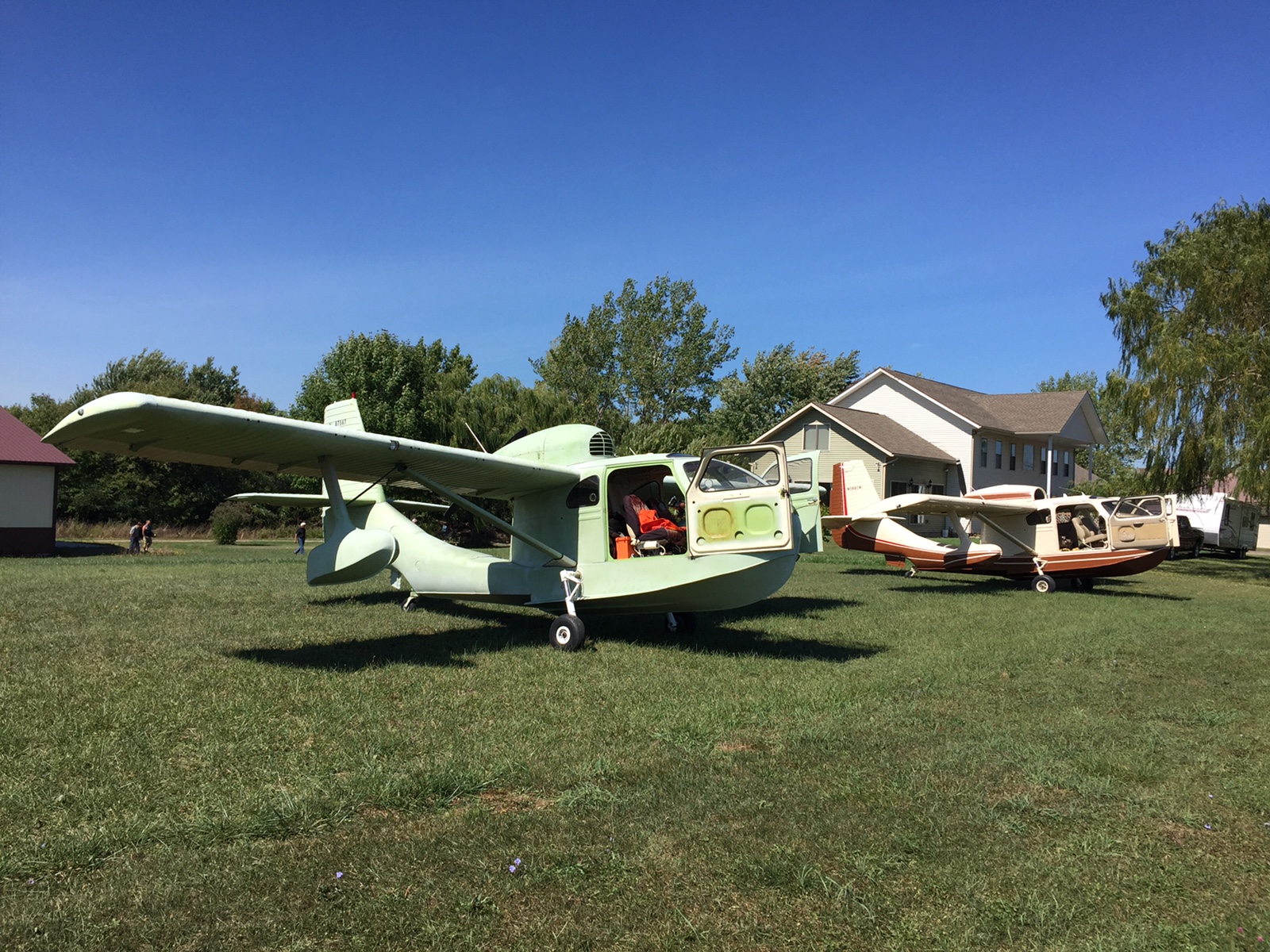 The "Pickle" at Belair Airport in NY (Photos by KC Ostronik)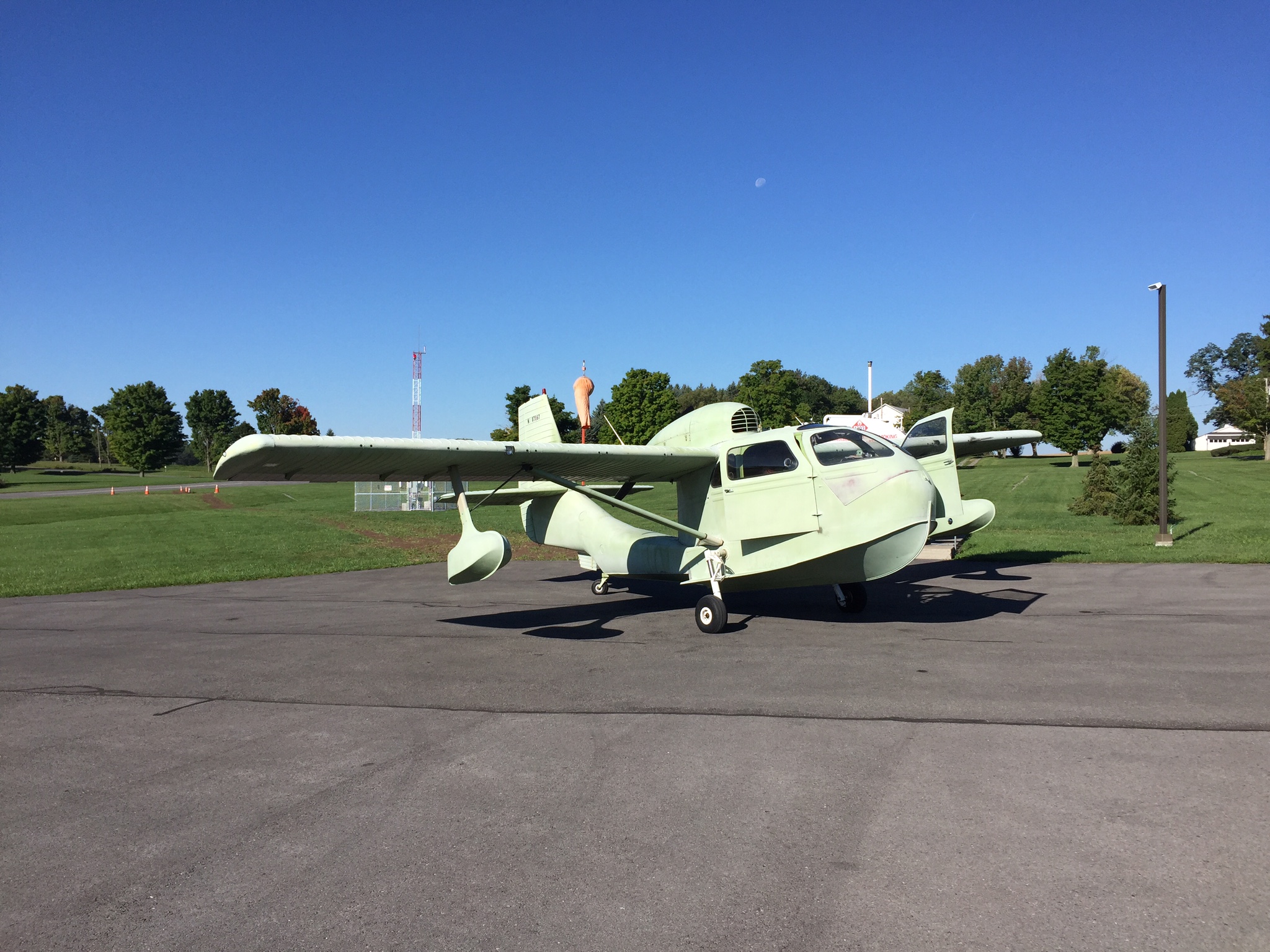 The "Pickle"
=====================================================
Josh Kaskel and the gang with a new video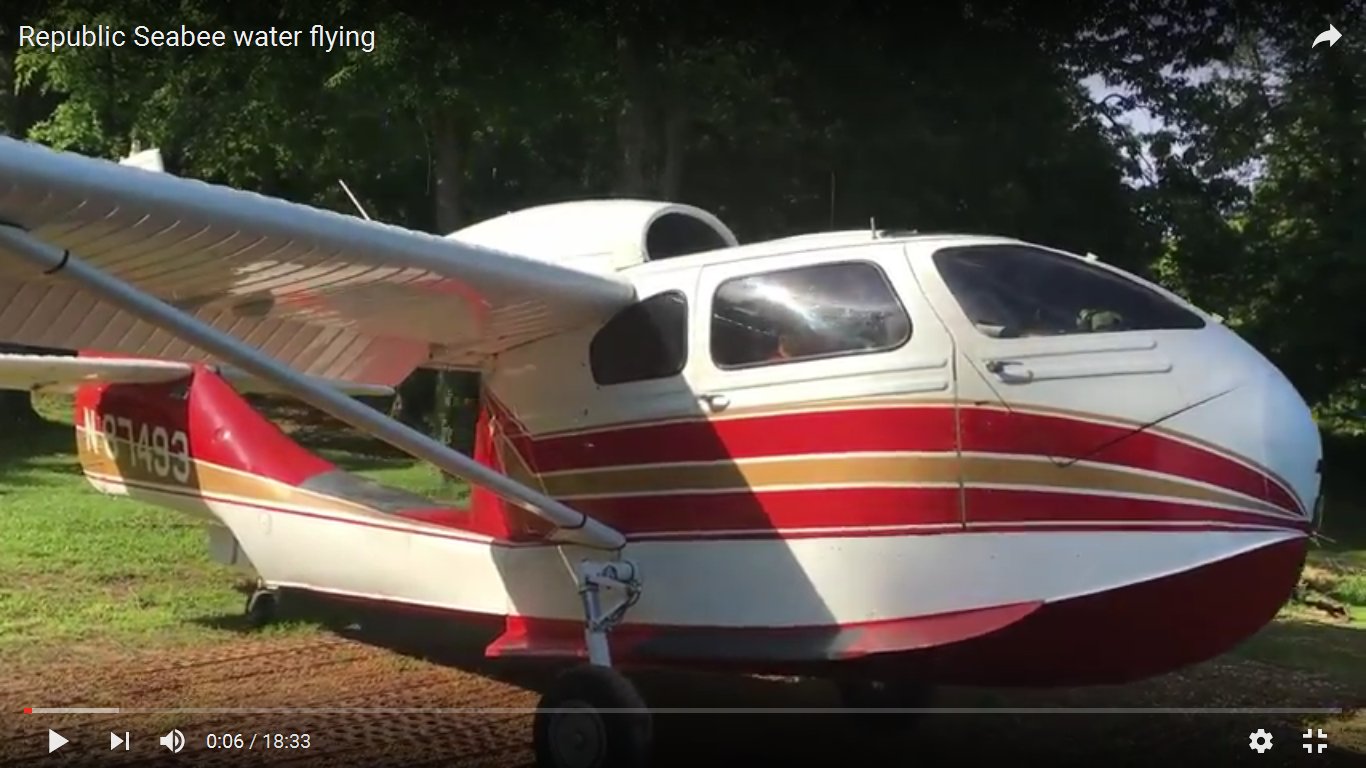 (Click on image for Youtube video)
===========================================================

Tavares, Florida Splash-In! (2016)
Four Seabees showed up at Tavares April 7, 2016.
Great time at the

perfect

seaplane base!
Photos by Bill Bold and waiter at the Tiki Bar.

| | | |
| --- | --- | --- |
| Bill Bardin | Lunchtime! | 4 Seabees |
From front to back clockwise: BIll Bardin (won Best Metal Amphibian at SNF 2016!),
Bill Lissow, Dick Rogers, Steve Mestler. Shon Limor, Miller Monarch, Cris Mestler (not shown),
Mandy ?, John Walrath (Lake Amphib), Edgar Tello aka: ET,
Bill Bold, Gerry Belcher, Scott Vanderweel.
================================================
More photos from member Dennis Dent
(Thanks Dennis!)
| | |
| --- | --- |
| | |
| | Gee, I wonder who was winning! |
Dennis-Somewhere in South Carolina!
============================================================
Our newest Seabee pilots! (As of Aril 2016)
Left to right: Josh Kaskel, Me, Jules Mominee, Mike Zeller and...
the "Queen Bee" (2M0 - Kentucky)
See Josh's video here! Thanks Josh!
=========================================================
Photo of the last Republic Production Seabee S/N 1060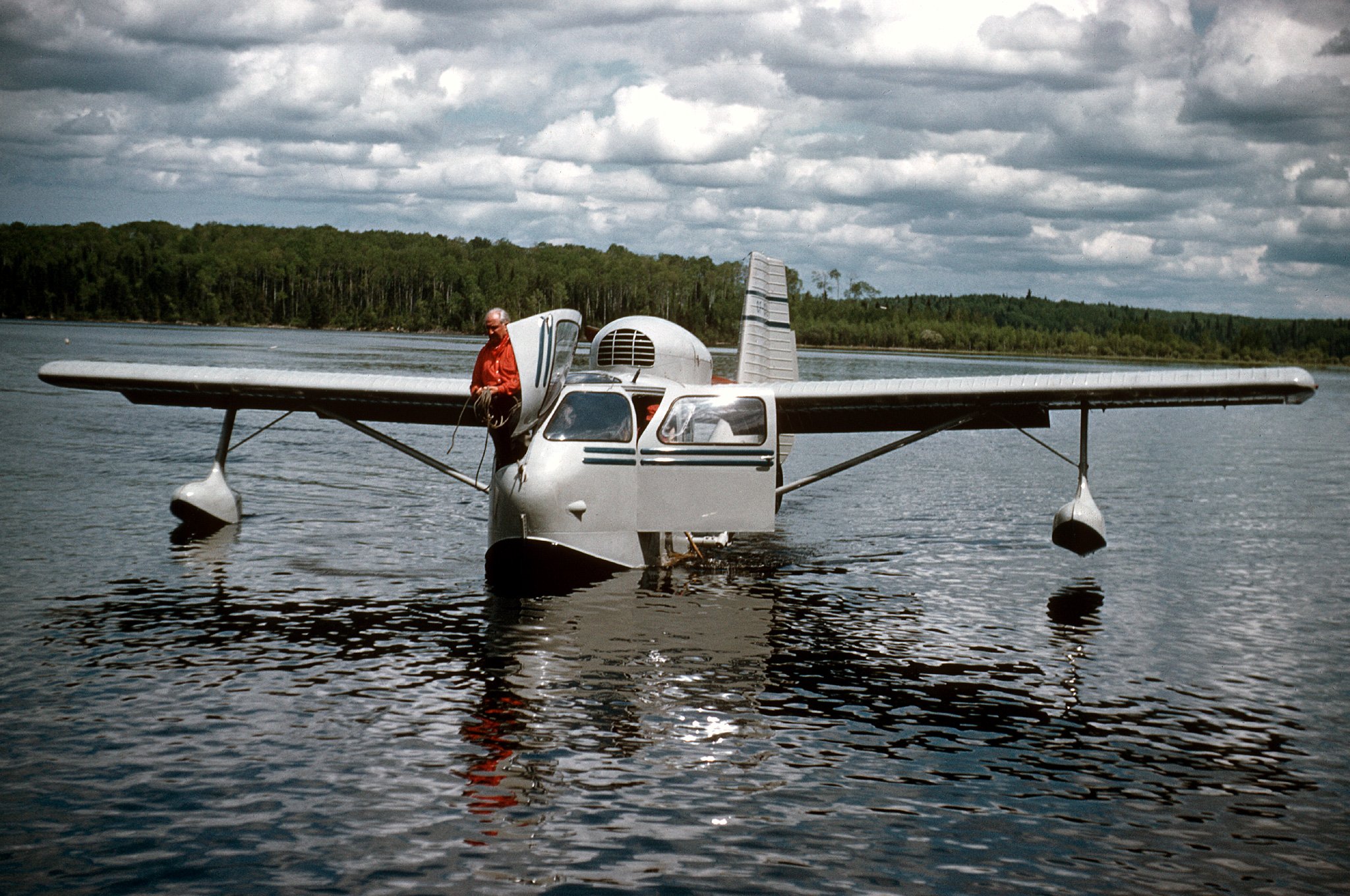 (Photo courtesy of Steinar Sevdal, Norway. Thanks Steinar!)
===================================================
AQUITANE HYDRAVIONS AEROCLUB
!


(Photos by

Patricia Gregoire)
See video here. Great job!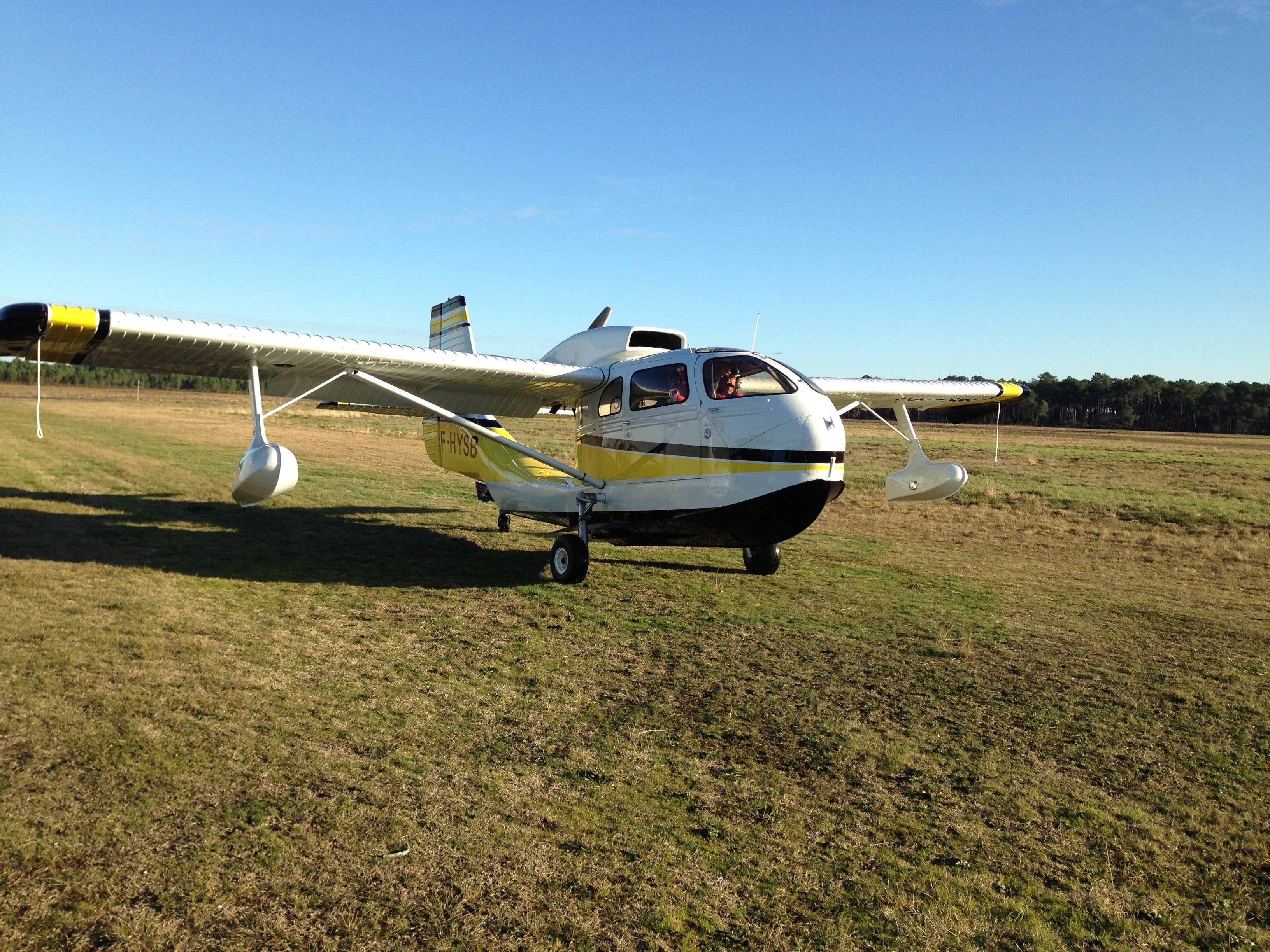 Tres bien! Jean-Luc and his Club in France just finished putting this Seabee together. From what I understand, it is part of the Seaplane Flying Club in France. Congratulations Jean-Luc! First flight was January 23, 2016.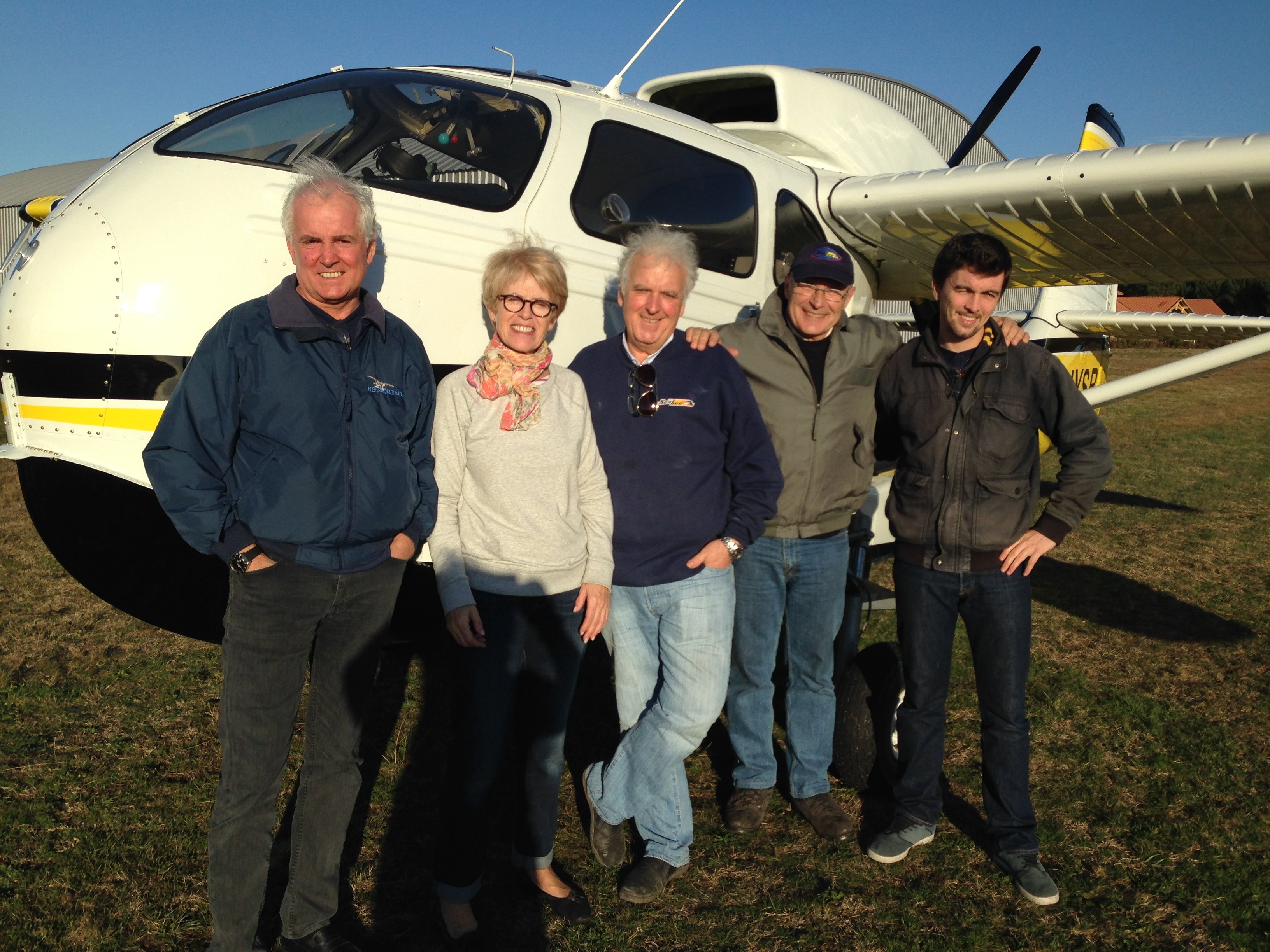 Jean-Luc and his crew. They all have that distictive Seabee smile!
Nice looking sweat shirt!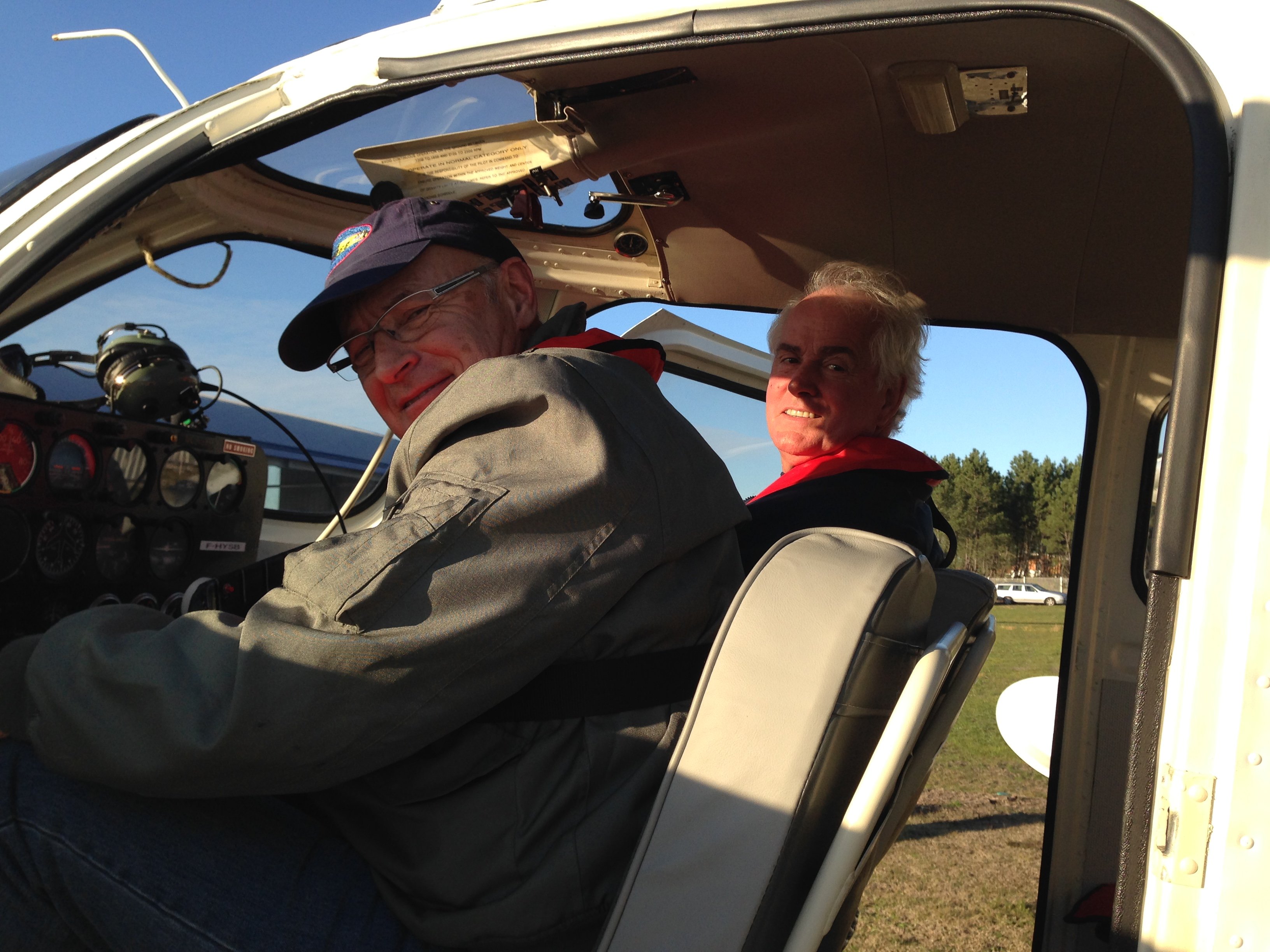 I love the hat too!
==================================================
Video by Bruce Douglas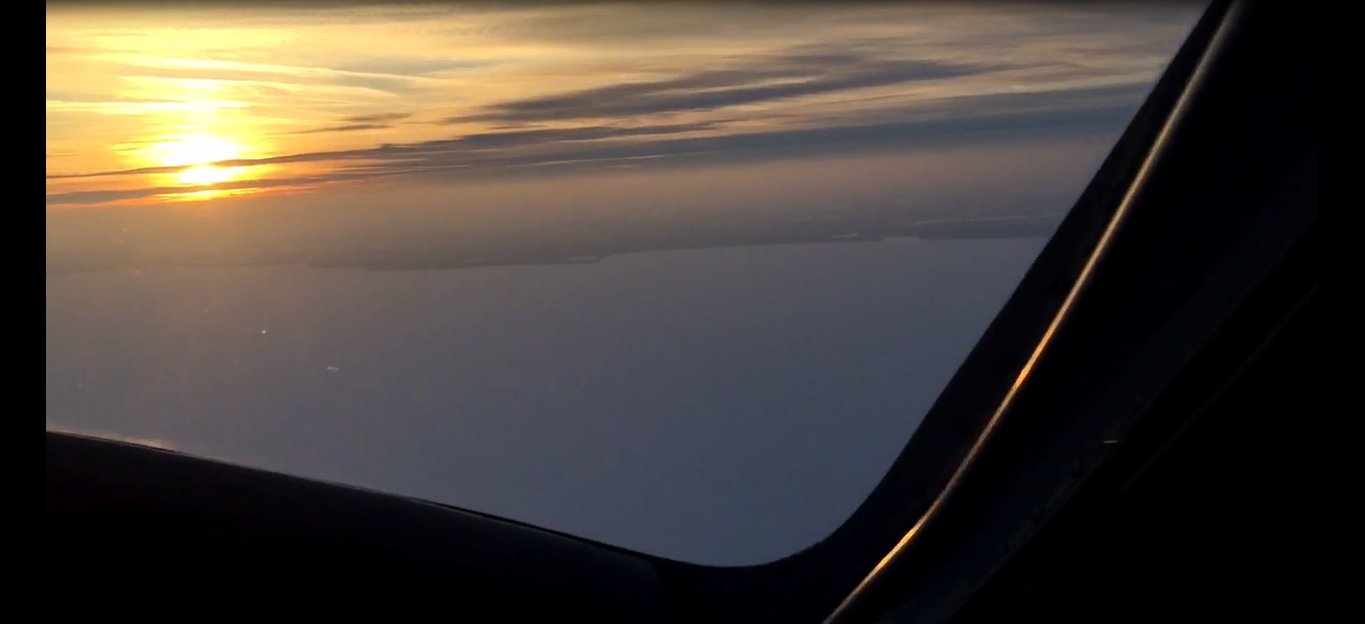 ===================================================

Our brothers up in the Northwest had a great Splash-in!

('15)


Photos below by Member John Cuny

From the co-pilot's window






On the beach




Member Pete Norman's prize winner





Beautiful!

All photos by and courtesy of John Cuny. Thanks John!
(Click on images for full size view)
===========================
Member Henry Chapeskie is flying again!
After an emergency landing that damaged his Seabee, Henry Chapeskie has his new Seabee flying. He says he has about ten hours on it and it is running fine as indicated from the photos below. We are glad to have him back in the air. Especially in a Seabee!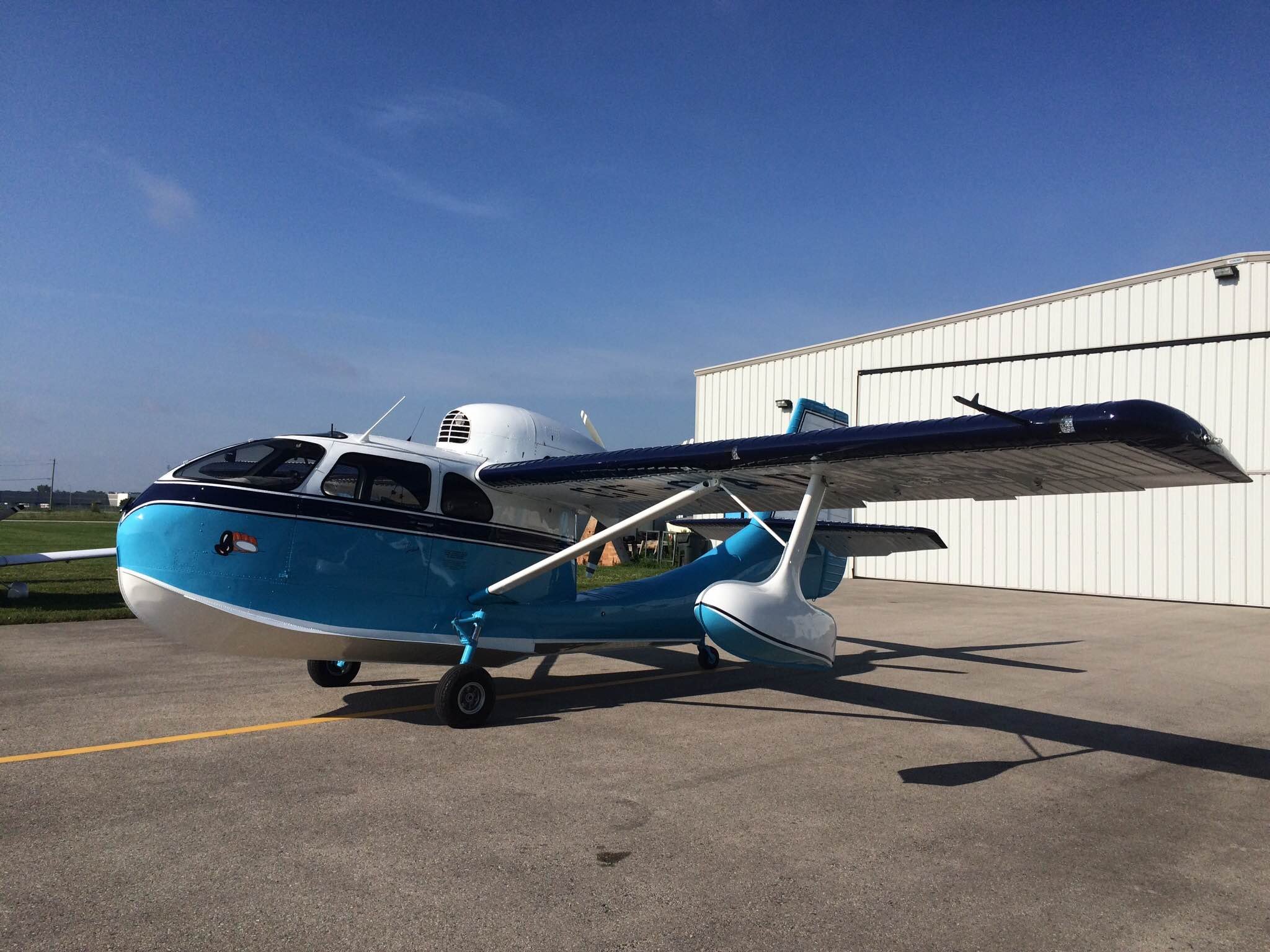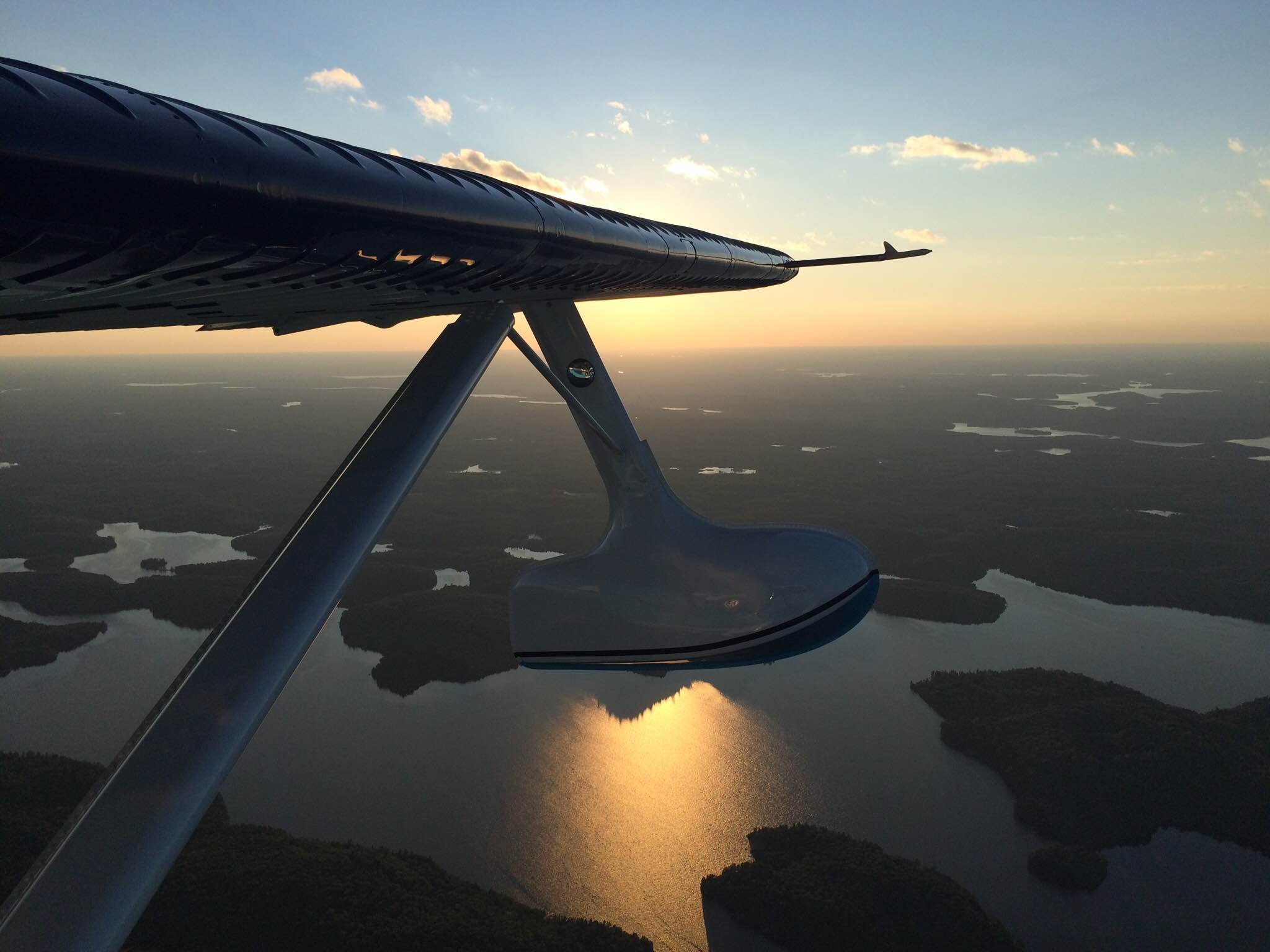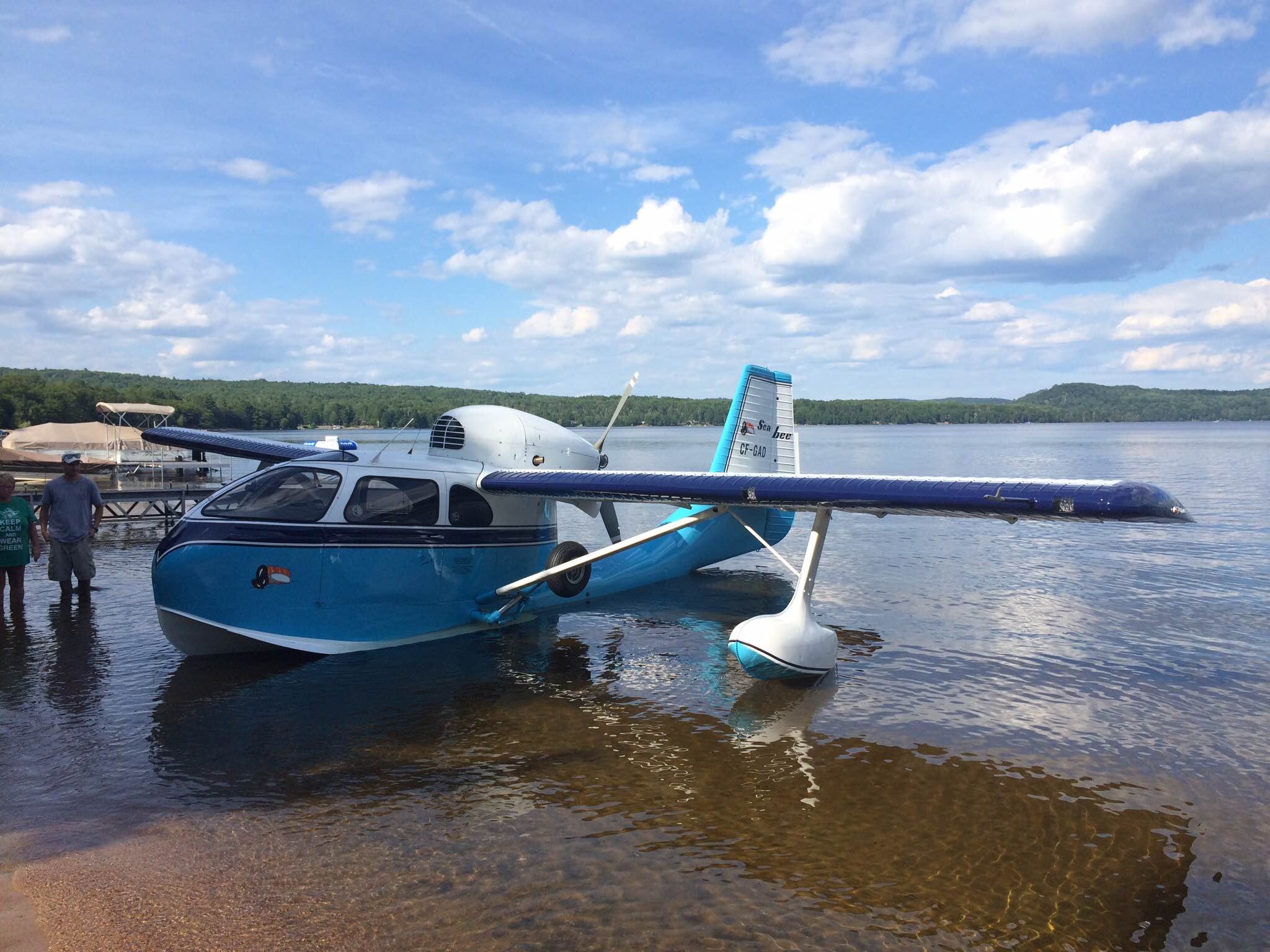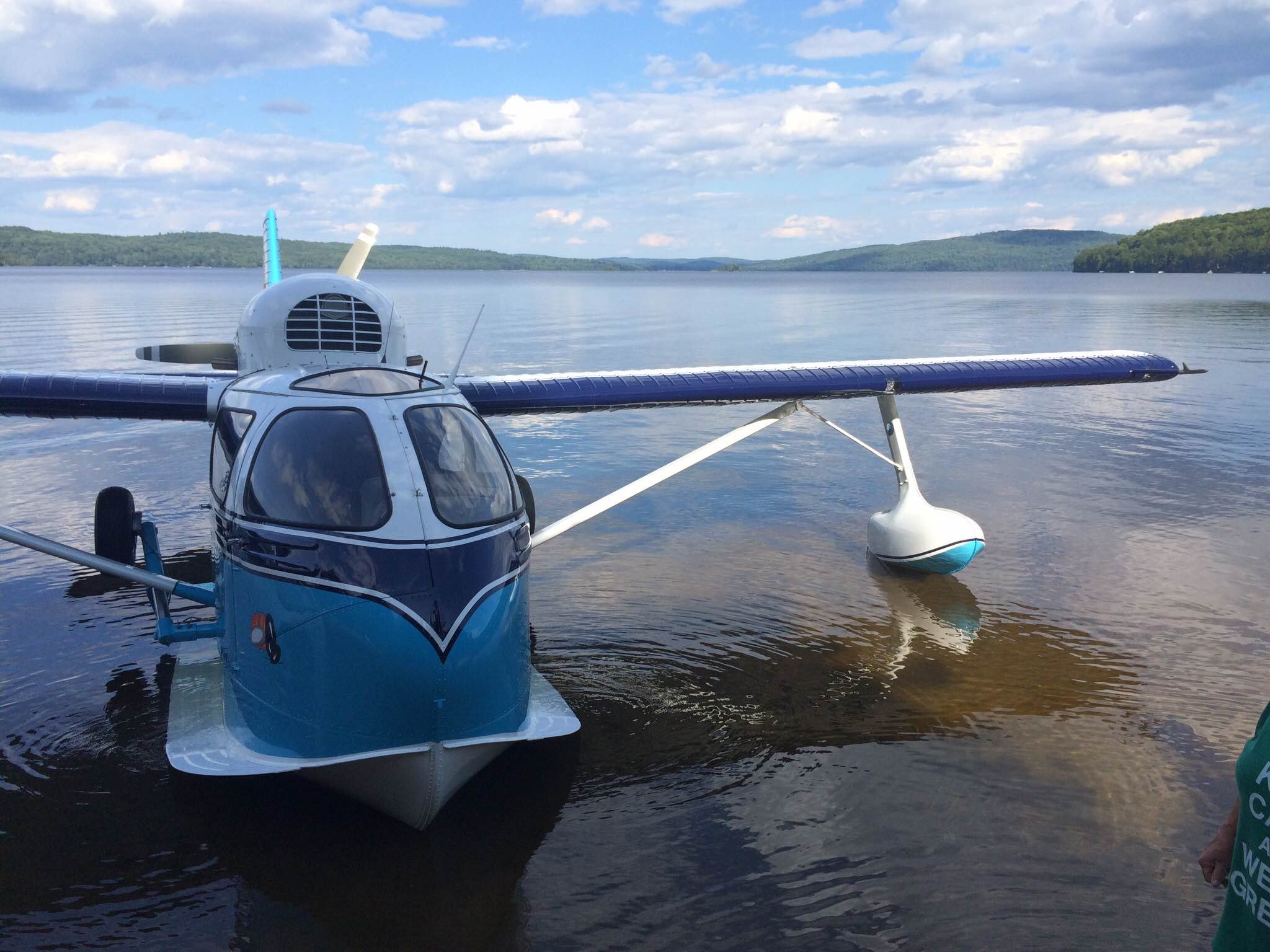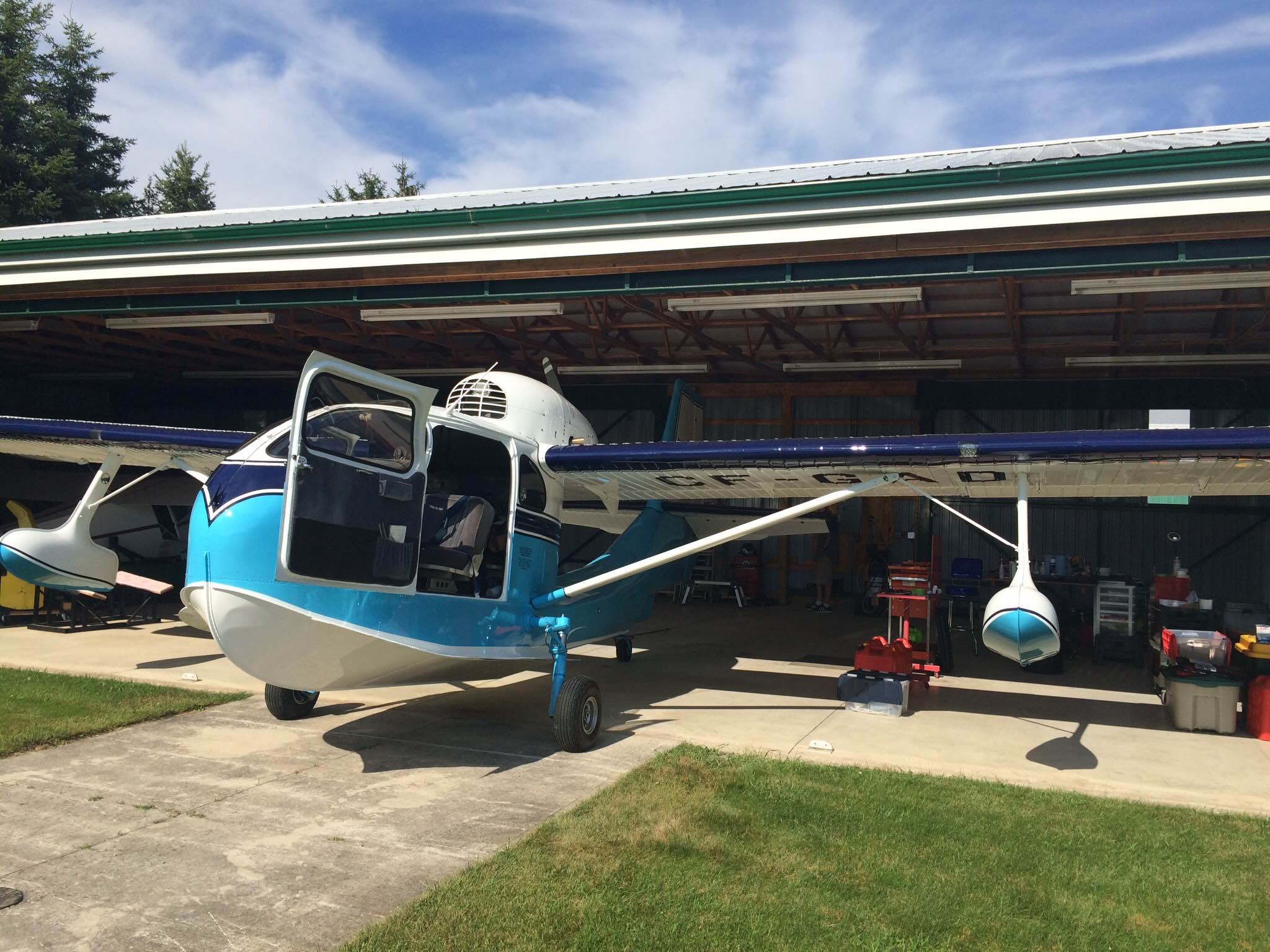 Photos by Henry Chapeskie
================================================
Message from down under:

The Flying Tadpole was used to advertise for a radio station in Australia and to spot for sharks! That was years ago but Howard Frankenburg remembers. Thanks Howard!
Gidday mate! Howard says:
"Hi Steve, Well done excellent work my friend ! It's a big Thank you to you and your club this little plane is etched in everyone's mind around summertime in Melbourne in the seventies it holds huge memories not to mention potential shark attacks to warned of to protect beach goers.This plane, to people of my vintage, was as recognisable as " CocoCola " we all knew the flying tadpole.Thanks again mate I will keep in touch with interest and follow your site. If I get any news on this Aussie icon I will pass it on.
Thank you. Kind regards from down under, Howard"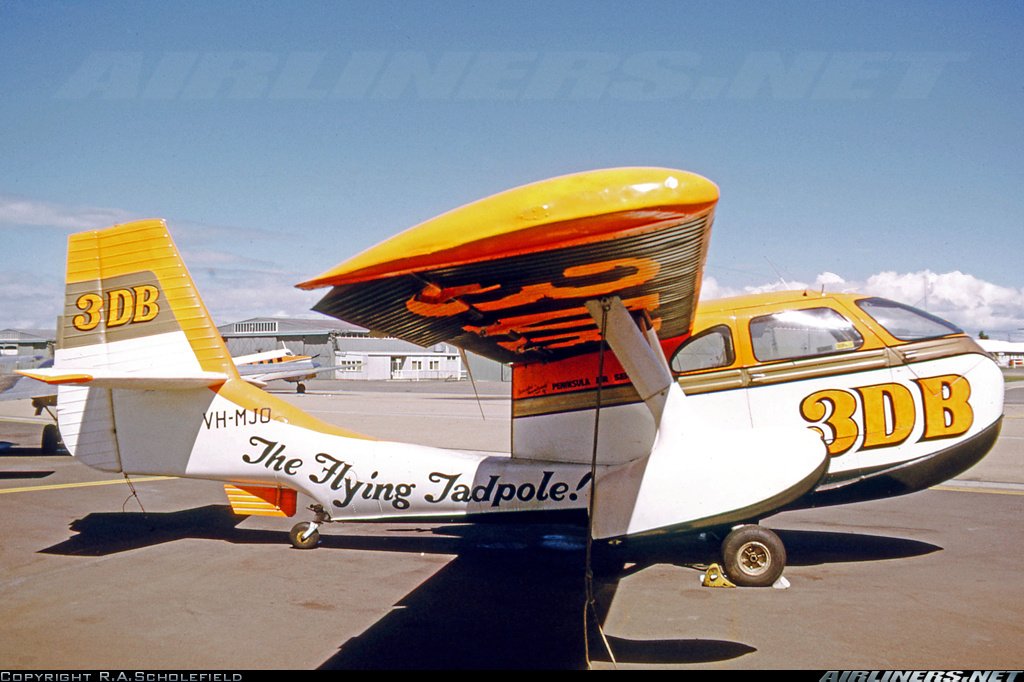 (photos courtesy of Airliners.net)
Check out this Flying Tadpole video!! (.MP4 file)
============================================================
Member Mike Lush sent these photos to us. Thanks Mike!
(sorry it took so long to post)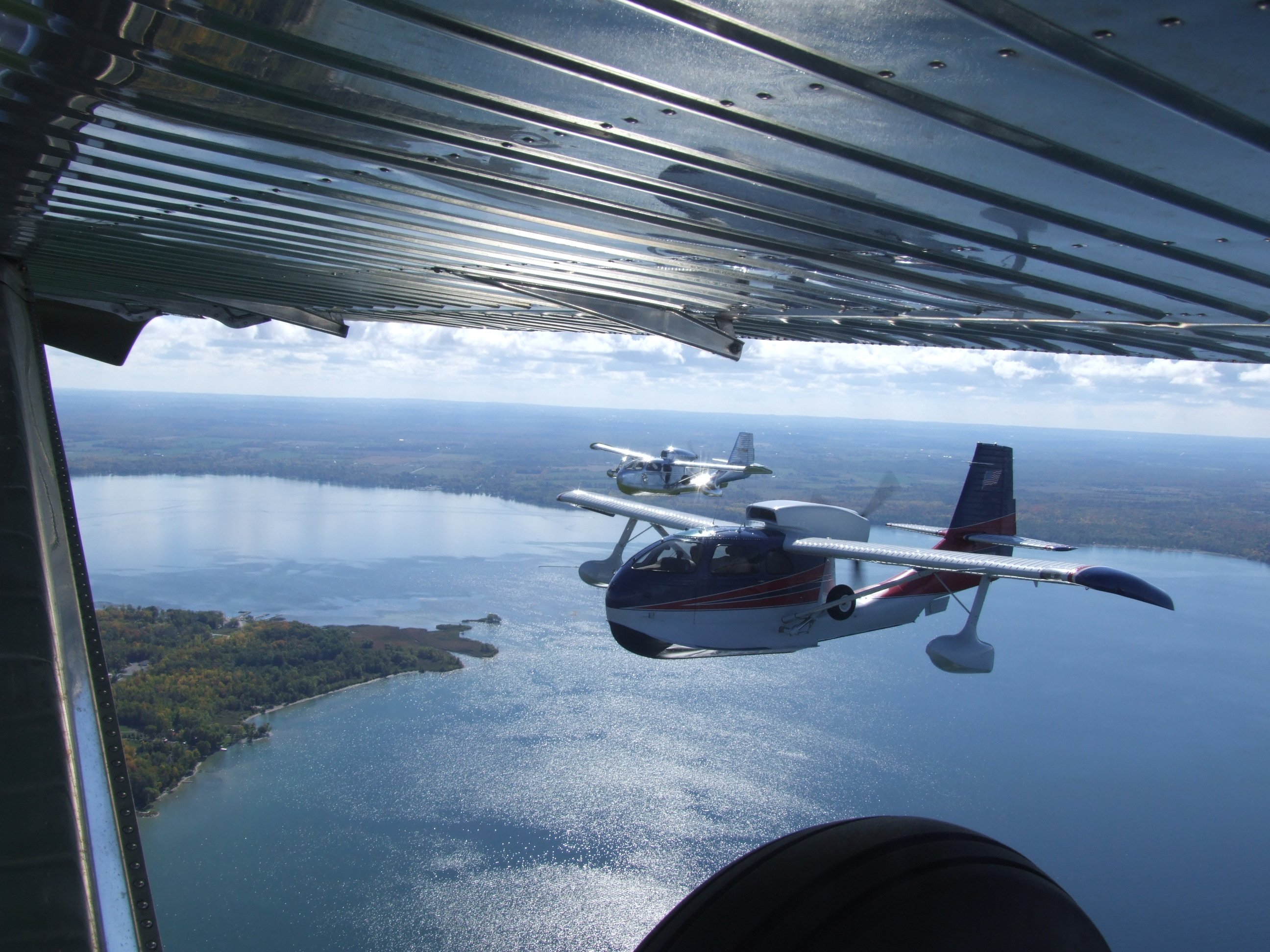 Photos by Mike Lush
Photo 1
Photo 2
Photo 3
==============================
Speculator Splash-in is on!

(2/8/2012-Only 6 rooms left!)

Hola
Amigos y Amigas! We are starting to make plans for the 2012 Speculator Splash-In, first weekend in June (1st-3rd). The most exciting news is that the beautiful Lake Pleasant Lodge is open again for business. Splash in, beach your seaplane, and walk a few steps to your room and cold beer! I know some of you made plans to stay at the Cedar Hurst, but for those of you who haven't made plans or are undecided, the Lake Pleasant Lodge is an excellent option. Here are the details: 11 rooms total,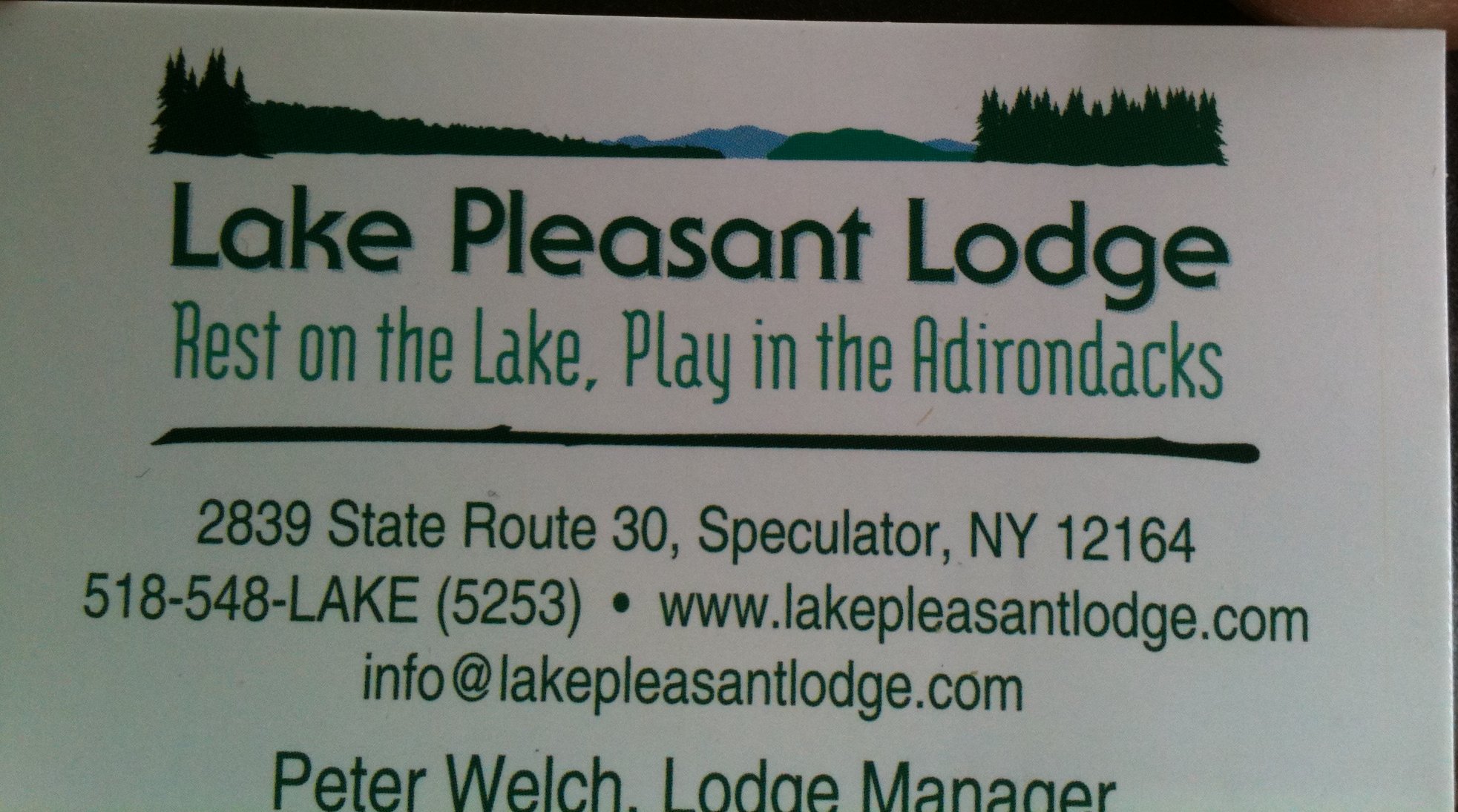 5 King size - $75 Thu night (May 31), $85 Fri & Sat
4 Queen size (2 beds) - $85 Thu nt, $95 Fri & Sat
1 Mini-suite, 2 queen beds, 1 queen sleeper sofa- $105 Thu nt, $125 Fri & Sat
1 Mini-suite, 2 queen beds, 2 queen sleeper sofas- $125 Thu nt, $145 Fri & Sat
Prices are $10 less than posted rates. Lodge manager is Peter Welch, phone # (518) 548-LAKE (5253).
www.lakepleasantlodge.com
,
info@lakepleasantlodge.com
.
Please let me know, so I can make proper plans. I also attached a photo of their business card.
Hasta Pronto, E.T.(
etseabee@yahoo.com
)
====================================================
N64PN Water Videos available.
Very cool camera angles!
See the all at http://vimeo.com/12875737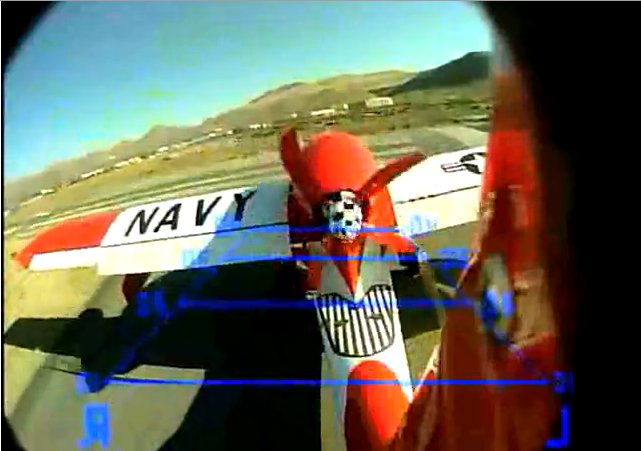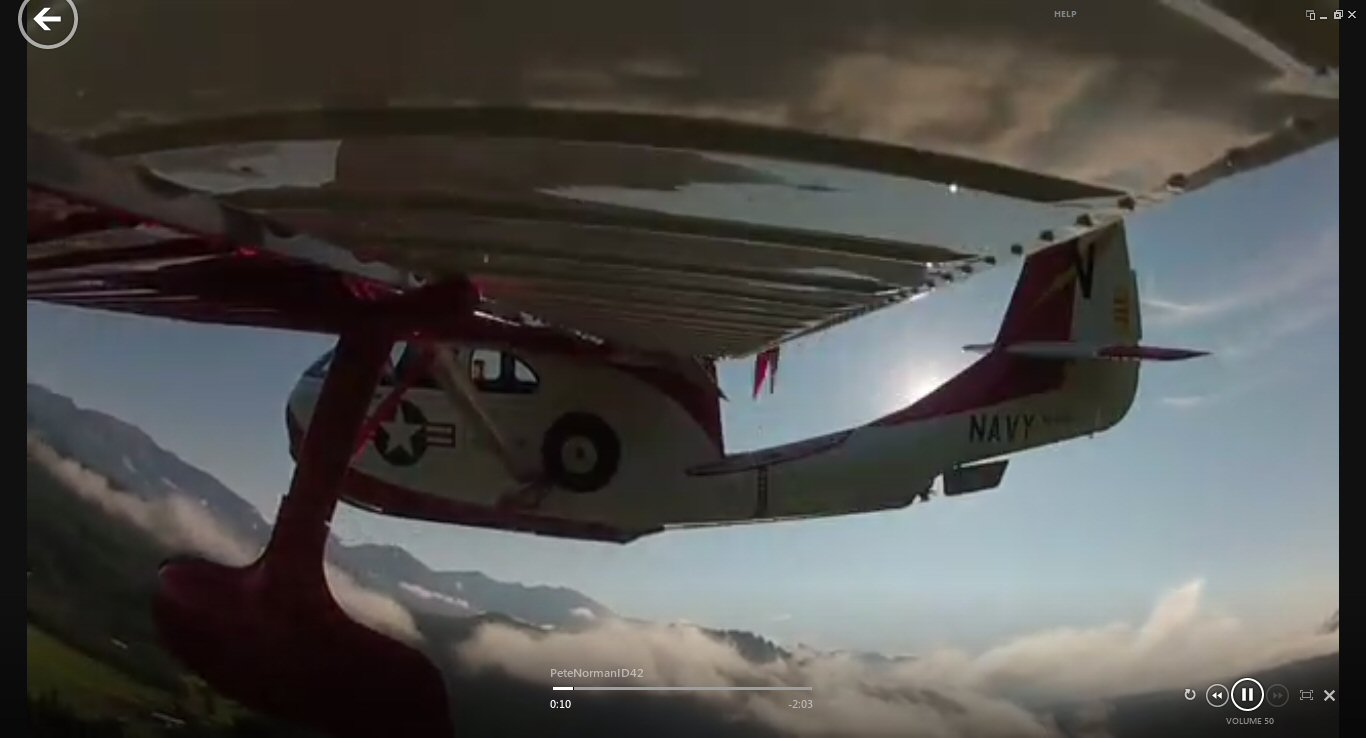 (Click on images for video. All videos by Pete Norman or his associates)
---
Seabee Mystery Crash!
(Below are some photos and an e-mail from Mr. Shea DeLaMare from British Columbia, Canada. Very fascinating story...)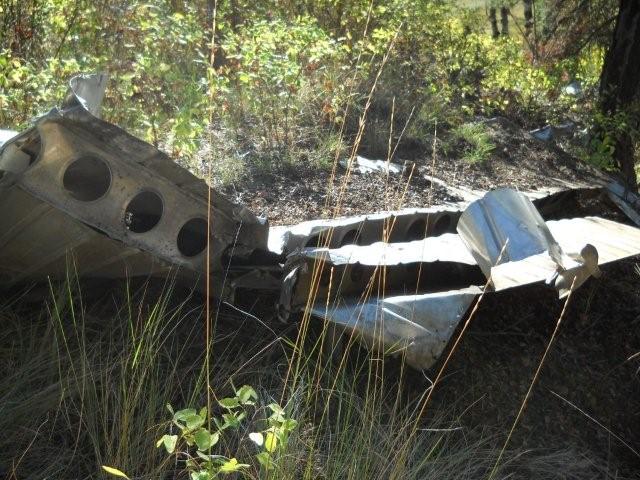 "Hello Jim and Steve from British Columbia Canada,
My name is Shea De La Mare, and I am currently trying to find some info that you may be able to help me with. I as recently hiking in central british columbia, and I stumbled across an old aircraft crash site deep in the woods. Being a pilot myself, it certainly caught my curiousity, but I am having trouble identifying the aircraft or finding any information about it. When I first saw the wreckage I had a few clues that led me to believe it may be an old Seabee, but I am not certain. I have asked various local residents about the crash site but have come up empty handed. One old timer thought he remembered something about a crash that took place in the 1970's where 3 or 4 people were killed, but he wasn't really sure. I have tried to search the internet for any information but as far have not located any. I am attaching a few pics of the crash site as I thought that you may be able to confirm whether this is indeed a SeaBee aircraft?

Any info or help would be greatly appreciated.
thanks!
-Shea"
First answer from Jim Poel...

"Hello Shea. It definitely is a Seabee. I can't tell you more than that right now, but if you were to find the serial number which is stamped on the keel and all the trailing edges of the flight controls, we could narrow it down and possibly find out about the accident. The number is stamped on the keel shown in picture 7 about a foot down from the end, or six inches down from the riveted seam. Also it is stamped on the trailing edge of the flight controls near the inboard end.
Good Luck! I hope we can get to the bottom of the mystery.
Cheers! Jim"
Second e-mail from Mr. De La Mare:

Hello Steve and Jim from BC again,
As to our emails of a few weeks ago regarding the mystery Seabee crash site in British Columbia, I have a few more pics and information for you. Thanks for the info on where to look for the serial number. I returned to the site today and was able to locate a serial number stamped on the trailing edge of a control surface on the port wing. The serial number is not totally clear but as far as I could make out it is: 1007A or maybe 107A??? Hopefully you guys will be able to identify it from the pictures.

I could not find any numbers on the keel, but I may have been looking in the wrong place. I spent a fair amount of time searching... but to no avail.

I have also included 2 more pictures of the crash site. You are more than welcome to post any or all of my pictures and story on your website, it might be very interesting for the Seabee community. All I ask is credit for the pics, using my name: M. Shea De La Mare
I have spoken to another local rancher who seems to remember that this crash might have happened in the early 1970's and that 3 people were killed. The story he told me is that 3 friends flew the aircraft up from Vancouver, and were circling the area at low altitude to indicate their arrival to people on the ground....they were then going to proceed to a nearby lake (Lac La Hache) to land. While circling, the engine began to run rough, stopped, and the aircraft either stalled and spun, or spiralled and crashed into the mountainside.

All three on board were killed instantly. From my investigation of the crash site, and the state of the wreckage it is my guess that the a/c hit at a fairly substantial speed. (I think I mentioned before that I am a pilot myself).

There was obviously an intense post crash fire as there are numerous melted parts, as well as actual ingots of melted metal littering the crash site.

The crash location is about 5 miles NE of the southern tip of Lac La Hache lake in central British Columbia. Lac La Hache lake is easy to find on google earth.

Well thats about it guys....hopefully you can shed some more light on this!
Second answer from Jim Poel:


"HI. As luck would have it, Henry Ruzakowski is here visiting as your email came in. We found out that s/n 1007 is alive and well, so it can't be that one. In a previous investigation into another Seabee hull, we found out that Republic didn't build every serial number, so they may have used previously made parts on a different hull number. Henry has agreed to research this and get back to you.
Cheers! Jim"
UPDATE!
March 21, 2010-I just got an e-mail from Seabee historian and fanatic Steinar Sevdal in Norway. He says:
"
Hi Steve!

I hope everything is fine with you, your family and "Marty B"! I visit the IRSOC website almost every day, and you do a tremendous job for the Seabee community!

Recently I read the story of the Seabee wreck found in BC, Canada. You will know that I am researching the histories of each and every Seabee built. However, I was not able to indentify the crashed Seabee until you wrote it was "CF-ISW". The s/n is 1008. With some help from fellow avition history nuts, I was able to compile the following history on # 1008;
http://www.seabee.info/rc3_1008.htm
From my memory I thought I had seen the registration "CF-ISW" before, and after checking my small Seabee slides collection, I was amazed to find that I have a photo of CF-ISW, taken just over a month before the tragic crash!
I would very much like to send the enclosed scan to the Calvert family. Do you think you can put me in contact with them? If they do not mind, I would very much like to learn more about their Dad and his Seabee, perhaps for a story for the "Seabee Stories" pages:
http://www.seabee.info/seabee_stories.htm
Could you please also put me in contact Mr. Shea De La Mare? I would very much like to get his permission to use some of his photos of the wreck for the # 1008 webpage.
http://www.seabee.info/rc3_1008.htm
You can of course use the enclosed photo of "CF-ISW" on the IRSOC website, Steve!
Thanks a lot for your great work, Steve!
Warmest wishes
Steinar"
(Ed note: Well we weren't far off! Serial number is actually 1008.)
---